2016 Shelby Super Snake: Ultimate Guide
As most self-proclaimed automotive historians are well aware, the "Super Snake" title carries quite a bit of weight in the world of the Ford Mustang. Debuting in 1967, the Super Snake moniker was used by Carroll Shelby and his team to differentiate between standard Shelby offerings and those of even higher performance stature.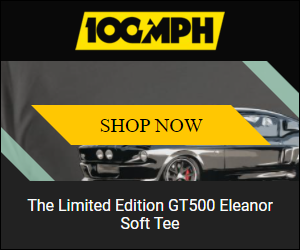 Though the Super Snake title went on hiatus after the dissolution of Shelby and Ford's initial partnership in the late 1960s, it would again return during the new millennium. It was during this time period that the Shelby Super Snake reached a new plateau of performance, showcasing a level of output far beyond that to which most were accustomed.
The 2016 Shelby Super Snake was no exception to this rule and served as one of Shelby American's most potent offerings at the time of its release. With up to 750 horsepower beneath the hood, the 2016 Super Snake was certainly a potent performer, both on the street and track.
Power In Abundance
The 2016 Shelby Super Snake relied upon a supercharged 5.0-liter V8, as its motivating force. In its base form, this powerplant produced 670 horsepower. However, consumers could also spring for one of two optional superchargers (Kenne Bell/Whipple), bolstering the Coyote V8's total output to 750 horsepower.
Additionally, the Shelby Super Snake's V8 engine was fitted with a custom Borla exhaust, which provided the car with an aggressive audible presence. Also standard was an upgraded cooling system, intended to reduce intake air temperatures in the name of combustion efficiency.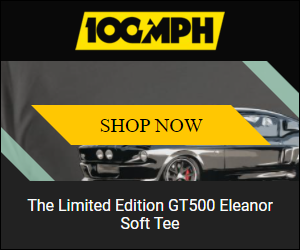 The 2016 Shelby Super Snake came standard with a 6-speed manual transmission. However, one could also select an optional 6-speed automatic transmission, should they so choose. Beyond this point, power was directed rearward through a single piece driveshaft, to a set of 3.73:1 rear gears.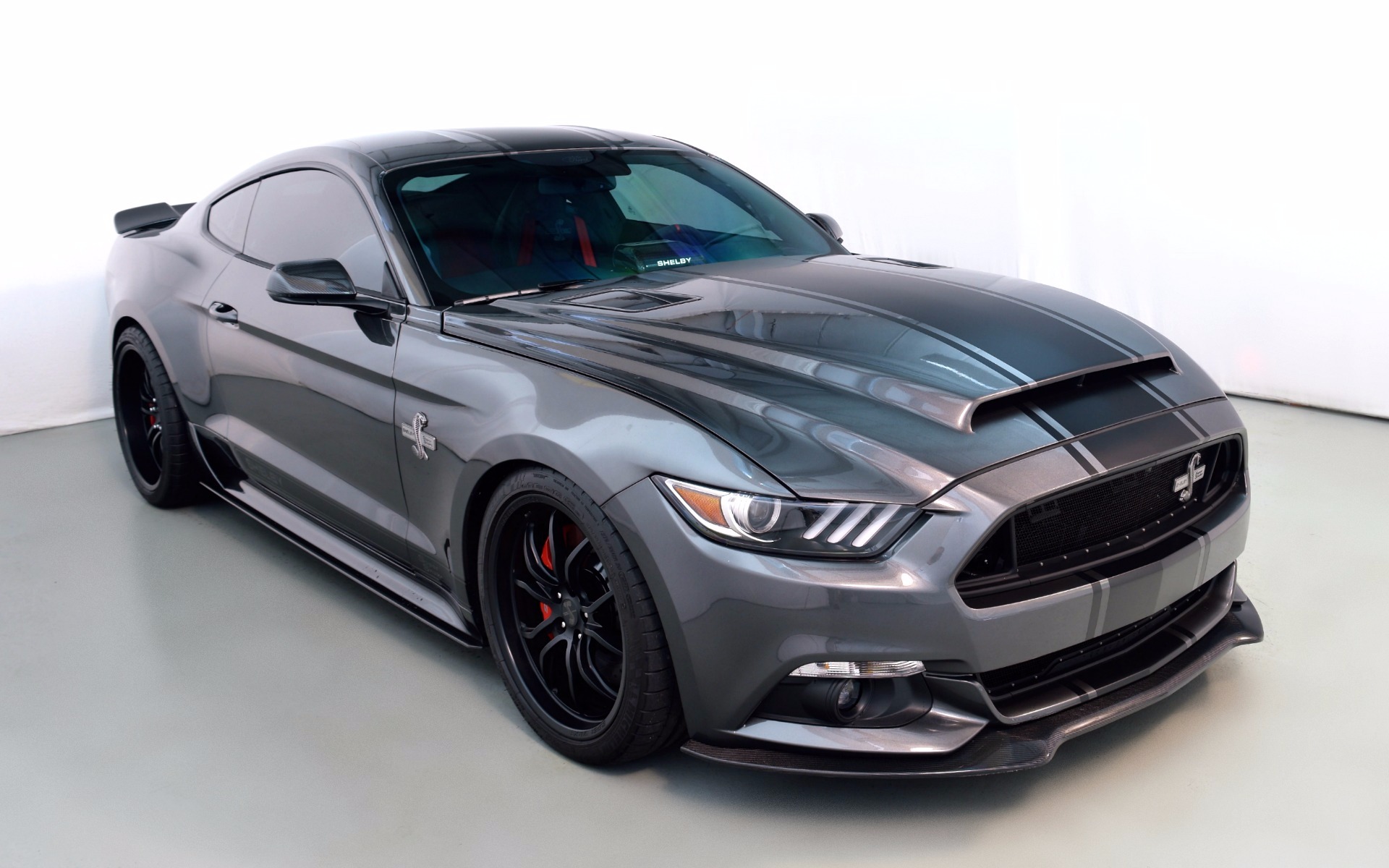 Technically Adept
The 2016 Super Snake was also quite noteworthy, for additional reasons outside of what lied beneath its hood. Shelby American outfitted the Super Snake with a number of additional technical upgrades, many of which centered around the vehicle's steering, suspension, and brake systems.
The iconic Shelby creation came equipped with a custom Ford Racing handling package, as well as a set of Wilwood performance brakes. The car's brake system included 6-piston front calipers, as well as 4-piston rear calipers. These calipers were paired to a set of large, drilled and slotted Wilwood rotors.
Shelby Styling
As expected, the Super Snake also received a certain level of signature Shelby restyling. The custom Mustang was fitted with a revised hood, grille, and rocker panels. Additionally, the Super Snake featured integrated Shelby-series LED fog lights, running lights, and turn signals.
The Super Snake's interior also received the "Shelby" treatment and came decked out with custom floor mats, door-sill plates, and trim-work. Also of note, was the Super Snake's use of Shelby signature-series wireless gauges within its dash.
One Sinister Serpent
Today, the 2016 Super Snake is most often remembered as a direct reflection of Carroll Shelby's ultimate vision. This vision centered around producing a highly refined Mustang, which was more than capable of dominating the track on any given Saturday afternoon. This is a purpose that the Super Snake seemed to serve quite applicably, as few could argue against the car's technical capabilities and outright performance superiority.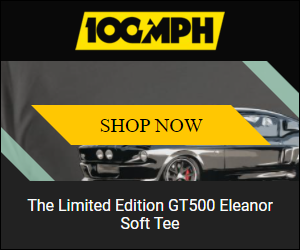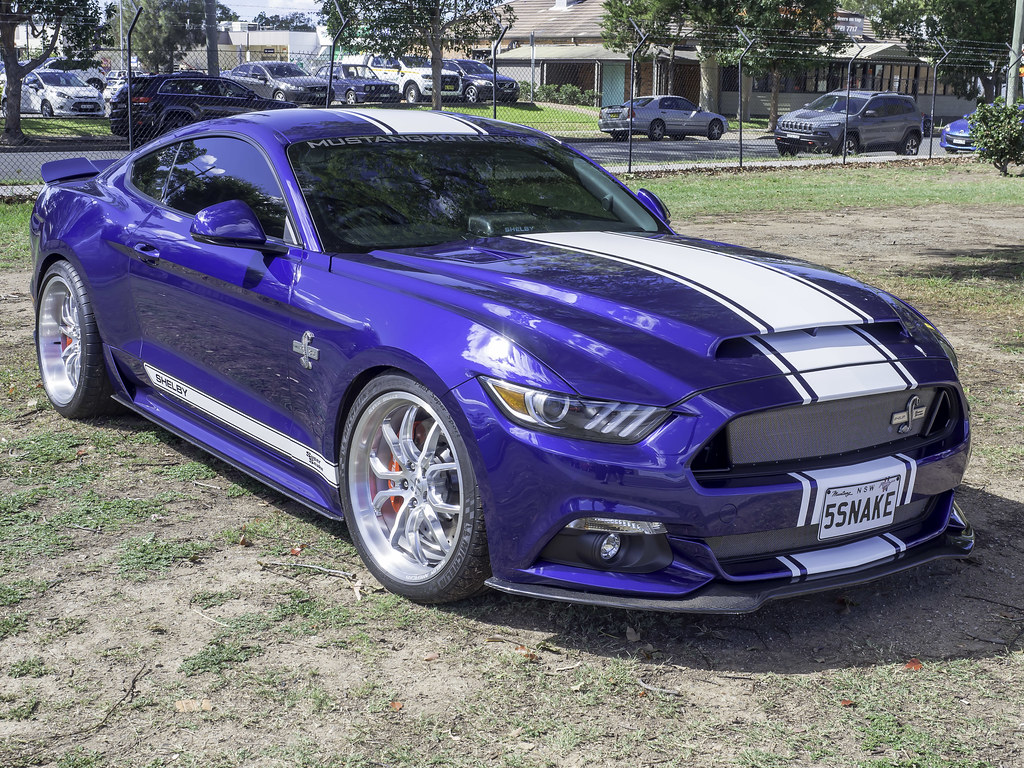 2016 Shelby Super Snake Specifications
| | |
| --- | --- |
| Engine | 5.0L Supercharged V8 |
| Horsepower | 670/750+ horsepower |
| Torque | 545/585 lb-ft torque |
| 0-60 MPH | 3.9 sec |
| Quarter Mile Time | 12.3 sec |
| Weight | 3,360 lbs |
| Base Price  | $82,790+ plus base Mustang |
Available Exterior Colors
The 2016 Shelby Super Snake was available in Oxford White, Avalanche Gray, Triple Yellow,
Competition Orange, Race Red, Deep Impact Blue, Magnetic, and Shadow Black.
Available Interior Colors
The 2016 Shelby Super Snake interior was available in ebony carbon cloth weave or ebony leather.
2016 Shelby Super Snake Mustang Video
We found a great video of the 2016 Shelby Super Snake.
Sours: https://www.mustangspecs.com/2016-ford-mustang-shelby-super-snake/
Get snake bit all over again with the 50th Anniversary Shelby Super Snake! Packing up to 750+ horses and shod with stick-to-it performance tyres, there's no denying that Carroll's bold spirit lives on in this American pony car. Based on the world-class Ford Mustang GT, the new supercharged Super Snake is equally capable on the road and the track. Shelby American collaborated with world-class auto giants like Ford Performance, Borla and Wilwood to engineer this next gen Shelby.
The new Super Snake is an exercise in subtle details and features many first-to-market products. Working with Ford Performance, Shelby American sharpened the handling of the independent suspension and then upgraded the brakes with massive calipers and rotors. Under the functional hood, the Super Snake combines Ford's iconic 5.0 V8 engine with forced induction for 670 horsepower; optional superchargers can pump out over 750 horsepower. Only 500 of these 2017 Super Snakes will be available worldwide.
Performance
Ford Performance 670 HP supercharger
Ford Performance track handling pack
Ford Performance exhaust
20" forged aluminum wheels, black or polished
Shelby summer performance spec tyres
Shelby by Wilwood brake system (6 piston front, 4 piston rear)
Shelby exclusive brake & bearing duct cooling system
Performance half shafts
---
Interiors
Floor mats and door sill plates
Gauge cluster with Shelby by AutoMeter wireless gauges
CSM badging (engine + dash)
Engine cap set
---
Exteriors
Shelby engineered body components: (Includes hood, grilles, rockers, rocker splitters, front splitter, rear spoiler, rear tail panel, rear diffuser, lower rear splitter and more)
Striping & badging (2017 MY examples receive 50th anniversary badging)
Exclusive Shelby integrated LED fog / running / turn signal lamp assemblies
750+HP Option (with required options)
750+ horsepower supercharger (Whipple or Kenne Bell)
Shelby extreme cooling
Ford Performance half shafts
One-piece drive shaft
Ford Performance wheel studs
---
Performance Options
Ford Performance half shafts
Shelby extreme cooling system (Includes radiator and overflow tank)
Shelby track cooling system (Includes extreme system in addition to transmission, oil and differential coolers)
One-piece drive shaft
Short throw shifter
3:73 gears
Ford Performance wheel studs
---
Interiors Options
Shelby by Katzkin leather seat upgrade
Shelby coil covers
Convertible light bar
---
Exteriors
Stripe delete (side stripe is mandatory for all models)
*All take-off parts remain the property of Shelby South Africa
*HP ratings based on US specifications and fuel*
Super Snake Brochure
Sours: https://www.shelbysa.com/shelby_conversions/2016-to-2018/2017-super-snake/
2015-2017 Shelby Super Snake New Era Mustang Delivers
By Evan J. Smith
By 2015, the Shelby Super Snake was established as the most potent Mustang on the market, and enthusiasts were anxious to see what Shelby American could do with the all-new S550 chassis. Building on eight years of development, Shelby introduced its 2015 Super Snake, utilizing the all-new independent rear suspension and the potent 5.0L Coyote engine. Like past Super Snakes, Shelby presented a package with endless style, neck-snapping acceleration, track-ready cornering, braking and exclusivity.
"This was a different animal entirely," said Shelby American vice president Gary Patterson. "We looked at the capability of the 5.0 and we put the power to it. It's not 850 like we had in 2014, but overall the S550 is much better, so the overall car becomes better. The 2015 Super Snake became a balanced car that could go around corners, drag race and stop. The IRS suspension helped put the power to the pavement," he added.
The 2015 – and subsequent '16-'17 Super Snakes – were developed to fulfill the needs of customers who were expecting something special—something beyond the standard Mustang. "What you do is start with a base car, like we did in '07, and you drive it," explained Patterson. "You see what it does well and what it doesn't and where would you improve it. Then you go to the track and test. You push the limits. You look to see if the parts are working together, and you keep going through it," he added.
The 2015 Super Snake styling blends elements of both the '67 and the '68. The stance is low and aggressive, with a new front splitter, open-mouth grille, and the hood features wide, twin nostrils with twin extractor scoops at the rear. The rocker panels are all Shelby and blend nicely to the sides. The Super Snake rides on 20-inch forged aluminum wheels, the rear gets a unique spoiler for added downforce and the exhaust rumbles from a pair of large oval tips.
Mash the gas and you'll feel the punch from the 670-hp Ford Performance supercharger with Shelby-specific engine calibration and performance exhaust. Super Snake also includes a cooling package that allows extended track sessions. For those who want more "go" Shelby offers a 750-plus package that includes a Whipple (or Kenne Bell) intercooled supercharger kit, along with upgraded cooling, plus a transmission and rear end cooler.
For 2015, Shelby made the Super Snake available for the first time with an automatic transmission. The six-speed overdrive auto is a great option, offering quick upshifts with the simplicity and comfort of any modern performance sports car. Of course, a 6-speed manual is standard equipment. And with either transmission, power is transferred through a one-piece driveshaft to the beefed-up rear end.
The 2015 Super Snake is capable performer whether on the strip, street or road course. It has a balanced suspension with upgraded springs and dampers, along with race track capable stopping power thanks to Wilwood brakes with cooling ducts. The balance makes every Super Snake predictable and easy to drive at speed. Shelby also offers the ability for the Super Snake client to personalize with options such as a roll bar, race seats and harness setup, plus a host of carbon fiber components and a Katzkin interior.
In 2015 Shelby created the 50th anniversary Super Snake to celebrate and honor the original. "The 2017 Super Snake is a tremendous performance value," said Vince LaViolette, Shelby American vice president of operations. "We fine-tuned our processes and materials to offer an agile, nimble and balanced car at a lower cost. It has more base performance and content than any other version in our history. Super Snake ties together obscene horsepower, tremendous handling and unmistakable looks. The 2017 SS also featured a Shelby tune and special exhaust note.
And the 2017 gets it done on both the street and track. "On pump gasoline and Michelin street-legal tires, a properly optioned Super Snake can go from 0 to 60 mph in just 3.5 seconds, blaze through the quarter mile in only 10.9 seconds and deliver an amazing 1.2g on the skip pad," added Patterson.
Exterior features include twin-nostril hood and unique over-body stripes. Downforce is improved with a splitter, rocker slats and a new rear spoiler. The hood has been restyled, along with the splitter, grilles, fog lights, rear tail panel and rear diffuser assembly, all designed to enhance performance. Shelby also added 50th Anniversary stripes and badges, found in the interior with logos across the seats, dash, and floor. "The 2017 Super Snake represents American muscle in the truest sense," exclaimed LaViolette. "It delivers full-throttle excitement at every turn, all wrapped in a chiseled, handsome body. No other car offers so much performance and styling for the price."
The 50th Anniversary Super Snake was available in all Ford Mustang factory colors and enthusiasts were able to select between a manual or automatic transmission. And as you'd expect, Shelby offered an endless list of options, which allows for total personalization, and each Super Snake is assigned a Shelby serial number that is documented in the official Shelby Registry, plus a separate plaque signed by the build team will be affixed under the hood.
The 50th Anniversary Super Snake was unveiled at the Barrett-Jackson Scottsdale auction. Only 500 of the 2017 models were built with a new lower MSRP, beginning at $69,995, which includes the base Ford Mustang GT.
Sours: https://www.shelby.com/en-us/Vehicles/Super-Snake-2015-2017
Carroll Shelby may have decamped to that big racetrack/chili cookoff in the sky, but the company he left behind continues his good work modifying Ford Mustangs. The latest example is the just-announced 2015 Shelby Super Snake, which promises as much as "750-plus" horsepower.
Last offered in 2011, when it was based on the GT500, the new Super Snake takes as its starting point the 2015 Ford Mustang GT, coupe or convertible. For $49,995 (on top of the cost of the Mustang GT), the standard Super Snake package includes: a supercharger, half-shafts, a short-throw shifter, a 3.73:1 rear axle ratio, and a suspension upgrade all from Ford Performance; staggered-width 20-inch Weld Racing wheels wrapped in Michelin rubber; Wilwood six-piston front brakes; and a Borla exhaust by Ford Racing with Shelby tips.
Of course there's some show as well as go. Most obvious is the unique hood with a prominent scoop. It's rendered in carbon fiber, as are the front splitter, rocker-panel extensions, rear diffuser, rear spoiler, taillight panel, and mirror caps. Naturally, there are also racing stripes and plenty of Shelby Super Snake badging inside and out.
Options start with a more powerful Whipple or Kenne Bell supercharger together with an upgraded intercooler and heat exchanger that up the pony count for the 5.0-liter Coyote V-8 from 650 for the standard Super Snake to 750-plus. A brake-duct kit, transmission and differential cooling kits, Wilwood four-piston rear brakes, adjustable control arms for the rear suspension, camber/caster plates, racing seats, five-point harnesses, upgraded upholstery, and engine dress-up elements are also on the options list.
Speaking of options, this is the first Super Snake to be available with an automatic transmission as well as the six-speed manual.
---
---
Limited production being ever a part of the Shelby mystique, Super Snake output will be capped at 300 for 2015. Buyers who may be shut out, however, have several other options, including similarly wild stallions from Roush, Saleen, and Hennessey.
This content is created and maintained by a third party, and imported onto this page to help users provide their email addresses. You may be able to find more information about this and similar content at piano.io
Sours: https://www.caranddriver.com/news/a15354606/ford-mustang-gt-shelby-super-snake-announced-with-750-hp/
Snake 2016 super
Taking a shower together, were dressing to go to breakfast, Dimka involuntarily noticed that Rasik was again taking a neatly folded yellow sweater from the shelf. that is, looking at Rasik, who had already put on jeans and shirt, Dimka suddenly thought that he, Rasik, spent all. Ten days in the same sweater. - Rasik, you wear this sweater all the time we arrived. - Dimka said with a smile, buttoning his shirt - standing in front of Rasim in a shirt and swimming trunks.
808 bhp Shelby Mustang Super Snake Review - what a monster!
Its me, tumbleweed, rolling a bun from one end of the country to another. An order was given to him to the West, and after a while in the other direction. The girls whispered about something, running around the corner to pee.
You will also be interested:
He began to hit the naked, unprotected body with a swing, trying to hit the rear, although the hands, which Sergei tried to hide behind, also got it. He didnt try to get up, knowing that he wouldnt be able to do it anyway. This went on for two minutes. what are you.
1090
1091
1092
1093
1094