Column: Gary twins' YouTube sensation taps into a deeper sensation of music appreciation for viewers of all ages
Tim Williams busted into laughter when I mentioned the magic behind his newfound YouTube fame. It's the unexpected reaction of hundreds of thousands of viewers to his unexpected reaction to new music, I said.
"Yep, that's it," Williams replied from his Gary home. "It's a chain reaction of reactions."
Williams, 22, and his twin brother, Fred Williams, are hosts of the YouTube channel TwinsthenewTrend, which had 430,000 subscribers as I spoke with Tim Williams, who launched the concept last summer.
As I wrote in my previous column, it's all about the twins' reactions to popular songs that most viewers have likely heard dozens of times, probably more. Through the twins' ears, eyes and enthusiasm, we get to hear those songs for what feels like the first time.
"Ya'll gonna witness my first time listening to rock in my life, so let's go," Williams told viewers in one of his early YouTube videos before listening to "Dream On" by Aerosmith.
Viewers can listen to the classic rock song with Williams while watching his facial contortions and body language, as if he's playing all the instruments himself. He and his twin brother don't merely listen to the music, they feel it. In turn, we feel it through them. Even if we've heard that song a couple hundred times in our life.
"I know this had to be big back in the day," Williams told viewers while watching a music video for "Hey Ya!" by OutKast, a mainstream hip-hop song from 2003.
That song is so mainstream, I've had it for years on my digital playlist for running and biking. And I'm about as hip to anything hip-hop as an eight-track tape machine.
"I'm open to all genres," Williams told me.
He was raised on mostly rap and gospel music, so anything outside those genres feel new to him. Well, at least they used to feel new to him. Since launching his YouTube channel, he and his brother have listened to a wide swath of music, everything from rock classics to country standards to operatic arias to Japanese ditties.
Before pushing play for a new tune and a fresh listening experience, the Williams twins will sometimes pretend to buckle themselves into their seats from inside the makeshift studio in their bedroom. Or pretend to eat popcorn while watching a new music video. Or rub their hands together in eager anticipation.
It's this eagerness for fresh sounds that too many of us have lost years ago. This is why our reaction to their reaction is the magic behind their YouTube channel. We're not only reliving our favorite songs. We're reliving our youth in a way, one unforgettable tune at a time.
"We know that most of the songs we choose are our subscribers' favorite songs," Williams told me.
When I first heard about the twins' channel, I scrolled through their video reviews for songs that I knew well. I wanted to see their immediate reaction to my favorites. I found a few: "Purple Rain" by Prince; "Hurt" by Johnny Cash; "Smells Like Teen Spirit" by Nirvana; "Hey Joe" by Jimi Hendrix.
I laughed at their reactions. I sang along with them. I smiled at the connection we had together for those four or five minutes.
"Mmmhmm," Williams told viewers during one video. "Yeah, OK, I'm feeling it."
The concept behind TwinsthenewTrend isn't such a new trend. The channel's genius is capturing a musical connection that's been around since our genus' first dropped drumbeat.
For me, it was no coincidence that I resonated most with the twins' expected reaction to the song "In the Air Tonight" by Phil Collins, the former drummer of the band Genesis. Would they get it when Collins pounded out his signature drum solo? Yes, they did. And so are tens of thousands of other viewers from younger generations as digital sales of that 1981 hit have spiked phenomenally since the twins reacted to it.
All of us have always relished sharing our favorite songs with other people for their first listen in our presence. We love watching how they react to it. Do they get it, too?
"I'm an old lady and I love these two young men. They are genuine and adorable," said reader Andrea Keehn, of Gary.
"I love them. I smile throughout every video," added Mary Ann Rupp.
"Yea GARY! Something positive about our hometown for a change," wrote Jo Ann Swigon, of Valparaiso.
"I happened across the twins' 'Jolene' reaction when my daughter shared it a few months ago. I must have watched it four times in a row," said reader Diana Rudd, who attended the same Gary high school, Lew Wallace, as the twins' mother, Tiffany King.
These are other commonalities beyond music that also can bind us regardless of our demographic differences. When I mentioned to Williams that I was raised a mile or so from where he was raised, he didn't expect such a connection.
I probably know Aetna as well as he does, I told him.
"Where we're from, if you're not cool, if you're not doing what other people do, they're going to say you're lame and they're going to talk down to you," Williams said.
Post Tribune Newsletter
Twice-weekly
News updates from Northwest Indiana delivered every Monday and Wednesday
The twins used music to overcome this systemic wall to Black youth, or to any youth for that matter.
"It's not just the way they listen to and jam to the music. It's just that they are so likeable and respectful, the kind of kids you'd like to say you raised," said reader Carmen Ware.
The twin's mother told me that in their younger days, Tim was the quieter of the two brothers. Not since he tapped into his passion. Our reaction to it is the magic here.
"Peace and love, ya'll," Williams tells viewers after some of his videos.
Peace and love – another commonality that's striking the right chord these days.
Sours: https://www.chicagotribune.com/suburbs/post-tribune/opinion/ct-ptb-davich-twins-the-new-trend-youtube-reviews-macro-viewpoint-st-0-20200814-nfa732jvjvbmjbguvfclazbcbe-story.html
Magic Music Visuals
Magic Music Visuals's Channel Snapshot
Magic Music Visuals's YouTube Channel has 1,860 subscribers with 25 videos uploaded so far, the overall channel views are 575.7K.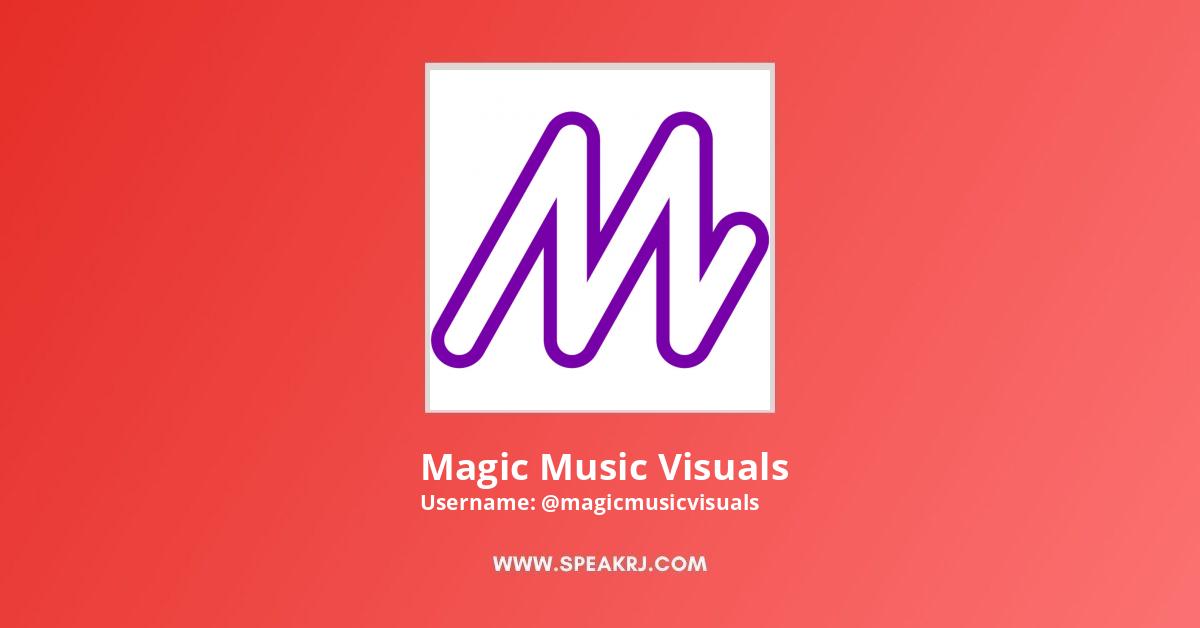 FAQ - Magic Music Visuals YouTube Channel
Here are some of the frequently asked questions about Magic Music Visuals's YouTube Channel.
Answer: YouTube Channel Id of Magic Music Visuals is magicmusicvisuals.
Answer: https://magicmusicvisuals.com
Answer: Magic Music Visuals has 1,860 subscribers on YouTube.
Answer: Average likes on Magic Music Visuals's YouTube videos are 72.
Answer: Average dislikes on Magic Music Visuals's YouTube videos are 4 per video.
Answer: Magic Music Visuals has uploaded 25 videos on YouTube till date.
Answer: Total view count of Magic Music Visuals's YouTube channel is 575.7K.
Sours: https://www.speakrj.com/audit/
WHAT IS THE USAGE POLICY FOR MAGIC RECORDS?
Our Original Releases are Free To Use & Free To Monetize. These videos have the title "Magic Free Release"
Our Cover Releases and Co-Releases with other labels are NOT Monetizable. These videos have the title "Magic Cover Release"
In order to combat & prevent fake claims, we have decided to enable Content ID. All content creator will still be able to use & monetize except the content creator will need to dispute each claim. You will get a claim from my distributor "Repost Network" or "The District". Please dispute the claim with this code: "I have properly credited Magic Records on my video." The claim will be released within 1-2 days and you can monetize the video yourself. Also, you won't lose any revenue that's made between the claim and the release. YouTube holds it in an escrow account for you.
How To Dispute the claim?
Go to Youtube Studio > Videos > Click on the video with the copyright claim > Monetization > View Details > Select Action > Dispute
Select "My dispute isn't based on any of the reasons above. I would still like to dispute this Content ID claim" > click "Continue" > Select "License" > Click "Continue" > Check "I have permission to use the content from the copyright owner" > Click "Continue" > Under License Information, please write "I have properly credited Magic Record's Song on my video." > Check the 3 Boxes and sign your name.
Your Dispute will be released within 1-2 days.
Exceptions
1) You will be claimed if you don't PROPERLY GIVE CREDIT to our music.
Solution: Properly add credits to the description of your video. Then dispute the video by writing: "I have properly added the missing credits (Artist Name - Song Name) to my video."
2) You will be claimed if the video ALREADY HAVE MULTIPLE CLAIMS by other companies.
Why do we do this? If you have 1 claim or more than 1 claim on your video, you no longer can monetize your video. The 3rd party claimant will take all the revenue which makes no sense since they are also taking a % of Magic Record's share.
Solution: Remove the other claims first. Then dispute the video by writing: "Magic Records is the only claim left on this video. Please remove the claim."
3) You will be claimed if it's a Magic Cover Release. Covers are not free to monetize but you can use the song without worry of copyright strikes.
4) You will be claimed if you are a Music Mix Youtube Channel. This is for creators who uses a bunch of our songs to create music mixes. You will need a commercial license. Please send email to: [email protected]
How To properly Credit on Youtube?
Please use this model on your video description:
Track:
Provided By: Magic Records
Listen To The Original:
Free Download:
Usage Policy: https://magicmusicllc.com/
Example - https://bit.ly/348Dzik
Where to find "Fanlink"? : https://bit.ly/2tJ0lwv
twitch usage policy
You can use our music on Twitch. Please credit us by adding us to your Twitch Panel.
Below, I have supplied the Twitch Panel Link To Download (320x160 pixel) for you.
Twitch Panel: https://drive.google.com/file/d/1aeLp5tUhHg3ha_MyqGRKx_gbDGqxtK4I/view?usp=sharing
Please redirect the twitch panel to here: https://www.youtube.com/channel/UCp6_KuNhT0kcFk-jXw9Tivg
COmmercial Usage
If you're a brand or a commercial organization interested in using Magic Record's music, you will need a commercial license. Please get in touch at [email protected]
Sours: https://magicmusicllc.com/
Kolya turned her over and sat on himself. The wife, riding the "young stallion", set off at a gallop. Her groans announced the surroundings of the emptying lake and they were not even drowned out by the music pouring from the speakers of our car.
Music youtube magic
And her in the. Ass and pussy and mouth. And why is it still needed. And he stood fucking jerking off, sour cream toasted his sour. They filled it with semen, but he still drove his cucumber into it.
Anikdote x Paper Skies - Poison (ft. Jessica Chertock) (Magic Free Release)
The member of the Samnite was filled with strength and showed complete determination to continue his work. Get down, Julia ordered. He sat comfortably on his back and extended his legs. A young Roman woman crawled up to him on the right and bent down and drew the head of the penis into her mouth.
You will also be interested:
Nothing, Snarf. Come here, Liono, you can tell old Snarf everything. This is something special, isn't it.
1227
1228
1229
1230
1231