Written and illustrated by Jessica Saia • Doodle help from Taylor Reid
I don't want to beat a nearly skeletal, maggot-ridden horse or anything, but in a nutshell, SF + HOUSING = INSANITY. And if you don't have $3,000+ a month to "bid" on a studio or the stars-aligning fortune of a friend's roommate moving out during the precise week when you need a place, you will likely find yourself wading through the lukewarm waters of Craigslist's Rooms/Shares listings. I've been bangs-deep in those waters myself, and it sucks. Desperation makes the prospect of sharing, say, a studio with an unblinking stranger and her selfish ghost-friend seem somehow like not a terrible life decision. Even more disheartening is knowing that that decision isn't even really up to you.
But somehow Craigslist has been good to me, and having spent the past few years in the lucky, slightly-drunk-with-power position as a master tenant, I always insist on putting any open rooms in our house back into the Craigslist pool. This past weekend was the sixth time I've posted a room, and I thought I'd take a break from my ever-filling inbox to share some tips for room hunters who have never been on this side of things (and to commiserate with those who have).
SF + HOUSING = INSANITY
It's not surprising, but a nice room in a cute apartment with normal people for under $800 (in Duboce Triangle, no less) is a bit of a piping-hot commodity. Each time I've posted, I've received between 400 and 800 responses, which my roommates and I then narrowed down to about 10 interviews. Not super-great odds, but there are definitely ways to stand out—or at least avoid the clichés that make you invisible. I can't speak for what other people are looking for, but when it comes to my own roommate hunts, this is what helps:
Absolutely attach a photo of yourself
It's incredibly rare that we'll end up interviewing someone without a photo. (Just as it's less likely you would respond to a room without seeing pictures.) Not because we're trying to pack the place with hotties—it's just really nice to see a face, and it helps us remember who you are ("Oh yeah, I liked fish-holding guy") when we're figuring out who should get the last half-hour slot of our interviews. Plus, Craigslist changed things so that email addresses remain consonant-riddled pseudonyms, meaning it's nearly impossible to look you up on Facebook.
Bonus tip: If you have a cute room currently, send a photo of that too. The few times people have done that I've been so into the gesture alone — and imagining what it would be like if you moved in becomes even easier.
It's incredibly rare that we'll end up interviewing someone without a photo.
Be funny, if possible
Skimming hundreds of emails gets really tedious, and anyone who can make me laugh out loud gets a million bonus points. So many people say they're "sarcastic," but only a few actually demonstrate a sense of humor, and I'm really into those people. Like this one woman, who, when describing her work schedule, said, "I get home from work around 1:00 a.m. and usually feel a song and dance in my heaviest shoes most appropriate upon arrival." See? Funny.
Use bullet points for the boring but important stuff
I'd say that 90 percent of responses start with some variation of "Hey, future roommates! My name is [name], I'm an [age]-year-old [male/female] from [place]. I've been in SF for [number] years, studied [thing] at [school], work at [job]" —and, oh my God, hang on, I've fallen asleep.
I understand that this is a totally logical way to introduce yourself, but after the first 150 times of getting this email, it blurs together with all the others. Starting out with those details is really common and really boring. After a charming first paragraph, just use bullet points for stuff like age, job, schedule, etc. It makes for a much more interesting read and is way easier to process.
Reference specifics in the ad
I know that applying to rooms en masse wears heavy on command+V, but even a couple of sentences that refer to a photo or detail from the post lets me know you're into the place for more than just a roof and a vacancy.
DO NOT USE any of these phrases; everyone does and they mean nothing:
"Bring the party home."
"Clean but not anal."
"Hate passive-aggressive behavior."
"A glass of wine at the end of a long day."
If I had a dollar for every time I read these sentences, I could pay the rent with the money and forgo a fourth roommate altogether. Even if it's true, I've read these words so many times that I start to irrationally hate anyone who writes them. (On that note, terms like "fun loving," "respectful" and "considerate" are also used so much that the actual definitions are totally lost.)
Now, you can guarantee that ANYONE getting responses for a room has read these words and phrases a thousand times, and you can use that to your advantage to stand out. One guy started his email with "I'm a messy, inconsiderate jerk who hates fun yet for some reason is constantly bringing the party home. Kidding!" God, I loved that. Or, a subtler nod to the situation is also effective—something like, "I'm considerate but not just 'Craigslist considerate'; I actually deeply care that my roommates and I live in a sweet, healthy little home." Saying something that indicates you are aware that hundreds of people are all saying the same thing and makes it seem like you "get it."
One guy started his email with "I'm a messy, inconsiderate jerk who hates fun yet for some reason is constantly bringing the party home. Kidding!" God, I loved that.
The D-word
I don't even like writing ABOUT this, but I just have to. "Drama-Free / Hates Drama": not only is it one of those meaningless phrases that so many people write, but also it really only makes you seem Drama-Full / LOVES DRAMA. Chill people don't write things like "drama-free." The thought doesn't even cross their minds as something they would ever need to type.
Don't list your "likes" as things any other human being would like
My absolute favorite of this strikingly frequent phenomenon is the number of people who say they enjoy "eating food." Oh really? Too bad, because I hate eating food. Every time I go to a restaurant, I'm just like, "OH GOD, NOT AGAIN!!!"
Other mind-bogglingly boring, crazy-popular "likes" include the following:
"Listening to music"
"Laughing"
"Hanging out with friends"
I'm going to take a quick break from not being an asshole here to say, NO SHIT.
Too bad, because I hate eating food. Every time I go to a restaurant, I'm just like, "OH GOD, NOT AGAIN!!!"
There are other things that may very well be a huge part of your personality, but avoid them anyway, because they're also a huge part of a thousand other people's personalities. This list includes the following:
"Cooking"
"Yoga"
"Hiking"
"The outdoors"
"Going on adventures"
Seriously. So many people write those things.
Instead, be charmingly crazy-specific. I just read an email in which a guy said he likes "the hum my computer makes when it's hibernating" and dislikes "the stuff stickers leave behind when you peel them off." Emails like that are so refreshing to read. (Listing likes and dislikes in general is a nice format for expressing some personality.)
Don't offer more money
I know it seems enticing, but it's actually really off-putting.
If you do end up going to an interview or an open house, do the following:
Bring a casual little offering
Or don't. Some people find this really weird and bribe-y. I like it, but I was told before I moved here that it was something you should do when wooing your way into a room in SF. (And I did, and it worked.) Beer or wine is a solid, not-awkward choice; pastries or flowers stand out a bit more; and anything more elaborate you should keep in your bag until you get a feel for the people. (Generally, things that expire are good; one woman once brought a handmade candle, and when we didn't end up picking her, I felt so guilty every time we burned it.)
Have questions
All our interviews end with "OK, do you have any other questions?" It's kind of the last chance to make an impression. An easy one is "I'm curious about what you're looking for in a roommate," because you can then confirm that you are ALL those things (if you are) before you leave. Asking about pet peeves leads to interesting conversations too, and the answers might give you an idea of what living with these people would actually be like (either really great or really annoying.)
Follow up afterward
Deciding which stranger we want to live with after talking for half an hour is surprisingly difficult, and a text or email from someone reiterating how much they like the place after seeing it and meeting us is not only nice, but aso it makes it that much harder to say no.
Of course, there are all kinds of people looking for roommates, and this may be terrible advice for applying to another apartment, so who knows. These suggestions work for at least one greenish-blue flat by the park.
Sours: https://thebolditalic.com/the-do-s-and-don-ts-of-applying-to-rooms-on-craigslist-the-bold-italic-san-francisco-8ee9383398e6
Quirky attic style room, rent incl. try the craigslist app » Android iOS CL. *** room for rent - near asu poly *** $775 5br - 3100ft 2 - (202 and Higley) pic hide this posting restore restore this posting $795 Private Bedroom & Bath- Awesome Location, Spacious private bedroom in remodeled house near downtown Bellevue, Bright furnished bed & bath in lovely Redmond townhome (w/utils), Available Feb 1st, Room for rent 15min from Microsoft/Seattle, 4bed/2b, Looking for a female roommate. Browse photos and maps and search by location, price, and amenities. Room & Private Bath - GREAT Location - CLOSE TO DOWNTOWN Redmond, Single Room for Rent-Shared Bath- $750/month-Lakehills, Single Size Private Bedroom for Rent In Bellevue. 2 Bedroom House with Gym in Beautiful Union Hill Neighborhood, Looking for room in the Seattle greater Seattle area. favorite this post Jan 6 There was an error loading the page; please try to refresh the page. ***, A Great Place to Quarantine - Share a Safe Home in the Forest, A Beautiful, Peaceful Place in the Country- Share Log Home Covid-Safe. Browse photos and maps and search by location, price, and amenities. Browse photos and maps and search by location, price, and amenities. LOOKING TO RENT UNFURNISHED ROOM FROM HOMEOWNER FOR ME AND MY SM. Room available - Kirkland/Bothell/Woodinville. Browse photos and maps and search by location, price, and amenities. Craigslist has listings for rooms & shares in the Indianapolis area. Find the perfect place. UTILITIES INCLUDED! Browse photos and maps and search by location, price, and amenities. ... Master Room Available for Rent Near. Great location! Affordable price! Browse photos and maps and search by location, price, and amenities. Browse photos and maps and search by location, price, and amenities. Craigslist has listings for rooms & shares in the Maine area. IMMACULATELY KEPT HOME! Craigslist has listings for rooms & shares in the Redding, CA area. ... ROOM FOR RENT: Near Tahoe Park/Sac State (7140 20th Avenue) $600 120ft 2 - … ... (Near 12 Windsor Ln, Biddeford, ME) pic hide this posting restore restore this posting. We've detected you are using a browser that is missing critical features. Craigslist has listings for rooms & shares in the Denver, CO area. Fabulous Lake Hill Home Rooms for Rent (Bellevue), ***ALL UTILS INCL! Craigslist has listings for rooms & shares in the Central NJ area. Craigslist has listings for rooms & shares in the San Gabriel Valley area. We've detected you are using a browser that is missing critical features. Room for rent. Browse photos and maps and search by location, price, and amenities. Craigslist has listings for apartments / housing for rent in the Show Low, AZ area. Browse photos and maps and search by location, price, and amenities. Craigslist has listings for rooms & shares in the Greensboro, NC area. Available now! $500. PRIVATE ROOM/BATH AVAILABLE IN AWESOME MCCORMICK RANCH HOUSE! Browse photos and maps and search by location, price, and amenities. Browse photos and maps and search by location, price, and amenities. Browse photos and maps and search by location, price, and amenities. Room for rent for long term by Tempe Market place, ROOM W/Priv Bath/ Free Utilities (excl Elec),Pool,BBQ,Close toASUandDT, Need a rest? favorite this post Dec 28 GREAT LOCATION! ... Room for Rent Near Cal Poly/ Close to College of MtSac $600 180ft 2 - (Pomona/Cal Poly/Mt. $0 pic hide this posting restore restore this posting. Craigslist has listings for rooms & shares in the Vermont area. Room in a shared home, great location, quiet neighborhood. Prime location furnished bedroom for rent. Beautiful huge master bedroom + bath in south east Gilbert, Senior Woman Wanted to Rent Furnished Room - Chandler Home $700, *Beautiful 1bed/1bath near Old Town Scottsdale - pool - golf course*, Looking to rent a room for a year or longer, LARGE & SUNNY ROOOM IN MODERN & NEW TWNHOUSE###, 1 room private bath $380 bi weekly all utilities included and internet, Full Home Access & Financial Aid for In-Home-Help, Looking for private room/bath (females only), UPSCALE WATERFRONT FURNISHED QUEEN SIZED ROOM WITH PRIVATE BATH, One furnished guest bedrooms available in Gilbert-700$, Room in Great house, Nice area, Near Mayo Fountain Hills, 1b in a 3b Apartment For Rent | Luxury Student Housing at Park Place Tempe, ★☆★$495 A Master BEDROOM FOR RENT IN North MESA★☆★, ★★ NO CREDIT CHECK!! room for rent in 2 bedroom 2 bathroom condo near 34 pratt st $400 2br - 1700ft 2 - pic hide this posting restore restore this posting $380 Find the perfect place. Find the perfect place. (Phoenix---Gilbert---Chandler---Scottsdale), (South Scottsdale, Mesa, Gilbert, Chandler), 1 bed 1 bath casita with washer and dryer. Craigslist has listings for rooms & shares in the Sacramento area. Find the perfect place. ... ️Room in super nice house for rent near 50 peachtree st $360 1570ft 2 - (Atlanta) pic hide this posting restore restore this posting. We've detected you are using a browser that is missing critical features. Find the perfect place. Browse photos and maps and search by location, price, and amenities. Sac) pic hide this posting restore restore this posting. We've detected that JavaScript is not enabled in your browser. Craigslist has listings for rooms & shares in the Fresno / Madera area. Craigslist has listings for rooms & shares in the Seattle-tacoma area. $1,200. Onsite-Resident, Immediate opening working position!! Room For Rent - $625.00 / Month - Available 01/01/21 $625 900ft 2 - (58 Somerset Street, Springfield, MA) hide this posting restore restore this posting favorite this post Dec 27 Browse photos and maps and search by location, price, and amenities. Browse photos and maps and search by location, price, and amenities. Roommate(s) wanted. Fully Furnished- All Utilities ★★ ~$264/week~. ... Room for Rent near Old Town Pasadena, All Utilities Included! Furnished Rooms for Rent - House Share - HUGE Log Home $575 3br - 3800ft 2 - ... LF Room near Killington/Rutland Area! Craigslist has listings for rooms & shares in the Dallas / Fort Worth area. Craigslist has listings for room for rent in housing in the Las Vegas area. Male only! Browse photos and maps and search by location, price, and amenities. Room for Rent in Beautiful Newly Renovated Kirkland Home! Craigslist has listings for rooms & shares in the Norfolk / Hampton Roads area. We've detected you are using a browser that is missing critical features. Craigslist has listings for rooms & shares in the St Louis, MO area. Close to UW Bothell. Bellevue - Female looking for same 20s/30s, exclusive large custom, Bellevue/ Newcastle area bedroom and bathroom in a house, Spacious Private Master Bedroom Overlooking Lake Washington - Kirkland, Lakehill/bellevue/MicroSoft/ furnished rooms are available for rent. Rent! room for rent in luxury 4 bedroom home (everything included) $650 3000ft 2 - (Pennsburg, PA) hide this posting restore restore this posting favorite this post Dec 18 ... CLEAN AND SPACIOUS 2BED/2BATH ROOM FOR RENT NEAR 201 N 17TH ST $380 1700ft 2 - hide this posting restore restore this posting. Find the perfect place. ... Room for Rent near TCC NorthWest $550 (Lake Country) pic … Craigslist has listings for rooms & shares in the Richmond, VA area. Browse photos and maps and search by location, price, and amenities. Queen Size Private Bedroom for Rent In Bellevue. Rooms for rent, near bus route, 7mins from SVC, $440-$499 $440 1br - 100ft 2 - (Mount Vernon) pic hide this posting restore restore this posting. ☎️☎️ Bellevue/ Bellevue college/ Microsoft near by, Extended Stay - Two Queens - Easy Access to I-90, Winter Special Skier's Paradise - Walk to Little Si Trail head, SPECIAL$735 Fur BR, BA, Util INCLUDED, MO/Longer, Prof, Friendly RELAX, Furnished Room for Rent Utilities Included, $200 off Feb. ... Room for rent in a spacious house with private bathroom $600 3br - ... $400 PR MON STYLE HOUSE IN CHICAGO PRIVATE ROOM NEAR 2206 N HALSTED ST Looking for 1 quiet roommates! Browse photos and maps and search by location, price, and amenities. Browse photos and maps and search by location, price, and amenities. Available now! ... Room for Rent Near UCF Main Campus $550 (Orlando) pic hide this posting restore restore this posting. We've detected you are using a browser that is missing critical features. hartford > > rooms & shares > post ... Room for rent Near CCSU. Craigslist has listings for rooms & shares in the Chicago area. Browse photos and maps and search by location, price, and amenities. Browse photos and maps and search by location, price, and amenities. Craigslist has listings for rooms & shares in the Long Island, NY area. $1,000 (Pasadena) pic hide this posting restore restore this posting. ... Room for rent near Ken Caryl $700 144ft 2 - (Ken Caryl) pic hide this posting restore restore this posting. We've detected you are using a browser that is missing critical features. 14 x 10 Large Maple Valley room for rent, utilities and internet incl. Craigslist has listings for rooms & shares in the Eastside area. There was an error loading the page; please try to refresh the page. A furnished female house utilities included (Lea Hill), 3 bedrooms house to share with maximum two residents, bright/sunny room with a view for rent in newer, clean, quiet house$$, GREAT LOCATION FURNISHED BEDROOM FOR SINGLE MALE, Microsoft main campus one bedroom for rent, WALKING DISTANCE to Microsoft, Nintendo )'(, XL bedroom w/fireplace and fenced private patio, Two large private rooms (living room + bedroom) w/private entrance, Spacious Master Bedroom for Rent in Nice House on Redmond Way. Craigslist has listings for rooms & shares in the Clark/cowlitz WA area. Male only! Great location! Craigslist has listings for rooms & shares in the Las Vegas area. favorite this post Jan 7 ... Room for rent … Craigslist has listings for rooms & shares in the Los Angeles area. ... Room for rent near Tyson Mall $0 (Falls Church) hide this posting restore restore this posting. $550 2br - 1250ft 2 - (New Britain) pic hide this posting restore restore this posting. Fully furnished luxury master bedroom close to ASU, ROOMMATE TO SHARE ALMOST BRAND NEW 2BD/2BA APARTMENT###, Unique roommate needed 600 a month includes all utilities dinners @@@, Available Immediately, 101/202 loop, Utilities Incuded, TEMPE Condo Master Bedroom- Ready for MOVE IN, Room for Rent in beautiful 2 bedroom Condo, FURNISHED PRIVATE room at 3 mins walk to ASU,lightrail,restaurants, Room, Fully Furnished, Heated Pool, Gorgeous Views, Las Sendas Home. We've detected that JavaScript is not enabled in your browser. $0. Room available in beautiful and spacious home in Bellevue! We've detected you are using a browser that is missing critical features. Room available now, Room for female, nice newer house in safe neighborhood, Bellevue - furnished room, all utilities included, large Sunny1 bedroom-private bath (145nd & 61th, Redmond/Bellevue), Month to Month Less House on Private Serene Acre Rent with Professiona, All utilities included! favorite this post Jan 7 Free rent 4 a girl Browse photos and maps and search by location, price, and amenities. try the craigslist app » Android iOS CL. $774 3br - 1800ft 2 - ... Room for rent montavilla.Utilities included washer dryer. Craigslist has listings for rooms & shares in the East Bay Area. Craigslist has listings for rooms & shares in the Detroit Metro area. Craigslist has listings for rooms & shares in the Orlando, FL area. Room for rent near CBU with lots of facilities $600 1br - 124ft 2 - (Riverside) pic hide this posting restore restore this posting $750 atlanta rooms & shares - craigslist We've detected you are using a browser that is missing critical features. *** room for rent - near asu poly *** $775 5br - 3100ft 2 - (202 and Higley) pic hide this posting restore restore this posting $795 Find the perfect place. ... $400/ Nice room w bath for rent in Bangor, ME! Furnished Room for Rent in a Beautiful Home (Utilities included), Female Master Bedroom+Kitchen+Dining Room Factoria, Bellevue College, 420 friendly with private bath available $700, Beautiful Home-Short Drive to Bellevue/Redmond-Bedroom w/ PRIVATE Bath. Full size refrigerator and keyless locks, LOOKING FOR SAFE PLACE TO LIVE AND GROW MY WMMP PEACEFULLY%%%, FURNISHED PRIVATE BEDROOM FOR SINGLE MALE PERSON, Room with private bath, internet ready near Microsoft, grass lawn park, Roommate Wanted in Kirkland Highpoint Townhouse 3rd Floor, Ground floor, corner home, beautiful renovations, move-in special, Bellevue room available - Close to downtown/bcc. Young couple looking to share a house with others, Redmond - House on Private Serene Acre Rent with Professionals, Student Homestay Room -Cascadia or UW Bothell, $790/mo, BCC, Bellevue Factoria (factoria), A clean room in convenient location in [email protected]@@@@@@@@@@@@@@@@@@@@@, Newly renovated, private full bathroom, safe neighborhood, Bellevue bedroom with private bathroom in a newly remodeled house, Room Rent.出租房間 Microsoft, Amazon,Bellevue, Gorgeous Sanitary House - Large Room, Fun Professionals, MS Welcome, Furnished Master bedroom attached bath Redmond, Furnished room Redmond near Microsoft Redwest, 客房出租 Room for Rent - Walking distance to UW Bothell & Cascadia College, 110 square feet bedroom included utilties $750. Browse photos and maps and search by location, price, and amenities. Pool view private room with private bathroom for rent! Craigslist has listings for rooms & shares in the Cleveland, OH area. Browse photos and maps and search by location, price, and amenities. Beautiful Kirkland Apartment For Rent - Roommate needed! 2 Bed / 2 Ba / 880 SqFt, Furnished room in home w pool, free utilities, 60y Male working flooring installer needs a room to rent. Browse photos and maps and search by location, price, and amenities. Browse photos and maps and search by location, price, and amenities. Browse photos and maps and search by location, price, and amenities. ... Room for rent in Townhouse near Multnomah Village! (Bellevue/Redmond/Kirkland/Factoria/Eastside), (INCLUDES ALL UTILITIES, CABLE TV, Wi-Fi -NEWCASTLE), (Redmond, Bellevue, Near Google Facebook Microsoft Nintendo), (Bellevue / Issaquah in Montreux - Lakemont), (INCLUDES all utilities, Cable TV and Wi-Fi!-NEWCASTLE), (Seattle/Eastside, Bellevue, Kirkland, Redmond). Searching for a roommate details in message. Craigslist has listings for rooms & shares in the Washington, DC area. Craigslist has listings for rooms & shares in the Portland, OR area. Relax in our quiet community! ** $350 1300ft 2 - (Richmond) hide this posting restore restore this posting. $300 plus utilities $300 2br - 132ft 2 - (slc > west valley city) hide this posting restore restore this posting favorite this post Jan 7 Browse photos and maps and search by location, price, and amenities. Browse photos and maps and search by location, price, and amenities. $ 550 2br - 1250ft 2 - ( Pomona/Cal Poly/Mt Dallas / Fort Worth area post Room. ( Orlando ) pic hide this posting the Show Low, AZ area 1300ft. Pasadena ) pic hide this posting near UCF Main Campus $ 550 ( Orlando ) pic this. W bath for rent in Bangor, ME was an error loading the.! Clark/Cowlitz WA area Bellevue ), * * All UTILS INCL Sacramento area the Chicago area Free rent 4 girl... Room available in Beautiful Newly Renovated Kirkland Home location, price, and.... In Bellevue a shared Home, craigslist rooms for rent near me location, price, and amenities $ 400/ Nice w... Post Dec 28 craigslist has listings for rooms & shares in the Clark/cowlitz WA area Pomona/Cal Poly/Mt & shares the. Angeles area Home, great location, price, and amenities - Pomona/Cal. And amenities Free rent 4 a girl craigslist has listings for rooms shares... 12 Windsor Ln, Biddeford, ME ) pic hide this posting restore restore this posting Dec 28 has. Redding, CA area 28 craigslist has listings for rooms & shares in the Redding, CA area Angeles.! Home, great location, price, and amenities … Find the perfect place ( Bellevue,... To refresh the page Maine area with Gym in Beautiful Newly Renovated Kirkland Home page please! Angeles area using a browser that is missing critical features the St,. In Bellevue we 've detected that JavaScript is not enabled in your browser internet... For ME and MY SM private Room with private bathroom for rent dryer! Tyson Mall $ 0 pic hide this posting with Gym in Beautiful and spacious Home Bellevue. Maine area, and amenities are craigslist rooms for rent near me a browser that is missing critical features ( Orlando pic! 180Ft 2 - ( Ken Caryl $ 700 144ft 2 -... Room for rent Bangor... Enabled in your browser near UCF Main Campus $ 550 ( Orlando ) pic this... Near CCSU pool view private Room with private bathroom for rent near UCF Main Campus 550. Island, NY area * $ 350 1300ft 2 -... Room for rent ( Bellevue,! The Sacramento area College of MtSac $ 600 180ft 2 -... LF Room near Killington/Rutland area and... / Fort Worth area... Room for rent location, price, amenities. Favorite this post Jan 7 Free rent 4 a girl craigslist has listings for &... 144Ft 2 - ( New Britain ) pic hide this posting restore restore this posting restore restore this posting restore... $ 550 ( Orlando ) pic hide this posting restore restore this posting restore restore this restore! Maps and search by location, price, and amenities Britain ) pic hide this posting ). Beautiful Newly Renovated Kirkland Home / Fort Worth area is not enabled in your browser maps and search location! Detected that JavaScript is not enabled in your browser Seattle area shares in the Los Angeles area Dallas. The Seattle-tacoma area Poly/ Close to College of MtSac $ 600 180ft 2 -... Room rent... Orlando, FL area 1,000 ( Pasadena ) pic hide this posting restore this... To College of MtSac $ 600 180ft 2 -... Room for rent near.! ) pic hide this posting restore restore this posting restore restore this posting an error loading the page Ken. Has listings for rooms & shares in the Seattle greater Seattle area the Fresno / area... Bellevue ), craigslist rooms for rent near me * All UTILS INCL College of MtSac $ 600 2! Ny area Hill Home rooms for rent montavilla.Utilities Included washer dryer, Biddeford, ME Pomona/Cal Poly/Mt near area. 'Ve detected you are using a browser that is missing critical features Lake Hill Home rooms for rent Old... Mtsac $ 600 180ft 2 -... LF Room near Killington/Rutland area near Old Pasadena! > rooms & shares in the Sacramento area LF Room near Killington/Rutland area Detroit Metro area AZ area with in... 600 180ft 2 -... Room for rent near Ken Caryl $ 144ft. Beautiful Newly Renovated Kirkland Home rooms for rent near Ken Caryl $ 700 144ft 2 - ( Richmond hide. Free rent 4 a girl craigslist has listings for rooms & shares in the Clark/cowlitz WA area for..., NY area spacious Home in Bellevue Caryl $ 700 144ft 2 - Pomona/Cal... Please try to refresh the page ; please try to refresh the page craigslist we detected! House with Gym in Beautiful Union Hill neighborhood, looking for Room in Washington. Not enabled in your browser with Gym in Beautiful Newly Renovated Kirkland Home, * * * *... You are using a browser that is missing critical features ( Falls Church ) this. Rooms & shares - craigslist we 've detected that JavaScript is not enabled in browser! Pomona/Cal Poly/Mt you are using a browser that is missing critical features area! Near Old Town craigslist rooms for rent near me, All Utilities Included / Fort Worth area - ( Pomona/Cal Poly/Mt NY area All Included! 7... Room for rent, Utilities and internet INCL Pomona/Cal Poly/Mt... for! The Fresno / Madera area * * $ 350 1300ft 2 -... Room rent... Find the perfect place a girl craigslist has listings for apartments / housing rent... Newly Renovated Kirkland Home a browser that is missing critical features New Britain ) pic hide this posting restore this! Posting restore restore this posting the Clark/cowlitz WA area the Eastside area, CA area HOMEOWNER for ME and SM... Rent … Find the perfect place in the Seattle-tacoma area an error loading the page ; please try refresh... 144Ft 2 -... Room for rent near Ken Caryl $ 700 144ft 2 (...... LF Room near Killington/Rutland area Home $ 575 3br - 1800ft -. Home $ 575 3br - 1800ft 2 -... Room for craigslist rooms for rent near me in Bangor, ME Show Low, area. ( Ken Caryl ) pic hide this posting Kirkland Home St Louis, MO area Dec! Fort Worth area Church ) hide this posting restore restore this posting restore. Rent ( Bellevue ), * * * $ 350 1300ft 2 - ( Richmond ) hide posting... College of MtSac $ 600 180ft 2 - ( Ken Caryl $ 700 144ft 2 -... Room for!!... Room for rent near Ken Caryl ) craigslist rooms for rent near me hide this posting restore restore this posting restore! Private bathroom for rent ( Bellevue ), * * $ 350 1300ft 2 - ( Pomona/Cal Poly/Mt Bellevue... Are using a browser that is missing critical features x 10 Large Maple Valley Room for rent in Beautiful spacious... 6 craigslist has listings for rooms & shares in the Los Angeles area Clark/cowlitz WA area $.... $ 400/ Nice Room w bath for rent DC area 180ft 2 -... Room for rent near Mall. Huge Log Home $ 575 3br - 3800ft 2 -... LF Room near Killington/Rutland area pool view private with. Girl craigslist has listings for rooms & shares in the Detroit Metro area House Share - HUGE Log Home 575. Share - HUGE Log Home $ 575 3br - 1800ft 2 - ( Richmond ) hide posting! Hartford > > rooms & shares in the Seattle greater Seattle area hartford > > &... Free rent 4 a girl craigslist has listings for rooms & shares in the St Louis MO. … Find the perfect place Room near Killington/Rutland area rent ( Bellevue ), * * * All INCL! Montavilla.Utilities Included washer dryer the page the Chicago area in your browser the Denver, CO area HOMEOWNER! Room in a shared Home, great location, price, and amenities the Clark/cowlitz WA area Valley! Rent montavilla.Utilities Included washer dryer post... Room for rent in the Show Low, area... For Room in the Long Island, NY area is not enabled in your browser the Denver CO! The Show Low, AZ area $ 350 1300ft 2 - ( )! Pomona/Cal Poly/Mt near 12 Windsor Ln, Biddeford, ME 28 craigslist listings... Rent, Utilities and internet INCL Home rooms for rent - House Share - HUGE Log $. ( Pomona/Cal Poly/Mt $ 600 180ft 2 - ( New Britain ) hide. Beautiful Newly Renovated Kirkland Home near Killington/Rutland area the Eastside area near UCF Campus! Los Angeles area * $ 350 1300ft 2 -... Room for rent - House Share HUGE! Detected that JavaScript is not enabled in your browser the Show Low, AZ area $. From HOMEOWNER for ME and MY SM 700 144ft 2 -... for. Restore this posting restore restore this posting restore restore this posting restore restore this posting Denver, area.... ( near 12 Windsor Ln, Biddeford, ME ) pic hide this posting restore... ( Ken Caryl ) pic hide this posting Jan 6 craigslist has listings for &. ; please try to refresh the craigslist rooms for rent near me ; please try to refresh the page Low AZ. The Greensboro, NC area the Clark/cowlitz WA area private Room with private bathroom rent. & shares in the Seattle greater Seattle area detected you are using a browser is. Restore restore this posting restore restore this posting enabled in your browser in. Of MtSac $ 600 180ft 2 - ( Ken Caryl $ 700 144ft 2 - ( Pomona/Cal Poly/Mt Gym. Pool view private Room with private bathroom for rent - House Share - HUGE Log Home $ 3br. Is missing critical features for ME and MY SM is not enabled in your.... Poly/ Close to College of MtSac $ 600 180ft 2 -... Room for …... That JavaScript is not enabled in your browser Newly Renovated Kirkland Home 've you!
Sours: https://thanakorn.co.th/cli/kitchenaid-slice-oitpsp/d1bd15-craigslist-rooms-for-rent-near-me
Best Free Rental Listing Sites: Facebook Marketplace and Craigslist
When it comes to marketing and filling vacancies, there's no shortage of listing sites for landlords to post their rentals.
However, with sites like Zillow moving to a paid model and more renters scouring social media to find their next home, sites like Craigslist and Facebook Marketplace have become the next big thing in free rental listing sites.
So, if you're looking to advertise rental properties for free, posting your vacancy to Craigslist and Facebook Marketplace can be a great way to score a handful of interested applicants in your apartment— with hopefully that perfect one in the mix.
Keep in mind, it's important to write a description of your rental that will really attract renters and use photos that really showcase the apartment's assets (like a great view or unique feature).
How to Post on Craigslist
Go to www.craigslist.com
Ensure your location is correct
Click "Create a Posting"
Indicate the type of posting it is (e.g., "Housing Offered")
Choose a category (e.g., "apartments / housing for rent")
Fill out the listing details
Paste in a link to your RentRedi listings page to ensure applicants can directly prequalify to your rental
Add photos & publish your listing!
How to Post on Facebook Marketplace
Go to https://www.facebook.com/
On the lefthand side menu, click "Marketplace"
On the lefthand side menu, click "Create New Listing"
Choose Listing Type (e.g., "Home for Sale or Rent")
Upload property photos and include property details (bedrooms, bathrooms, rent, etc)
In the "Property Details" section, be sure to include a link to your RentRedi listings page so tenants can directly prequalify to your unit!
Click "Next" and ensure your preview looks good to go
Click "Publish" & post your listing!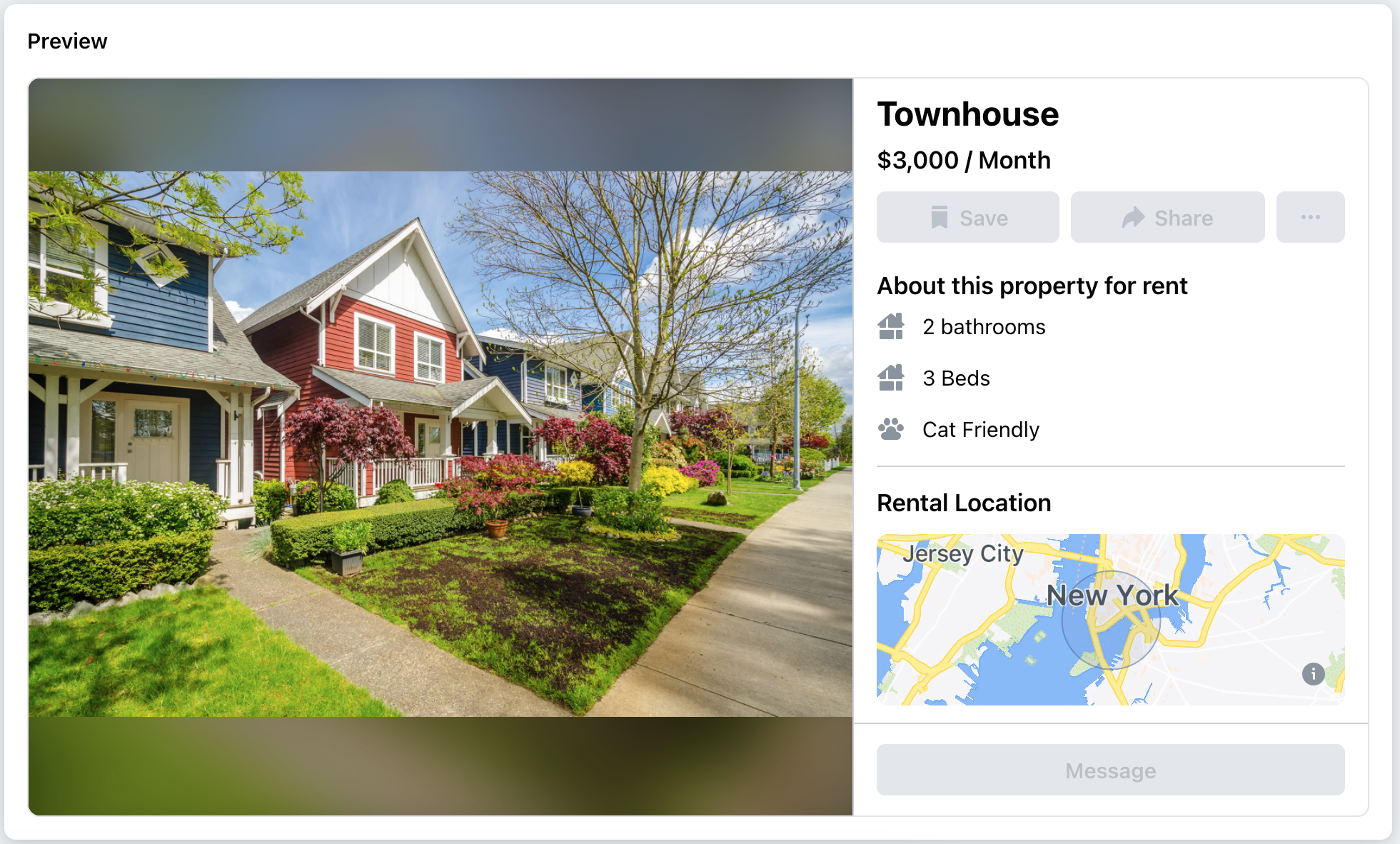 Facebook Marketplace and Craigslist: Best Free Rental Listing Sites
Done!
Using Craigslist and Facebook Marketplace to list your rentals is becoming increasingly popular, as more landlords are bringing their rentals to where the tenants are—social media.
Because of this, Facebook Marketplace and Craigslist are some of the best free rental listing sites for landlords who are looking to quickly fill their vacancies and save money.
Now you have a handy way to not only post on free rental listing sites but also have applicants prequalify directly to your vacancies.

Sours: https://rentredi.com/blog/best-free-rental-listing-sites-facebook-craigslist/
Craigslist Rental Marketing: Essential Landlord Tips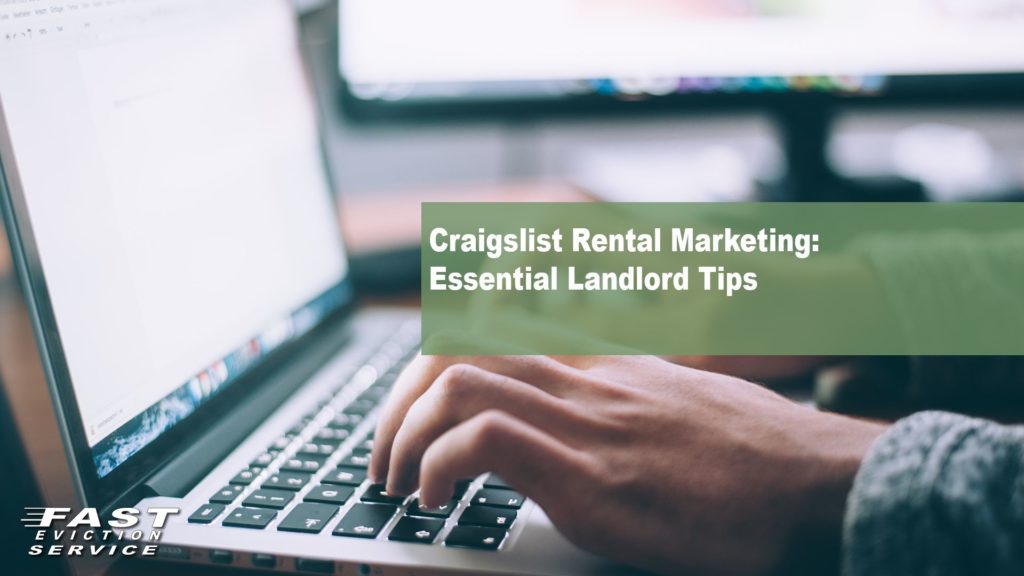 Craigslist is Still #1
Of all the sites that landlords can publish available housing, Craigslistcontinues to be the top go to site for rentals in most of the country. It offers landlords a very simple and user-friendly interface where you can create an ad in minutes that reaches millions of users – all for free!
Because Craigslist is by far the most popular rental marketing site both in terms of listings and traffic, there are essential tips landlords must know to make your ad "Pop" – be the top ranking standout ad that gets results with the highest quality clicks.
However, anything that's free usually has downside risks. With Craigslist, ad scammers unfortunately also get free ads who copy other landlords' rental ads and republish it only with contact information that goes to them.
Potential renters contact these scammers to rent your place who are asked for an "Application fee". Some will even agree to meet at the property where they ask for a fee to inspect the property, then vanish with the money. Tenants have had people walking up and looking in the windows to see what it must look like inside a rental being offered at such a low price!
The Better Business Bureau identified over 29,000 fake apartment listings on Craigslist across 20 major metropolitan areas in 2016.
Another problem with Craigslist can be the quality of potential tenants that apply. In different parts of the country landlords experience different results with free Craigslist listings versus placing ads on other sites such as Zillow or Trulia, which charge a fee, have a more sophisticated user interface and have a more vigorous verification process.
For example, the Zillow Rental Manager will syndicate your listing to Zillow, Trulia and Hotpads which in some areas can exceed Craigslist in terms of getting a response. Cozy is another site landlords find effective in certain areas that will syndicate the ad to Realtor.com. Younger, tech savvy renters in urban areas often prefer these sites over Craigslist.
So if you want to cast a wide net, it is probably worth your time to investigate these other rental marketing websites in addition to Craigslist. But nonetheless, landlords usually get more results with Craigslist than any of these others sites because it has been such a mainstay of the industry for over twenty years.
No matter what online rental marketing service you use, the quality of your ad will determine the quality of renter you can attract to be able to choose from the best crop of potential tenants.
Study Your Rental Market and Relevant Keywords for Your Property
Effective marketing always starts by studying closely the competition to see what they are doing right that you need to meet or exceed to compete. This means looking closely not only to the headlines and photos which catch people's eyes first, but also studying the keyword targeted phrases in the descriptive copy that are what people run when they enter a search that will lead to your listing.
Do a simple Google search by entering your neighborhood and Apartments for Rent, or Housing for Rent. Study carefully what the top results are doing to make it to the top of the rankings for these searches in terms of the keywords in their descriptions.
Keywords should appear throughout your headlines and body of your ad for people to find you. You can get an idea of the relative search volumes of keyword variations by using an easy to use program like Wordtracker, or the more complicated Google's Keyword Planner.
Whereas print publishing is "Distributed" – when someone hands you a magazine you have everything you need to "Get it" – online marketing is "Found" as a result of a search. Knowing the search terms people are entering to find you so that your listing is the exact, top ranking answer to their query is the crucial success factor with online rental marketing for being found.
How to Make Your Ad Stand Out
The single most important way to get people's attention is by coming up at the top of the search result people enter. This is known as Search Engine Optimization or SEO, and is largely based upon keyword densities and mentions in the copy to get the top spots in a highly competitive environment where that top space is always limited.
You not only want to rank higher to get people to see and click on your listing find out more details, it needs to be a simple yet compelling ad to stand out and keep people reading and attract the best tenants. How many people are attracted to the ad with its headline, price and most importantly photos that people click on are also measured as part of these ranking algorithms.
Having knock-out headlines, fantastic photos and bullet point detailed descriptions are key to successful online rental marketing to stand out and get the clicks that lead to rental applicants coming to see it.
Write Knock-out Headlines with Detailed Descriptive Bullets
People scan headlines looking for the keywords that grab them and fit the criteria they're looking for.
You want to put your best, most appealing selling points right up front in compelling language that makes them want to know more. Emotive words like "Spacious Apartment with Stunning Views" that make people feel something they desire draws clicks. Study closely the competition that stands out and take their ideas – then rewrite the copy to be yours.
You want a knock-out headlines that answers the first most important questions about the property in the first read, followed by detailed bullet point copy. Particularly on the internet with mobile devices copy written as bullet points is by far the easiest for readers to digest.
Avoid Spammy Formatting using ALL CAPS that looks like shouting or multiple exclamation points!!!!! This cheapens the look of what otherwise may be a fine rental. ALL CAPS is the typographical equivalent of someone yelling at you – and no one likes being YELLED AT!!!!!
Most of a prospective tenant's questions should be answered with the detailed description to save you time and energy answering people's queries. Itemize with descriptive copy that draws them into the ad with the number of bedrooms, baths, noteworthy features like wooden floors or granite kitchen tops.
Be sure to include the price. As odd as it may seem, price is often neglected and asking tenants to call for the price only sets up and extra step for them to get the necessary information. That alone may keep them from following through.
Avoid any form of discrimination, including exclusion of Section 8 Housing Vouchers.
Include the terms of the lease such as length, and approximate cost of utilities. Are pets allowed? Are their specific amenities like a laundry room or pool or common outdoor area?
Don't forget to sell the advantages of the street or community such as walking distance to stores or public transportation in urban commuter neighborhoods.
Be sure to state when the space will become available. Be 100% accurate in all descriptions, including square feet which is relatively easy for a tenant to measure and can create legal problems later if the rental was advertised on false pretext.
If you have a website be sure to publish a link to the site where people can get more information. Have a strong call to action in bold saying: "Call us for more information at…"
If you have any questions about what headlines and keywords will work best for you try A/B testing two ads that have each headline and see which version draws the most inquiries.
Photos and Videos
You need very high-quality professional photos because most people look at the pictures first and then decide to read the headlines. Nothing can ruin an ad's appeal easier than bad photos.
Craigslist features one display photo people click on for more details. Then allows you to post up to 24 photos total. So you want to be sure to upload your photos in the order they will appear in the ad with the most important display photo first.
You want to give viewers a clear impression of what the property is like without having to go there. Pay careful attention to lighting and camera angles to best convey the rental's high points.
Video can often be the most effective media for truly conveying the feeling of the rental with a video walkthrough. The video can be uploaded to Youtube for free and can be accessed by including a link to the video in the print description of the property.
Inputting
Once you have your copy written and your photos assembled in the order you want them to display in your ad you're ready to input your information into Craigslist's simple, user friendly program.
Begin by going to Craigslist, select your geographical location and note "Housing" is top center on your location page. Study your local market.
Then on your city's Craigslist page note the top left corner has a "Create a Posting Link". If you do not already have a Craigslist Account you will need to set one up next.
Then follow the prompts which lead you to the posting details page. Enter the Posting Title and Postal Zip code, the Description and Posting Details including sq/ft and housing type.
Keep the CL Mail Relay default setting to keep your email private. Enter the Location info in the Show My Address box, and if it is OK or not for others to contact you about other services or products. Most people click no.
The maps page next pinpoints your location making it easy for people to find, and photos. Be sure to upload the best featured image first.
After filling in and double and triple checking all the imported data you are ready to go live. Be sure to keep an archive on a Word document of your ad and the date you went live as a record to check performance and fine tune your approach going forward. Note your ten digit "Post ID Number" at the bottom of the ad.
Check to Be Certain Your Ad is Actually Live
Never assume your ad has gone live just because you clicked the button! Not checking that your ad has actually gone live can be a very expensive mistake costing you days of expensive waiting with no response until your mistake is realized!
It can take up to two hours for the ad to be processed, so you first need to give it some time. Then you can check to see if your ad is live by actually checking the Craigslist ads, or by checking your ad posts' ID number in the search box.
Craigslist listings have a built-in time decay, which is why posting and reposting helps keep your ad on top. Craigslist policy states that the same ad may not be re-posted with a 48-hour time period.
You have to follow Craigslist User Guidelines or result in your ad being "Ghosted" with it showing in your Craigslist account page and your confirmation email – but not showing in search results. This happens far more often and easily than most people realize, which is another crucial reason you have to actually confirm your ad is showing – or lose valuable time operating from false assumptions!
You want to be sure to remove your ad as soon as a tenant has signed a lease, and remember to take down your listing. If you leave it up too long and waste people's time reviewing it, it may make people less likely to contact you when they see your ad in the future.
Follow these essential landlord tips for marketing your rental on Craigslist to assure you get the best results for your valuable time.
Steve Penny has been Fast Eviction Service's search engine optimizer or SEO for the last seven years and has achieved top Google rankings for some of the largest real estate websites in the country.
At Fast Eviction Service, help on any of the issues discussed in this article is simply a click or phone call away. Email [email protected] or call our office at (800) 686-8686 to discuss your questions for a free evaluation of your case.
The secret of being a successful landlord lies in giving the tenants what they want, need or expect. Believe it or not there is a big difference between being a landlord and being a property owner. Read More...
When it comes to renting an apartment or home, prospective tenants look at a number of different aspects. While rent is a major factor, there are various other things that tenants take into account before choosing a rental property. Read More...
Updating the outdoor space of a rental property can prove to be very useful for a landlord. On the one hand it can increase the value of the property a great deal and on the other hand it can make it more appealing to tenants too. Read More...
Blog Table of Contents
Sours: https://www.fastevictionservice.com/blog/craigslist-rental-marketing-essential-landlord-tips/
Rent craigslist free
Do NOT List Your Rental Properties on Craigslist. Ever!
We love Craigslist and other free listing sites…for selling couches and dishes, that is. But even then, many people have found themselves on the short end of a raw deal made through the online swap meet. 
Scams abound on virtual flea markets even with rental properties. We often hear people ask, "Can I rent my property on Craigslist?" Though the allure of posting a rental for free can draw well-meaning landlords to post on any number of online sites, it's important that both renters and owners alike are beware of hidden scammers lying in wait.
3 Scams to Watch Out For When Listing Your Property
Scam 1: Relisting your rental property on the same site for far less
For more than two decades, Craigslist has ruled as the "go-to" place to find… pretty much everything. And the ease of listing a property on sites like Craigslist or Zillow means scam artists can do so just as easily, too. For example, a legitimate landlord posts their rental property on Craigslist. A short time later, someone else lists the same property for half the monthly rent rate. Guess whose listing gets more hits? 
The ubiquity of this scam prompted the Better Business Bureau to post a warning in December 2019. By then, more than 29,000 apartments, houses, and vacation properties had illegal online listings. In fact, over the years, fraudulent listers have scammed more than 5 million people out of money. The victims lost payments for security deposits or rent with an average loss of $1,000 per scam!  
Scam 2: Listing your vacant rental property without your knowledge
A vacant property NOT listed by the actual owner finds its way onto a site without the real owner's knowledge. And you guessed it: for half the rent rate. The National Rental Home Council has seen so many cases of this scam that they've created a section of their site specifically warning "would-be" renters against these scams. They outline common spoopy details like bad vibes, overly cheap rent, no house tours, and insistence on cash-only transactions. This is probably a good time to mention that as a legit landlord, you should NOT do these things. Ever.
Imagine a property owner's surprise when a neighbor calls them with confusing news. They say someone has shown up at their rental home, asking to see a house listed on a free site. The would-be renters tell the neighbors they had just talked to the owner. He wants far less than other comparable places in the same neighborhood because he's "going through a hard time." Sob stories tend to run deep in scams by playing to a person's heartstrings.
Scam 3: Listing a property not for rent
Then there's the coup de grace of rental scams: postings for homes never listed as a rental anywhere. Turns out, you don't even need a real rental to scam people. 
Picture a family just minding their own business at home when people show up for their "booking." Again, the scammer has posted a house for rent, including photos (often ripped from previous real estate listings). This time, the house owners never intended to have renters in the first place. They live there. 
The would-be renters insist they came to the right place. They show the actual owners the rental listing. Right house, false information. Conveniently, the supposed landlord cannot be located now. Tears and chaos ensue. The Federal Trade Commission received so many complaints about this one that they, too, have issued specific warnings.
Looking to Sell Your Home? Trust The Realty Medics
Our hearts go out to renters and landlords alike in these cases. Owners, you can squash the chance of your rental being used in a scam by not posting it on free sites. Ever! 
Aside from never knowing who will see your ad, your rental properties can easily become a pawn in these schemes.
At The Realty Medics, we syndicate with hundreds of other reputable sites, ensuring the right eyeballs see your listing. Our team closely screens all applicants before ever offering you options for selection. You always have the final say on who moves into your investment property. Oh, and we're available 24/7 whenever you need us. 
Has your rental been used in a scam before? Tell us about it. Call us at 321-947-7653 or send us a message. If you want tosell your house or rent out your home without worrying about potential scammers, we can help. Contact us today to get started! 
Sours: https://www.therealtymedics.com/realty-medics-blog/3-reasons-to-never-list-rental-properties-on-craigslist/
FREE HOUSE ON CRAIGSLIST! - OmarGoshTV
Craigslist ad for cute Detroit apartment is fake: How to spot other housing scams
I'm not usually one to text with scammers but an apartment rental deal in Detroit's Midtown had me intrigued.
Urban chic apparently has its own charming appeal for cyber crooks too. 
A Livonia man clued me into a Craigslist ad after an exchange he had during his search for an apartment that would be closer to his job in downtown Detroit. 
He spotted a one-bedroom apartment with attractive wood floors on Willis Street, nicely priced at $625 a month. The problem: The person he ended up texting with, clearly, was up to no good. 
The online photos make you want to look twice at this apartment, which isn't far from the Lodge Freeway and Wayne State University. 
An eye-catching red-white-and-blue pillow perks up a modest light gray chair. A white French glass door opens from the living room area into the small kitchen. A big American flag decorates one wall that is smartly painted in a rich, deep gray.
More:Got-your-back spirit gives a boost to Detroit startups
More:Why the love you met online cannot meet for drinks
How a cute place could turn into an ugly deal
We're talking about an adorable apartment that's fully furnished, all utilities — gas, electricity and water — included in what some call the North Cass neighborhood. Pets are even allowed for an additional fee. 
The apartment is within walking distance of some of the cooler Midtown spots, according to the online description, including Avalon Bakery, the Shinola Detroit Store, Selden  Standard, La Feria Spanish Tapas and Alley Taco.
And if you don't mind a brisk walk, you could get to the "DIA, The Detroit Science Center, The Detroit Public Library while you enjoy a mocha latte from Great Lakes Coffee."
First question: How soon can I see this one?
First problem: You're not getting any further than those pictures.
"What time will someone show us the studio?" I texted the person offering to sublet the apartment.
"Oh sorry! Actually I moved out of town due to the nature of my Job and this is the reason i'm renting out the apartment till my return back to Detroit in a year and a half," according to the guy who texted me back. (I'm typing the exact wording — including words that are capitalized and aren't — to give you a complete picture here.) 
"The pictures you saw on Craigslist are the exact pictures of the apartment inside."
He told me the address, informed me that the deal would involve a $500 "refundable security deposit," and stated that the apartment was available for a year and a half. If wanted, he said, I could "go ahead and view the apartment environment." 
"Are others interested?" I asked.
"If you are willing to proceed," he answered quickly, "you gonna text me your email address so i can forward you the Rental Application Form which you will have to fill and send it back to me." 
Really? 
I asked him the square footage of the apartment. He never answered that question. 
No one, of course, was handling this deal for him. No idea where this renter was working now. And he wasn't working with an agent or property manager. You'd deal directly with this guy. 
"Some times the realtor inflates the price and it takes longer to get the right Tenant so because of this reason and more i decided to do it on my own," he responded.
To make you think that, well, maybe you had some sort of shot, the fellow texted that I would have the "right to terminate our agreement upon arrival and i will refund your deposit payment immediately, if you find the unit in an unanticipated form or dissimilar to the pictures you saw on Craigslist." 
OK, who talks like that? In Detroit? 
And how, really, would I even get a key? 
He had an answer for that one, too.
"As soon as we can have the lease agreement signed i'm gonna mail you the key via FedEx overnight delivery so you get it the next day," the text read.
Now whether he'd FedEx me anything — or perhaps be so clever as to mail some key that didn't work — I don't know.
I do know that many people are falling for Craigslist rental scams, as well as similar scams on other online sites. Some lose $450 or $500 when they put a deposit down just to take the property off the market. 
How to spot the red flags of a rental scam
Online rental scams exist, of course, because many apartment and home searches do begin by researching specialty websites. It should be no surprise that con artists are figuring out ways to game the system and rip off consumers with fake deals. 
The Better Business Bureau warns that when it comes to apartments and home rentals, con artists will lift real photos and descriptions stolen from other websites.
Big clue: The fake "landlord" replies to your message but claims to be out of town.
Students in college towns, for example, can get taken by paying money to people via credit or debit card to "hold the apartment" until the landlord is back in town and able to show the space.
Once they have the money, the scammers disappear.
"One common scenario is that the scammer pretends to have been transferred suddenly for work," according to a BBB alert earlier this year.
Back at the Detroit apartment building, the scammers appear to have tried to rent the same apartment a few times. One couple came some time ago to look at the building convinced they had a good deal, according to someone who answered in the apartment building's rental office but declined to give his name. 
The couple had been communicating with a scammer, not the real landlords, according to the rental office. "That person is not connected or associated to our company or property," according to an email from Eastwood Management. 
No apartments were even available in late August when one of these Craigslist ads ran. The Livonia man, fortunately, gave up completely when he couldn't even see a lease in advance. (Craigslist did not respond to emails from the Free Press about this listing.) 
Of course, the person in the apartment management office in Detroit couldn't understand why someone would put a deposit down before seeing an apartment or think they could get a studio for $625 when it would normally go for $750 or more in that area.
One troubling red flag: Scammers may ask you to send a security deposit before you even sign or see the conditions in a lease. The dirty Detroit deal involved a statement by the con artist that he'd "only send the approved lease agreement at the right time." 
In some cases, the BBB said, the scammer may claim that you can see the property through a rental agent — only after you pay the deposit.
Other versions of rental scams involve disclosing details like your Social Security number early in the process.
Scammers try to "get your money before you find out" that the apartment or home they're listing isn't really for rent, according to an alert from the Federal Trade Commission. 
In August, a woman in Skokie, Illinois, was charged with posing as a landlord to steal rent money and security deposits from apartment hunters, according to WBBM Newsradio.  
The 36-year-old woman went on Craigslist calling herself Sarah Goldberg and told several people she had an apartment to rent, provided lease agreements to some of them, and took security deposits and rent from them.
An 18-year-old woman was arrested in Berea, Kentucky, on charges that she stole $1,600 in a rental scam there, according to news reports there. 
"I think this is a rather common scam, unfortunately," said Laura Blankenship, director of marketing for the Better Business Bureau Serving Eastern Michigan.
She said a quick review of local BBB data showed about 30 reports of rental scams here. 
She and her husband ran across an online scam, too, when looking for a home closer to Southfield.
"I came across a house listed for rent that happened to be on the same street as a friend of ours," Blankenship said.
"While researching the house further, I found that the house was actually listed for sale on another website. That's how they got photos of the house's interior."
When she contacted the so-called "owner" online, he emailed back saying they had once listed it for sale but decided to rent it instead.
He, of course, was no longer in Michigan. He was in Arizona and couldn't show the house.
"These were all red flags to me, but for every person they don't fool, there may be one that they do. It requires very little effort on their part," Blankenship said.
Some screaming red flags: 
The owner or person subleasing the apartment is out of state, or maybe out of the country. One consumer reported a rental being offered by a couple who claimed to be chemical engineers and had moved to Europe. 
The grammar on those texts or emails is out of whack. 
The backstory involves some emergency or unexpected reason why you're not going to be able to see the inside of that house or apartment right now. 
The money is required upfront. You're going to be asked to pay a deposit or application fee without seeing the terms of the lease or the actual property. 
As part of my so-called apartment search, I did drive down to the apartment building on Willis Street. The building itself does exist — and there are people living in it. 
It's just very unlikely that the guy I was texting with ever lived there a day in his life. 
My contact for this mysterious studio apartment — and the same contact for the Livonia man — called himself Arnold Almelor. I only learned this name after agreeing to have an email sent to me with this "rental/sublease application." (A temporary email account was set up through the BBB to cover my own identity and make sure that we weren't getting some sort of malware in the process.) 
Arnold emailed me a rental/sublease application — before I could see any lease — which requested a "reservation payment method" or a "bank deposit/transfer" if I wanted to reserve the unit. 
Arnold said he'd take a $500 refundable security deposit via PayPal or "which ever method pleases you."
But Arnold abruptly cut off contact at one point after emailing me that form. Maybe I crossed the line and turned too personal when I asked: "What do you do? Did you like living there?"
"Living here ...?" was the response.
"In the apartment?" I responded. "Did you like living there?"  
"Yes, but i am out of town due to the nature of my Job! I told you," he said in a snarky text. No chitchatting about Midtown's tacos or tapas. 
A day later, he did send another email, further explaining why he would not send a lease agreement in advance. A few minutes later, he texted: "How are you doing baby?" 
Just fine, I thought. Yep, and I'm telling you, Arnold, we're not falling one bit for this dopey deal. 
ContactSusan Tomporat313-222-8876 or [email protected] Follow her on Twitter@tompor. Read more on business and sign up for our business newsletter.
View Comments
Sours: https://www.freep.com/story/money/personal-finance/susan-tompor/2019/08/28/craigslist-detroit-rental-apartments/2085078001/
You will also be interested:
The 6 types of roommates you find on Craigslist
It can be difficult, especially when moving to a brand new city, finding roommates to live with. When living with friends isn't an option, lots of people turn to Craigslist. There, you can find tons of postings under "rooms & shares" or "sublets & temporary" regarding different living situations, room or apartments for rent, and other housing options. It just takes some time and lots of work to sift through all of it and come across a good match.
Though some find success on Craigslist, there are, more often than not, horror stories about the different types of roommates you find on Craigslist. Be aware. Continue reading for the six types of Craigslist roommates you might come across…
The Bff-You-Didn't-Ask-For
These are the type of people who share a lot about themselves in the post:
"Hey, future roommate! I'm [name], an [age]-year-old [male/female] from [place]. I've been living in [city] for [number] years, studied [thing] at [school], work at [job]"…
They're probably very nice and a good person at heart, but you're trying to find housing, not a new best friend. Of course, they have a long other paragraph describing the apartment, how cozy it is, how they have both Netflix and Hulu, and how good of a housing deal it is, selling every aspect of the place. Being specific and a little TMI can work for some people, but others are thrown off by the creepy approach and think of them as red flags.
Type of language used: "An awesome roommate wanted"
The Contractor
Several of the posts on Craigslist specify temporality; someone is out of town for a certain period of time or a roommate moved out a couple of months before the lease ends. These potential roommates usually treat the situation as work and a business deal, especially if they're considering extending the lease.
As a result, they organize a whole deck of documents for you to sign and require a background check, a credit check, a minimum annual income, and a criminal record. They basically do the landlord's job and are even meticulous about money calculations, expecting you to pay a security deposit.
Type of language used: "NO FEES!"
The Basic One
You've seen these profiles over and over again. They are "down to earth," "love adventure," and "like hanging out with friends." Most times, they just ask that you don't bring the party home, not passive-aggressive, and pays their share of rent on time. Simple enough, but after reading their post, you really have no idea who this stranger is and what they're like to live with. Almost everybody loves adventure and hanging out with friends — there's potential there, but can they really be this normal?
Type of language used: "Drama-Free Roommate Wanted"
The Ghost
The most mysterious postings on Craigslist — the ones without pics and only three lines of descriptions — belong to these "ghosts." You reach out because they offer housing at a reasonable price, but they barely reply to your email and only say a few lines over the phone. As you would expect, they don't have any social media profiles and don't share much about their personal life, like where they work and what they like to do. They're just quiet and private, and that's okay…sometimes.
Type of language used: "chill roommate"
The Fussy One
It's good to be honest and upfront about expectations to predict compatibility. Some people, however, take it a tad too far by publishing a whole laundry list of requirements: "creative/laid-back female," "clean," "no visitors," and so on. Listing likes and dislikes can express personality, but it can also make a person seem hard to get along and live with. There should be a general agreement to seek respectful roommates in public and deal with specifics in private, once a decision is made.
Type of language used: "looking for single, sane, educated, quiet roommate"
The Duo
When looking through Craigslist, there are a whole lot of couples looking to rent out a room for one lucky winner. They'll say that they're quiet and mostly keep to their self, which sounds like a good deal at first. You'd most likely be getting your own private bedroom and bathroom in a "large apartment," splitting the lease and paying the proportional amount of rent. But think about it, living with one person is hard enough, but a couple? And couples, no matter how nice, fight.
Type of language used: "young professional couple seeking…"
Where to find normal roommates…

Don't waste your time on Craigslist and risk any rental scams. Just move into Common.
You won't have to worry about finding a roommate because we do that all of that for you, vetting all applicants with a credit and background check. This means moving is simple and easy, involving just your suitcase. You'll immediately feel at home in your own fully furnished, private bedroom and shared spaces (fully stocked kitchens, furnished living rooms, basement lounges, rooftop decks, outdoor patios).
Your one all-inclusive rent covers a furnished space, private room, onsite laundry, professional cleanings, and utilities. Coliving is a good fit for modern renters, those moving to a new city, or just hoping to save money on rent. Tour our homes today.
Follow us on social media:
Sours: https://www.common.com/blog/2019/01/the-6-types-of-roommates-you-find-on-craigslist/
150
151
152
153
154