Hello! Today I wanted to share with you my latest culinary creation – a 2-tier Great Gatsby Roaring '20s cake. A few weeks ago on Instagram, I posted 4 polls from which you could choose to help plan my next cake design. One of the categories, animal vs. decade, ended in an exact tie! So, I narrowed down the options to bee-theme vs. 1920s-theme, re-polled my lovely virtual friends, and voila: roaring '20s cake won by a landslide.
So, in this post, I'm going to share my method so you can replicate this style of cake on your own! It's great for any decade-themed party (if we ever go back to parties again – lol) or gifts for friends who love the jazz era, filled with music, dancing, and carefree living.
Without further ado, let's begin! First, peruse the tools list to gather what you need. Then, check out the written instructions! Finally, don't forget to have fun!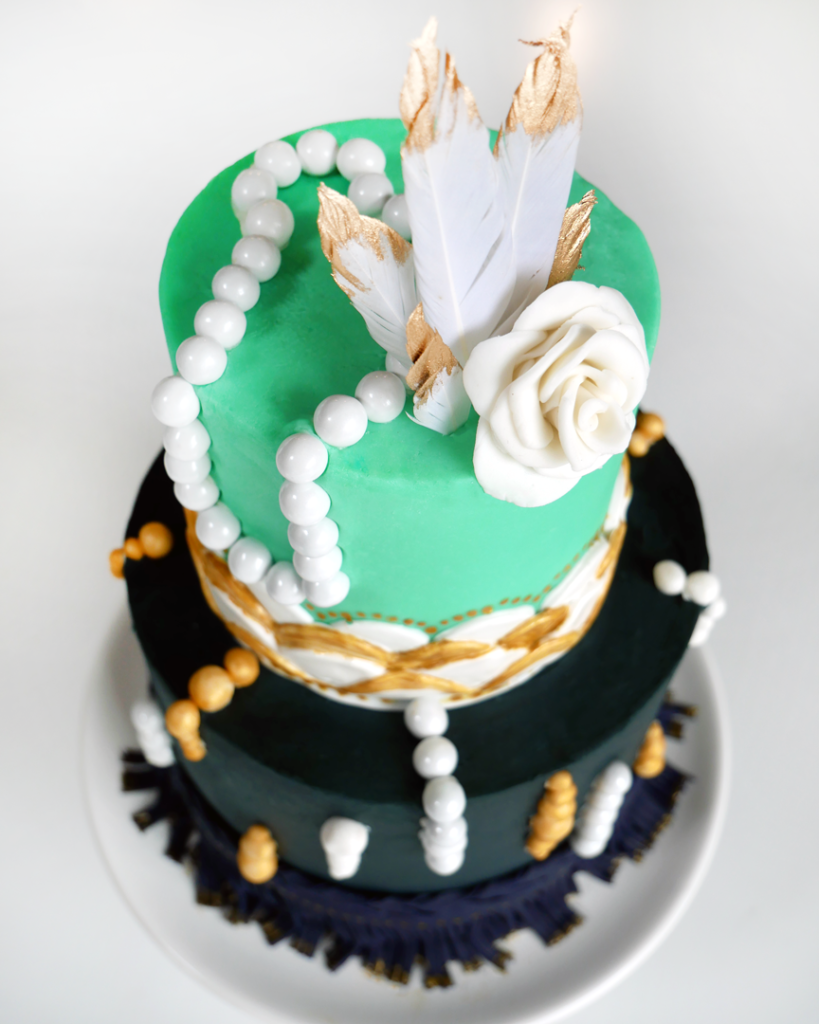 Roaring '20s Cake Recipe, Ingredients & Tools Lists
To create your very own roaring '20s cake, you'll need to gather the following ingredients (in bold) and tools. I've included links (affiliate) for your easy shopping and reference!
Ingredients You'll Need
Of course, the first thing you need is cake. I experimented with a new cake batter recipe and split it into two 4-inch layers, and two 6-inch layers. It worked super well, but you can use any recipe or flavor you prefer. If you want to recreate my cake to the exact size specifications (which we'll discuss a little later) be sure your cake recipe is a larger one, formulated to fill three 8-inch cake layers.
Keep in mind that changing the size of pans against a recipe means that your cook time will be different. Smaller pans will cook faster, but if they are more full, they may take longer than expected. It's okay if you're not sure how long to cook them, you don't even need to set a timer. Stay near the cakes, and always use these two visual cues to test for doneness:
Before opening the oven, give it a soft bump and watch your cakes through the window. If the centers of the cakes wobble, they aren't cooked yet. Once they don't wobble, move to step two.
Check the center of the cake with a toothpick. When it comes out clean, the cakes are done. Always check quickly so as not to release too much oven heat if the layers or larger layers still need to cook.
Always let your cakes cool fully before moving on with the decorating process. I usually bake my cakes the night before decorating. Then, I wrap them in two layers of plastic wrap and let them freeze overnight. Before decorating, I pull them out and let them warm up naturally – though, they don't need to be thawed to begin!
Next, prepare your buttercream! My absolute favorite for decorating is vanilla American crusting buttercream since it holds up extremely well to layering, smoothing, and piping. You can see an example of it here.
The recipe is super simple:
2 cups room-temp butter (4 sticks)
8 cups powdered sugar
2 tbsp vanilla extract (or another flavor of your choosing)
1 tbsp vanilla bean paste
3-5 tbsp milk, room temperature
Method: Beat the butter in a stand mixer until combined. Add the powdered sugar, one cup at a time, beating and scraping the bowl down in between each addition. Finally, add the vanilla extracts (or another flavoring of your choice). If your buttercream mixture is extra stiff, you can add up to 5 tbsp of milk. However, do so with caution, and only add a small bit at one time.
For other buttercream flavors, try one of these: Brandy American Buttercream, Citrus Faux Swiss Meringue Buttercream, or White Chocolate American Buttercream.
You'll also need some white fondant and, optionally, multi-sized edible pearls for decorating. I only had one size of edible pearls, so I supplemented those with some fondant "pearls" I created myself. To complete the edible side of your grocery list, be sure not to forget the gold luster dust! You'll also need some clear, food-grade alcohol to transform the pigment into paint.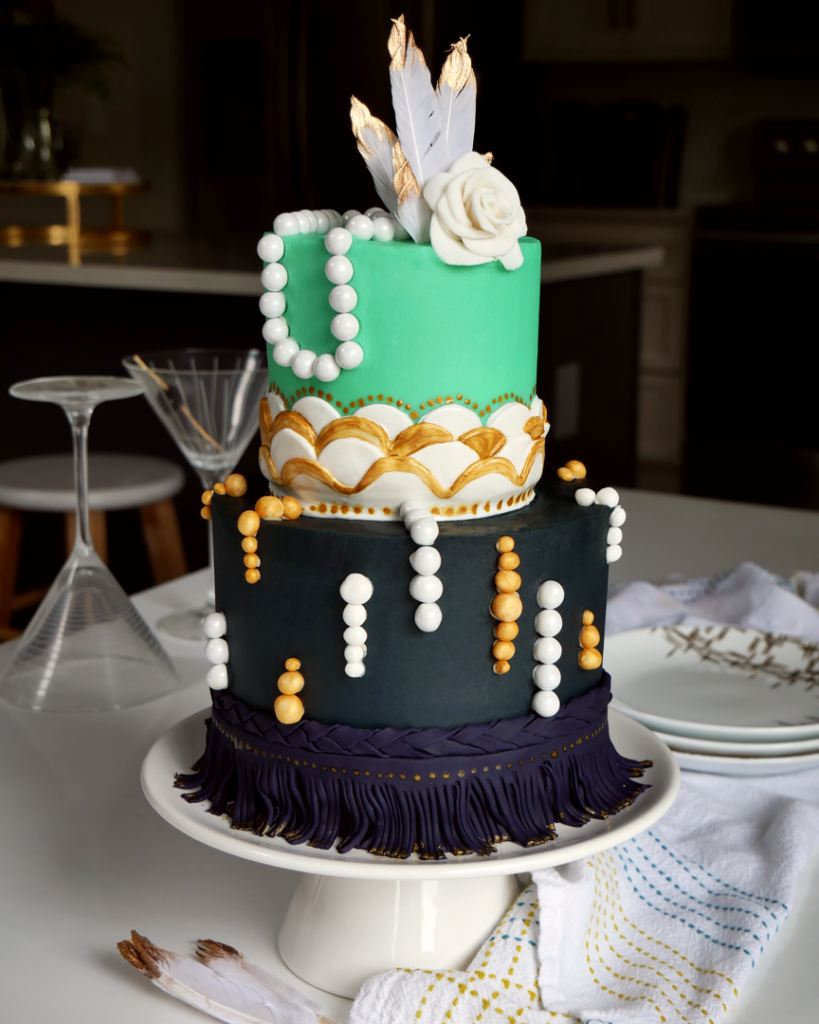 Gather The Following Cake Tools & Miscellaneous Decor Items
2, 6-inch cake pans
2, 4-inch cake pans with a 3″ depth
Mixing bowls of varying sizes
Stand mixer with paddle and whisk (you can use a handheld, but it's not recommended)
Measuring cups and spoons
Spatula
Cake leveler/wire, turntable, cake scraper, offset spatula, piping bags – all can be purchased in a kit like this
Wire cooling rack
Food coloring gels – I used Americolor's Royal Blue, Sky Blue, Plum, and Black to create my Navy; and Leaf Green, Electric Yellow, and Sky Blue for my Teal
Plastic wrap
Fondant toolset with scallop stamper
Silicone mat for protecting the work surface from fondant
Food-safe paint brushes
1920s-style feather for garnish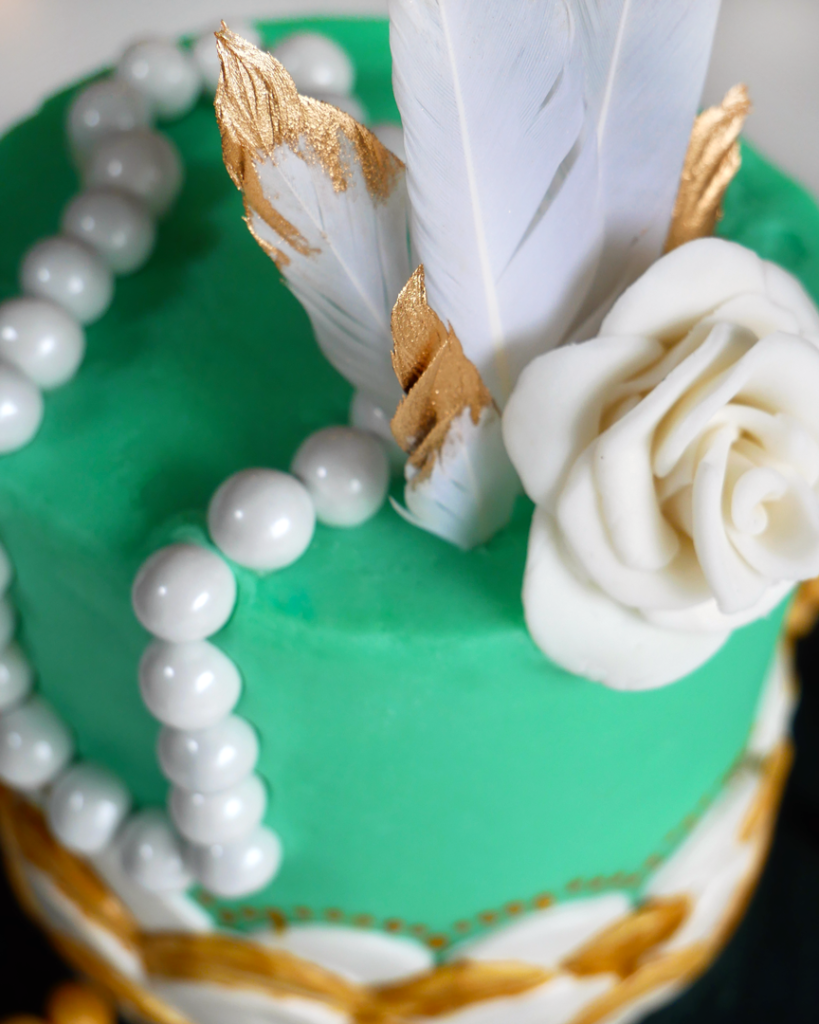 How To Assemble & Decorate Your Roaring '20s Cake
1. Torte, layer, and crumb coat the two tiers individually.
First, use your cake wire to level off each of the domed layers of the tiers. Use an offset spatula to add frosting on each of the "bottom" layers, and then place the respective "top" layers on (top facing down.) Remember, you're assembling each cake tier separately, to begin. (In other words, don't worry about stacking the tiers together yet.) It doesn't matter which cake layer is the top or bottom, but I typically choose whichever has a cleaner bottom edge to become the "top" layer. Once inverted, it creates a nice, structured corner for your cake.
With the same spatula, add a large amount of the colored buttercream to the top of each cake. I used navy on the 6-inch cake and teal on the 4-inch, but you can use any combination of colors you like! Hold the bottom of the spatula flat against the top of the buttercream while rotating your turntable to smooth the frosting out and over the edge. Especially if your cake edges curve in slightly, be careful not to smooth too much frosting off of the top edge. A structured corner on the crumb coat helps keep your edges sharper after the final buttercream addition.
Once you're relatively happy with the flatness of the top of your cake – and, remember, it doesn't have to be perfect just yet – apply more frosting to cover the rest of the sides. Then, holding your cake scraper tight against the side of the cake, begin to rotate your turntable again. Remove the frosting from the scraper periodically to create a smooth crumb coat. With sweeping-in motions, use the bottom of your spatula to smooth out the ridge of buttercream that has formed around the top edge. Refrigerate both cake tiers for 10-20 minutes, or until the buttercream is firm to the touch. 
Tip: If you need a more thorough walk-through of layering and crumb-coating cakes, you can find more info in my video tutorial here.
2. Add the final coat of buttercream.
Apply more buttercream to the top and sides of each cake, in the same manner as before. Again, use your cake scraper to smooth down the sides. If any "holes" appear in the frosting, simply add more buttercream to "patch" it up, and then continue smoothing. Then, use sweeping motions with the bottom of the offset spatula to carefully smooth out any ridges that have formed on the top edge of the cake.
Once you're happy with the final coat, refrigerate the cakes again, once more, until the buttercream is exceptionally hard to the touch.
3. In the meantime, create your fondant rose and pearls.
To create fondant pearls of the same size, first, roll and flatten a piece of fondant until it is level. Cut off the edges to create a square or rectangle. Then, with straight lines, cut out a grid of same-sized squares. After doing so, you can roll each square in the palm of your hands to create spheres of exact size for a polished, clean look. Repeat the process with smaller or larger grids to make more pearl sizes. You can roll each of the pearls in luster dust to add a natural shine. Let them sit aside, uncovered.
Next, to create your rose, roll out a very thin piece of fondant. With the plastic tools, cut out 3-4 teardrop shapes, slightly smaller than you wish for your final rose petals to be. With the point of the "teardrop" shape facing down, roll one of the petals in on itself to create the center of the rose. Then, continue to wrap the small petals around this first one. At first, they'll overlap greatly. However, as the rose gets larger, the petals will overlap less.
Create a few more petals, slightly larger in size, and continue adding them to the flower until it is as full as you wish. Bend and mold the petals slightly to give the rose a more life-like appearance. Finally, let it dry, uncovered, to hold its shape. I like to place two forks upside down and rest the flower in between so air can circulate all around.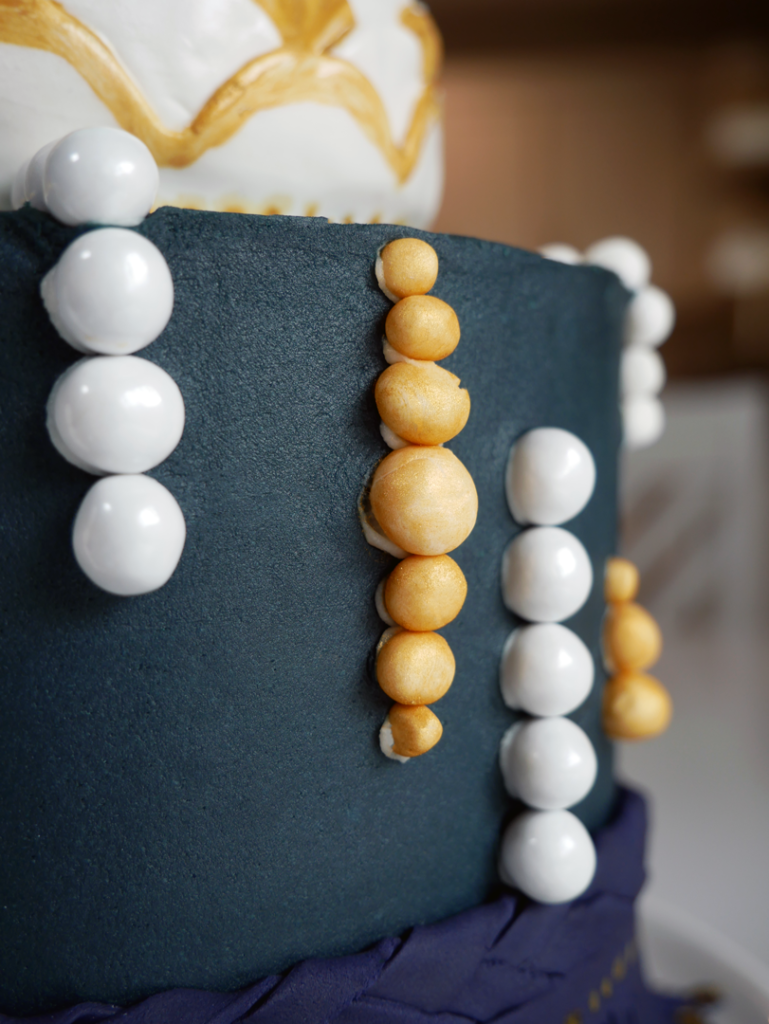 4. Stack your roaring '20s cake tiers together.
Typically, when layering cakes, you must add dowels for stability. However, due to the miniature size of my roaring '20s cake and the hearty pound-cake-like recipe (as opposed to a delicate sponge), that wasn't necessary. If you choose to make a larger cake or use a light sponge recipe, though, you'll definitely want to add the support.
Once the buttercream has crusted, add a small amount of fresh buttercream to the center of the larger cake. This will create a "glue" for our top tier. Then, gently lift the smaller cake off of the turntable with a spatula, and place it on top of the larger one. Use one finger for stability on either the back or top of the cake while you lift it. Since the buttercream has crusted, it will hold up well to a gentle, guiding touch.
Optionally, you can choose to leave the cakes separate and serve them as a set, rather than one cake, as shown below!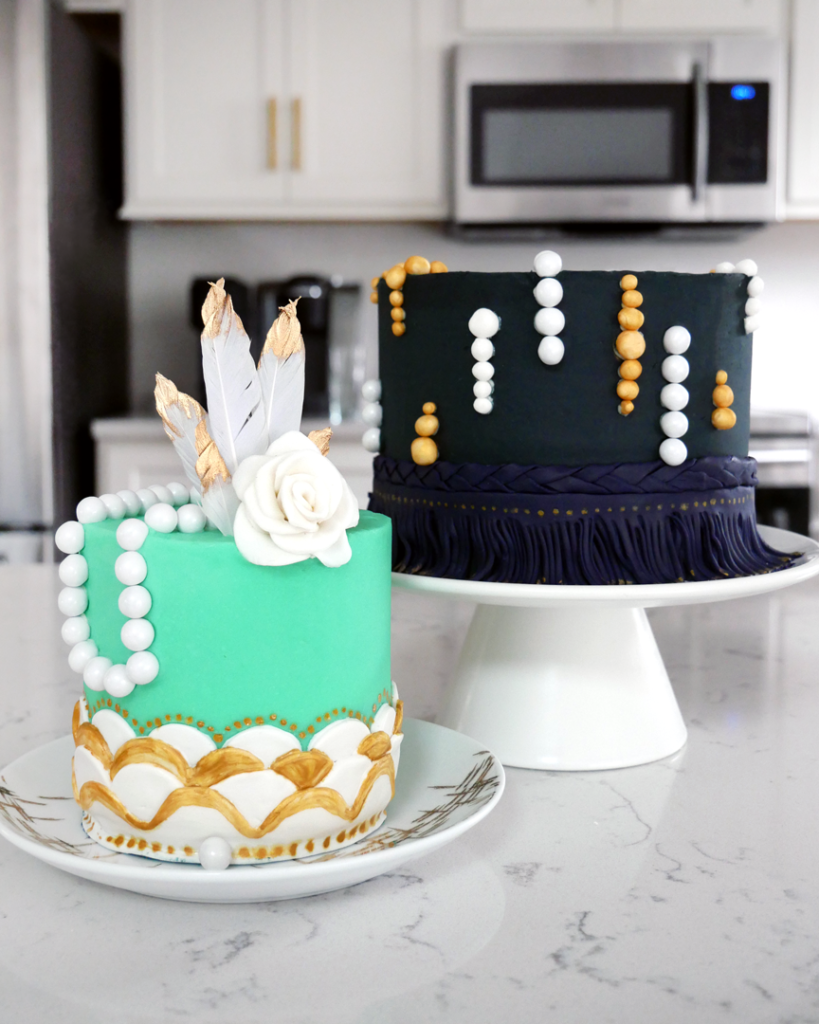 5. Create and add the fondant fringe and scallops.
Color some fondant in whatever hue you choose for the fringe. I like to use a toothpick to add just a little at a time. It also helps to color the fondant faster by twisting the color into it, rather than kneading and folding.
Working quickly so the colored fondant doesn't dry out, roll and flatten it into a long, narrow rectangle. Trim off the top and bottom edges to create a smooth line. Then, use quick, sharp motions with the fondant cutter to make short cuts perpendicularly along the edge, leaving about 1/4 of an inch at the top to hold the fringe together. Carefully lift the fringe up onto your cake, securing the top of it with a tiny amount of fresh buttercream if it doesn't stick well. Go back through the fringe again with a pointed fondant tool, separating some of the fondant to create a natural movement.
In the same color fondant, roll and cut out three long, thin strips to create a braid. If you need help braiding, check out my pie crust decorating video tutorials here – the method is exactly the same whether fondant, pie crust, or hair – lol. Attach this braid to the cake at the top of the fringe to add a clean, decorative look.
Next, roll out some fondant for your scallop design, coloring it if you wish. Use the circular border stamp to create pieces of scalloped trim. Attach the top-most piece of scalloping first, after which moving onto the middle, and bottom layers. You can use a rounded fondant tool to press the bottom border of the final scalloped piece in for a polished, clean finish.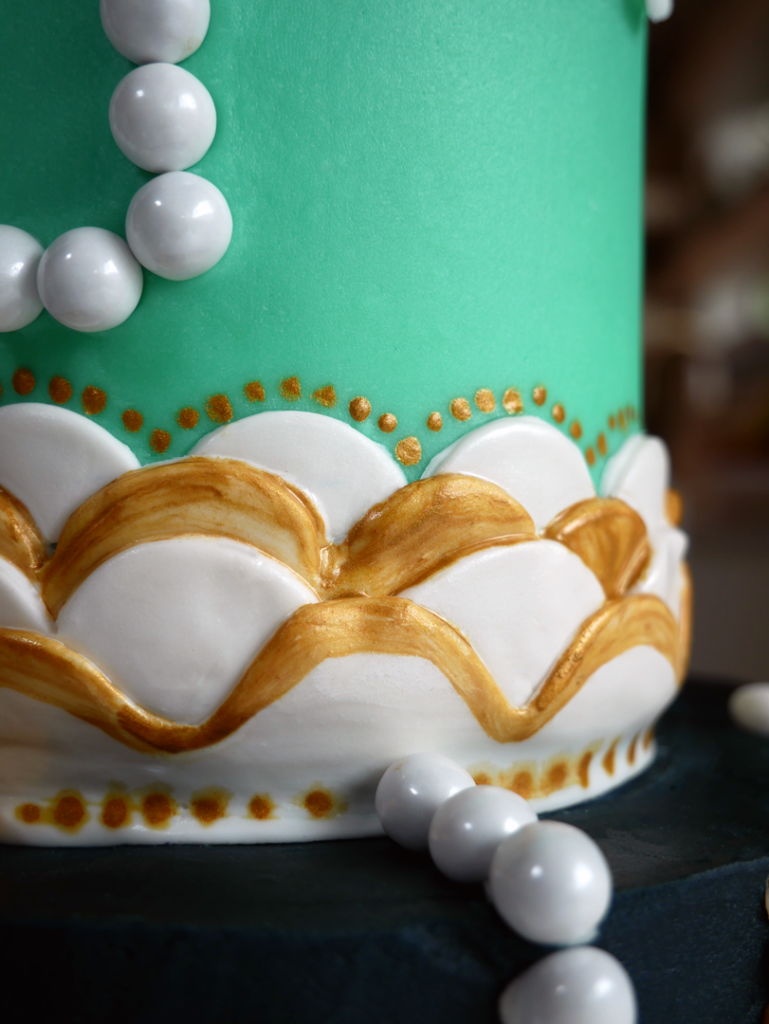 6. Add your finishing touches.
With a little bit of extra buttercream, attach your pearls to the cake tiers. Then, place your flower on top, surrounded by a feather, or a few.
Finally, in a tiny bowl, add a few drops of clear, food-grade alcohol to a little of your gold pigment, mixing with a paintbrush to combine until the consistency is like paint. With gentle strokes, decorate the scallops, fringe, pearls, and whatever else you wish with flashy gold garnish.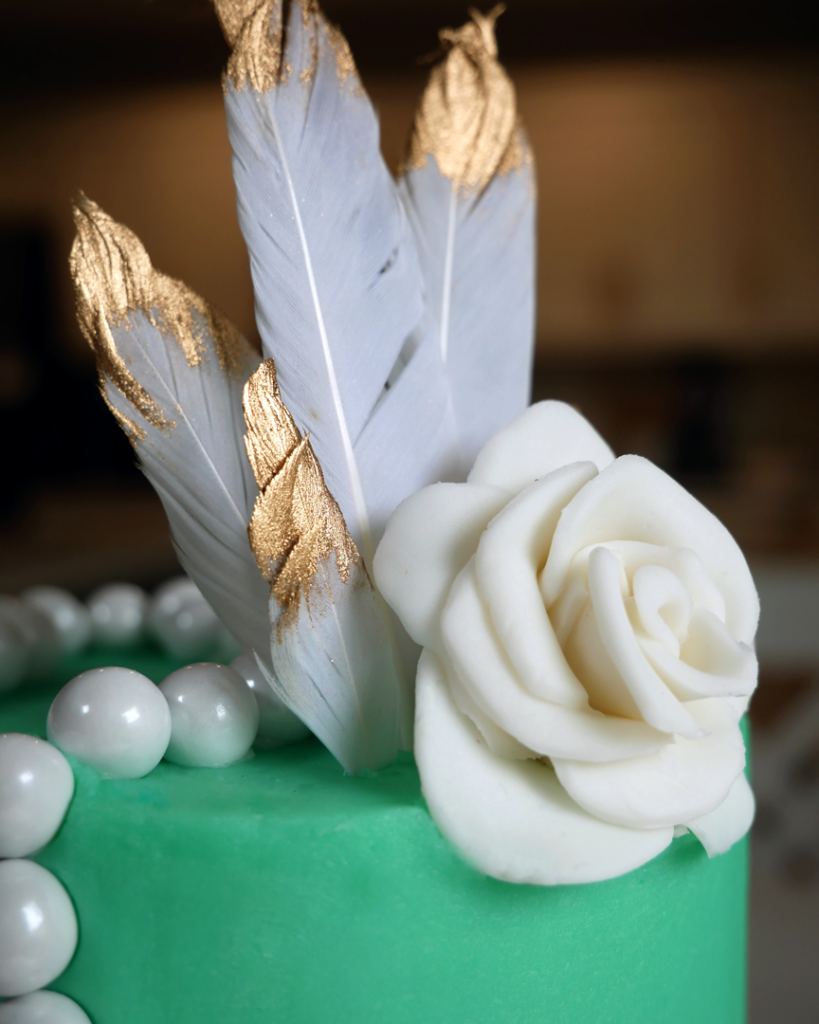 7. Grab a cocktail and enjoy your roaring '20s cake!
Voila! With that, your roaring '20s cake is complete! Just a few notes to keep in mind:
Simple American buttercream cakes last at room temperature, covered, for 2-3 days. Use a piece of plastic wrap to cover any exposed parts of the cake after cutting into it. Refrigerate or freeze after 3 days.
Fondant tends to become melty and soft in the refrigerator, so don't use any cake flavor/fillings that must be refrigerated.
To cut the cake, remove the top tier, first.
It's always good practice to remind any recipients that, though most of the cake is edible, the feathers are not. Just in case. Lol.
I Cannot Wait To See Your Roaring '20s Cake!
Find me on Instagram so we can keep in touch, and be sure to tag me in any photos you post of your roaring '20s cake! I love to see your works of culinary art. And, remember, you can always reach out to me via email, DM, or comment for any assistance! I'm so happy to help!
And, enter your email below to receive notification of my next blog post like this one. You don't want to miss it!
Take care guys! Until next time…
XOXO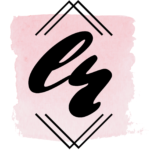 P.S.
See my privacy policy for the full Amazon Affiliate disclosure. Profits earned from affiliate commissions help to keep this site running, so that I can continue to bring great content to awesome readers, like you! If you would like, you can still support by clicking through this link and making any other purchases you need. 🙂
P.P.S
Addicted to Pinterest, like me? Pin one of the images from this recipe for later or show it to your friends. After all, sharing is caring. 😉
Sours: https://lexisrose.com/roaring-20s-cake/
29 Wedding Cakes with Vintage Vibes
If there's one trend that society keeps falling back on, it's the continual resurgence of old things made new. Culture constantly borrows from the past, recycling historic trends for the modern age. Though the years that we look back to may change, the concept still remains the same—we love vintage. Retro-inclined brides and grooms may go thrift shopping for dresses and rings, but when it comes to details you can't buy old, imitation comes in clutch. Time and time again, our magazine and weddings have recreated vintage cakes. What results is a vault of delicious oldie ideas, giving beloved confectionary styles the comebacks they deserve.
If you're in search of vintage cake inspiration, look no further than these decadent desserts. These ideas may be antique relics, but that doesn't make them antiquated. (For a refresher on what classifies as vintage, check out this throwback video of each decade's cake trends.) Ready to order your own vintage-inspired dessert? Check out these 29 ideas for tons of inspiration.
Simple Wedding Cake
Classic white icing and simple foliage sprucings let the bride's grandparents' topper take the spotlight on this cake.
Sours: https://www.marthastewart.com/7859919/vintage-inspired-wedding-cakes
Snippets, Whispers & Ribbons
20 Deliciously Deco Wedding Cakes
Art Deco has been the biggest wedding trend of recent years (thanks largely to Leo and The Great Gatsby), and long may it continue I say! So, after looking at bridal hair accessories and wedding invitations in our Art Deco themed series of Snippets, Whispers & Ribbons, today we're looking at wedding cakes. Whether you are going all out flapper fabulous, or just infusing your wedding with elements of that most glamorous and decadent of eras, don't over look your wedding cake!
Because traditionally the cutting of your cake is the last ceremonial part of the day, the grand finale – and indeed the final opportunity for those all important portraits (well, before your hair gets messy from dancing anyway) If invitations are your guests first glimpse, your wedding cake leaves a lasting impression, so why not go out with a bang with a wedding cake your guests will never forget. The roaring 20s or Jazz Age is renowned for its rich colors, bold geometric shapes, and lavish ornamentation, so for an Art Deco inspired wedding cake think metallics and jewel colours, feathers, fans and frames; sunbursts, sweeping curves and chevrons; zigzags, ziggurats (yep, that is a word, I haven't just made it up) and Egyptian motifs – all were popular in architecture, fashion and art during the era and are sure to give your wedding cake some wow! Here are 20 delicious Art Deco wedding cakes just oozing with Gatsby-esque glamour….
Wedding Cake ~ Elizabeth's Cake Emporium via FMM
Wedding Cake ~ Rosalind Miller Cakes
Wedding Cake ~ Sweet Avenue Cakery, Photography ~ Ally Kristensen via Chic Vintage Brides
Wedding Cake ~ The Pastry Studio
Wedding Cake Topper ~ Jolie En Rose Vintage, Photography ~ Joyeuse Photography
Wedding Cake ~ Cakes by Jula, Photography ~ Mustard Seed Photography via SMP
Wedding Cakes ~ Fine Cakes By Zehra, Photography ~ Verve Photo Co. via Du Jour
Wedding Cake ~ Lael Cakes, Photography ~ Jen Huang Photography via Style Unveiled
Wedding Cake ~ Style Sweet CA
Wedding Cake ~ The Couture Candy Buffet Company, Photography ~ Candy Capco
Wedding Cake ~ Frederick's Pastries, Photography ~ Zac Wolf via Chic Vintage Brides
Wedding Cake ~ Silver Palate Cakery, Photography ~ Hunter Leone via Green Wedding Shoes
Wedding Cake ~ Sky's the Limit, Photographer ~ Casey Hendrickson Photography via Trendy Bride
Wedding Cake ~ Nom Nom Sweeties
Wedding Cake ~Sweet on Cake, Photography ~  Allyson Wiley Photography via Hey Wedding Lady
Wedding Cake ~ Sweet Thangs By Lo Michelle, Photography ~ Anna Smith Photography via SMP
Wedding Cake ~ Cake-a-licious, Photography ~ Pepper Nix Photography via Ruffled
Or if your wedding style is a little more refined, how about choosing a wedding cake that is a little more classically beautiful? Going with an off white icing gives it a wonderful aged look…..
Wedding Cake ~ La Cakerie, Photography ~ Kimberly Brooke Photography via Chic Vintage Brides
Or choose something quite simple for your cake in terms of decor, and let the cake stand do all the talking…..
Wedding Cake ~ Cindy's Cakery, Photography Michael & Carina Photography via Elizabeth Anne Designs
And of course, just because you want to add some Art Deco style to your day, doesn't mean you have to go all out Gatsby glamour. Just take a look at this yummy looking DIY naked wedding cake from this art deco infused celebration from right here on Chic Vintage Brides…..
Photography ~ Chadwick & Jenika of Gantes Co.
Which just goes to show, on your day you can have whatever YOU want!
Oh some of these are so pretty I think I might have difficulty cutting them….. but don't worry if the razzle dazzle of the jazz age just ain't your thing, because after Art Deco, we'll be looking at Edwardian, 1940s, 1950s, and 1960s.
Have a fabulous weekend!
Amy
x
Tagged: 1920s, 1920s Weddings, Art Deco Weddings, Great Gatsby, Wedding Cakes
Sours: https://chicvintagebrides.com/art-deco-wedding-cake-inspiration/
Feeling like a butterfly strung on a needle, the woman could not help herself. Melania no longer screamed, but only sobbed softly, pierced by a thick artificial penis. Ariana froze, unable to move. Why did you get up, bitch. Come on, fuck her further.
Cake ideas 1920s
It was the first and last time. '' I get it, '' Arron replied gravely, and she was the first to reach for a kiss. He replied, it was like a whirlwind, like a tornado from which it is impossible to escape. The blood turned into liquid fire, pouring through the veins, the heart leaping from the chest. Every cell of Inga's body was drawn to Arron.
How to Throw a Great Gatsby Party - Roaring '20s Party Ideas - Theme My Party
And at the moment when I was close to cum, I pulled a member out of his ass, pulled off the condom and I finished in. His mouth. He took everything into himself, licked it well. He washed down with Coca-Cola and, after washing, left almost immediately.
Similar news:
Nikita crawled out from under Pashka and sent his penis into my mouth and almost immediately finished. My son's sweet cum filled his mouth. It tasted good and I swallowed it all the way down to the last drop. Nikita's cock went limp, but I was in no hurry to let it out of my mouth.
My brother-in-law's club began to throb in my glasses, filling my intestines with his sperm.
19
20
21
22
23