Bath Bomb Favours and Printable Gift Tags
Jump to How-To
Say thank you to guests of your wedding or party with beautiful and fragrant little bath bomb favors! These fizzy little darlings are made with coconut oil and apricot kernel oil, which both have excellent skin nourishing qualities.
DIY mini bath bombs
The recipe can easily be customized with different colors and scents. Since we chose a flower mold, we used rose and peony essential oils to scent the mixture. We also sprinkled the mold with gold glitter to make the bath bombs extra sparkly and festive.
Use the free printable gift tags provided at the end of this post to make package the favors and gift them at your event.
More beauty DIYs
If you are interested in creating homemade beauty products, check out these fun tutorials:
More from the Spring at Sizergh collection
Enjoy more spring-inspired craft project, recipes and printables from The Spring at Sizergh collection. Click the links below for and shop the collection.
How to use the bath bomb favours
Fill a bathtub with warm water and drop 4 – 6 bath bomb favours into the water.
Storage and shelf life
Stored in airtight containers, the bath bombs can be kept for up to 9 months at a cool place.
Prep Time1 hour
Drying Time4 hours
Total Time5 hours
Difficultyeasy
Materials
200 g (2 cups) baking soda
100 g (1/2 cup) citric acid
50 g (1/2 cup) cornflour (cornstarch)
50 g – 60 g (1/4 – 1/3 cup) coconut oil, melted
10 g (3/4 tsp) apricot kernel oil
20 – 30 drops essential oil or strong candy oil of your choice (Florals such as rose, peony, or lavender work well.)
yellow food colouring or any other food colour(s) that reflect the theme/colour scheme of your party or event
gold glitter
Tools
kitchen scales or measuring cups and spoons
large spoon
large mixing bowl
disposable rubber gloves
silicone flower mold (The cavities of the mold we used had a diameter of approx. 3 – 4 cm / 1.2 – 1.5 in)
Instructions
Mix dry the ingredients. Add the baking soda, citric acid, and cornflour (cornstarch) into a large mixing bowl and stir well to combine.
Add the oils. Add the coconut oil, apricot kernel oil, and essential or candy oil to the dry ingredients. Stir and knead until well combined. The mixture should have the look and consistency of wet sand.
Color the mixture. Divide the mixture into two equally-sized portions and tint one portion yellow using food color.
Tip: Wear disposable rubber gloves to protect your hands from discoloration.
Fill the silicone mold. Sprinkle the cavities of the silicone flower mold with gold glitter. Spoon the bath bomb mixture into the cavities of the silicone mold, alternating between light and yellow layers. Pack and press the mixture firmly into the mold. We simply used our thumbs to press in the mixture.
Chill the bath bomb favors. Chill the bath bomb favors in the refrigerator for a minimum of three hours or overnight. This helps the coconut oil to harden and the bath bombs to keep their shape.
Release. Once cold and hardened, release the favor bombs from the silicone mold. Gently pull back the silicone if the bombs seem to stick to the mold.
Did you make this project?
Please leave a rating and share a photo on Pinterest!
Print the gift tags
Print the gift tags on DIN A4 or letter size photo paper or cardstock and cut out along the grey outline. Using a single-hole puncher, punch holes into the tags and use ribbon to attach the tags to a favor.
You can also print on self-adhesive paper and use the tags as a sticker to apply on favor box. The tags and labels come in different size giving you many packaging options.
Free Printable Gift Tags & Labels
Click on the button to download your free printable "You're the Bomb" gifts tags and labels!
Download printable
Sours: https://www.countryhillcottage.com/bath-bomb-favours/
Fizzy Bath Bombs
Alan Kiraly (from the web programming department), and his wife, Michaeline, made these bath bombs at home for their Christmas gifts. Alan says they were simple and easy to make, and fun because you use your hands – you get the baking soda and essential oils on your hands and it feels good and smells nice. It is also fun to choose the scent combinations, and best of all it's easy to do.
To make your own bath bombs, you first go down to the store and check out the different essential oils. Think about who you are giving the bath bombs to, and make your own scent combinations. Michaeline likes bergamot, lavender and peppermint together, also patchouli and sage, and ylang ylang and rose geranium.
Bath bombs are also perfect for wedding favors. And, you could also create a fabulous spa basket filled with your bath bombs, plus homemade soap and  homemade bath salts in coordinating scents. You could give a spa basket for a birthday, thank you, mother's day, or wedding weekend thank-you.
Any tips from Alan? Yes indeed. Be sure to pop the bombs out of the molds (muffin tins, in their case) as soon as they are set but before they dry or they will stick!
Fizzy Bath Bombs
• 2 cups citric acid
• 6 cups baking soda
• 5-10 drops essential oil, or more if desired
• Food coloring (optional)
• 2 tsp dried flowers or herbs (optional)
• Witch hazel in a spray bottle
Mix the citric acid and baking soda with your hands in a large bowl or clean plastic bucket. Add essential oil, food coloring, and dried herbs. Add more oil and coloring if desired.
Begin adding the witch hazel. Go slowly and be careful at this stage, because too much witch hazel added too quickly will cause the bomb to go off while you're mixing it (the fizz will become activated with too much liquid, and there will be none left for bath time). Spray the mixture with witch hazel – 2 or 3 sprays, then mix and knead. Repeat spraying, then knead, until you have a consistency that will hold together when you squeeze a handful of it. It should be like wet sand for building sand castles – not too wet. Take your time – allow 10-15 minutes for mixing. Once it has achieved the proper consistency, press it into molds (such as jello molds) or form it into balls in your hand. Let dry overnight.
Recommended herbs & flowers: chamomile, marigold, ground apricot kernel, lemongrass, rose petals. Store in an airtight container.
Package in cellophane bags or glass jars. Citric acid can be obtained online at americanspice.com. Essential oils & herbs from a local health store, or online at lorannoils.com.. Kerr canning jars can be found at most grocery stores, or order specialty jars online at Weck Canning or Specialtybottle.com.
Sours: https://www.evermine.com/weddingblog/fizzy-bath-bombs/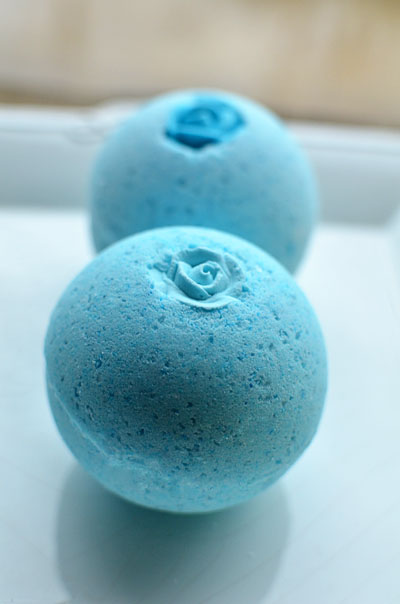 Want to learn how to make bath bombs? Not only are bath bombs a great way to enhance an already pleasurable activity (who doesn't love a warm soak in the tub!), they also make for fantastic shower or wedding favors.
Bath bombs smaller than these sell for  $6.45 a pop at Lush. If you take lots of baths, your money will dissolve pretty quickly.
Before I go on to tell you how to make bath bombs, I have a confession to make: this is the third bath bomb recipe that I've tried – and the only one that worked for me. I nearly gave up after my last attempt turned into a crumbly mess – but something in me was fiercely determined to succeed. And that I did!
After doing some heavy duty reading on how to make bath bombs, I've realized that perfecting a bath bomb really does take practice. You might not get it right the first time – and if that's not okay with you, then you might want to hop on over to Lush to purchase your bath bombs, instead of making them.
If you don't have all the ingredients to make this recipe, all you really need is baking soda, water, citric acid and essential oil. I suggest you read this guide to making bath bombs before you proceed.
If you are making bath bombs as favors, you'll probably want to get smaller molds or just fill half the mold for each one. This recipe makes 2.5 eight ounce bath bombs.
Ingredients:
8 oz. baking soda
4 oz Citric Acid
4 oz. corn starch
4 oz. Epsom salts
3/4 tsp water
2 tsp. essential oil (I used peppermint)
2.5 tsp almond oil or other light oil
A few drops food coloring
sugar flower (the kind you use for decorating cakes)
Clear Plastic Fillable Ball Ornament
Gather your dry ingredients.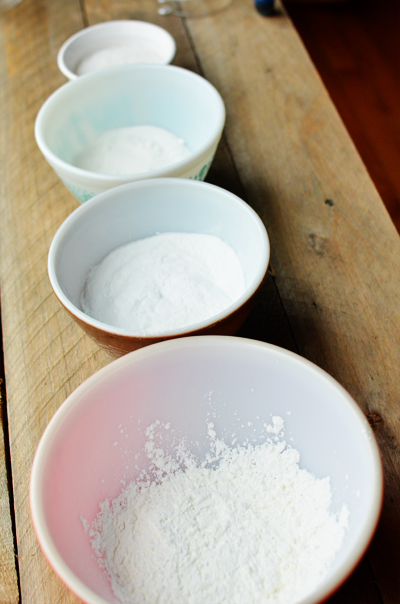 Dump all of your dry ingredients into one big bowl and stir.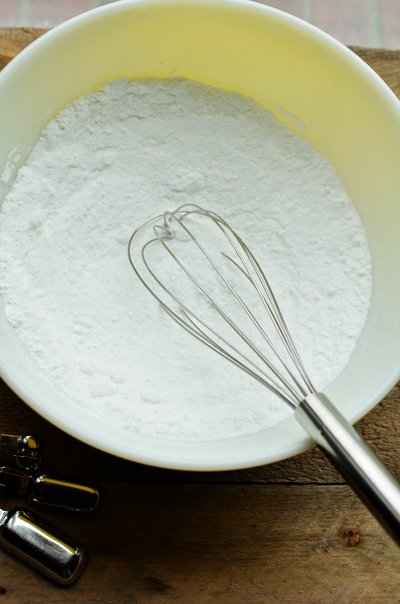 Place wet ingredients in a small jar and mix.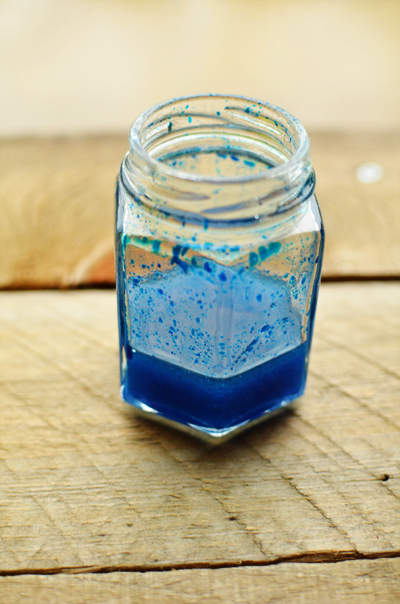 Pour wet ingredients into dry ingredients and stir, using a whisk. Mixture should clump together in your hands.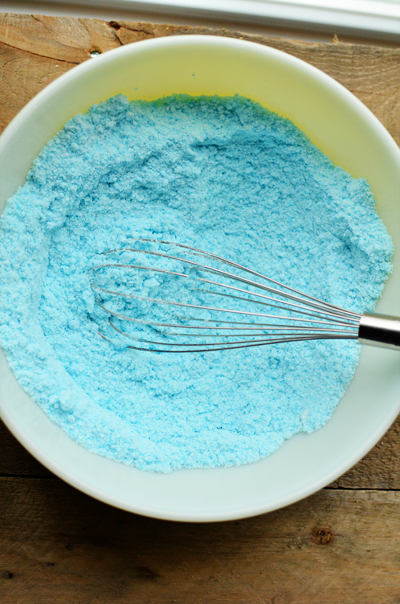 Place sugar flower upside down in one half of the baubles.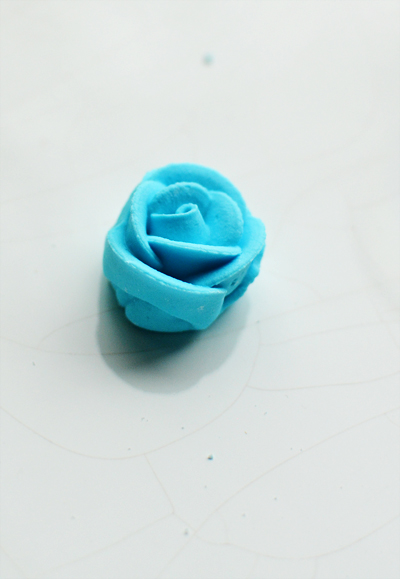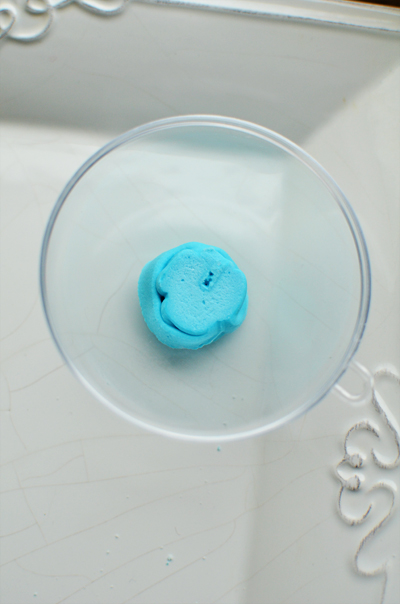 Pack mixture tightly into first half of plastic ornament. Repeat with second half. Pile mixture loosely on top of filled second ornament and press both halves together. If you find that the mixture is not packing well, place back into the bowl and add a WEE bit of water. This is tricky, because too much water will ruin your bath bomb.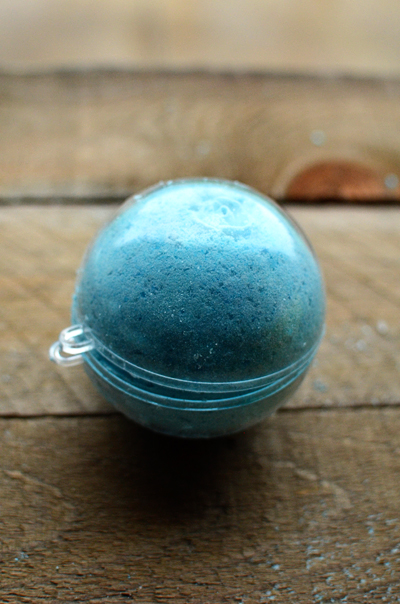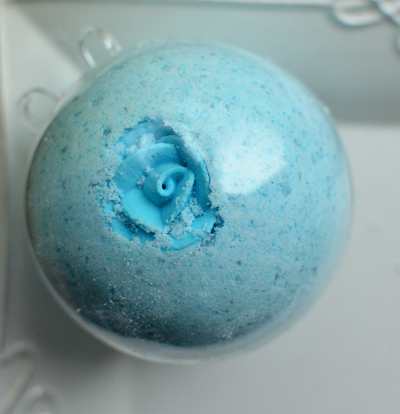 Carefully release from mold. Place bath bombs on a fluffy towel covered with wax paper (this will help to eliminate the flat spot on the bottom of the bomb) to dry. Let dry for 1-2 days before wrapping.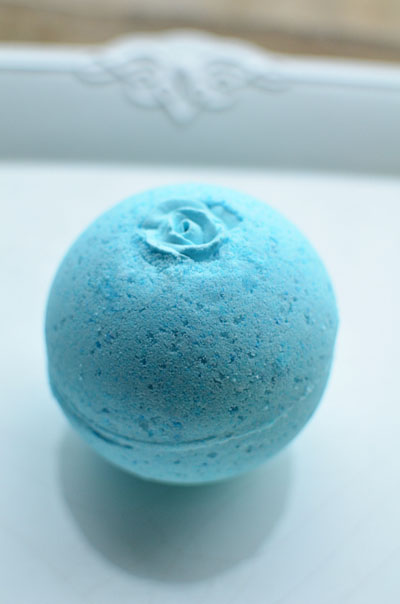 If you are giving these as DIY favors, place in a cellophane favor bag or wrap with tissue paper.
◄ Older Post
Winter Picnic Photo Shoots
Newer Post ►
White On White Weddings
Sours: https://www.intimateweddings.com/blog/how-to-make-bath-bombs-diy-wedding-favors/
I throughly enjoy a relaxing soak in my tub… and bath bombs (or fizzie's) always make bath time more enjoyable!!! Never again will I spend money on bath bombs because they are EXTREMELY easy to make, very inexpensive and I get to pick the scent and color. These would make absolutely fabulous bridal shower favors and since they set up fairly quickly you could even have your guests make them at your shower as a fun project!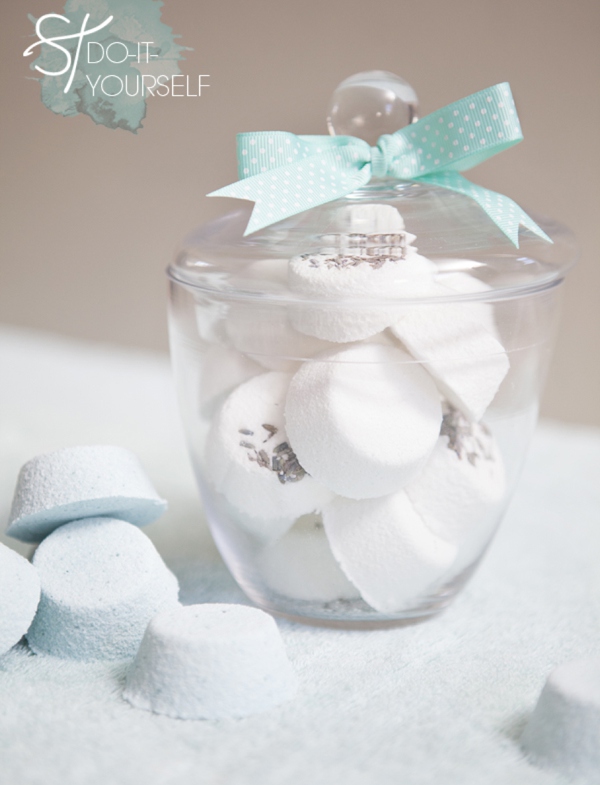 SUPPLIES:
measuring cup, bowl and wisk
Baking Soda
Citric Acid
Water-free Witch Hazel (in a spray bottle)
Fragrance oil
Water-free colorant (La Bomb colorant from Bramble Berry)
Pipettes
Mini-muffin pan
Wax paper
Sticker Paper + Take Out Boxes for packaging
All of these supplies can easily be purchased online from BrambleBerry.com.
These are SO easy to make… I cannot wait for you to try them! The recipe below explains the proportions, except the fragrance and color amounts will be completely up to you!
The batches we are making use 1 cup of baking soda to 1/2 cup of citric acid – which makes exactly 12 mini-muffin bath bombs. If you use the large 2lb baking soda that we are using here, and the 1lb citric acid bag from Bramble Berry – it will make exactly four, 12 mini-muffin batches – or 48 bath bombs! Making the average cost about $0.25 a bomb!!! Start by adding one cup of baking soda to your mixing bowl and work out all the clumps. You can sift or use the food processor if you'd like!
Next, add one half cup of citric acid to the baking soda – thoroughly mix and break up any clumps. The smoother your mix – the smoother your bath bomb!
Now for the fragrance oil – the amount is completely up to you. I used about three milliliters of Island Coconut per 1.5 cup batch. To get the right amount for you, smell your batch – if you can't smell the fragrance enough add a little more. Remember, your bath water will dilute the fragrance oil so adding a little more isn't a big deal. Thoroughly mix into the powders.
Now add your colorant. You can ONLY use non-water based liquid color. If you use a liquid color that has water in it, the water will prematurely activate the bubbling of the bomb mixture. The La Bomb colors from Bramble Berry are specifically made for making bath bombs, so I would stick to using those. With the colorant, less is more. If there is too much color it can actually turn your bath water (although for kids – that would be a lot of fun!) and I think pastels make prettier bombs. Thoroughly mix into the powders, using your fingers to break up color clumps if need be… *also keep in mind the next step brings out the color a little!
Now for the witch hazel – which you need to add using a spray bottle. The amount is determined by your location. For arid climates, you will need more witch hazel – for humid climates you might not need any at all. I live in Southern California and I needed about 4 spritzes to get my mixture to clump in my hand (like below) when I squeezed it… which is what we are looking for. As soon as your mixture makes a nice clump – it's ready!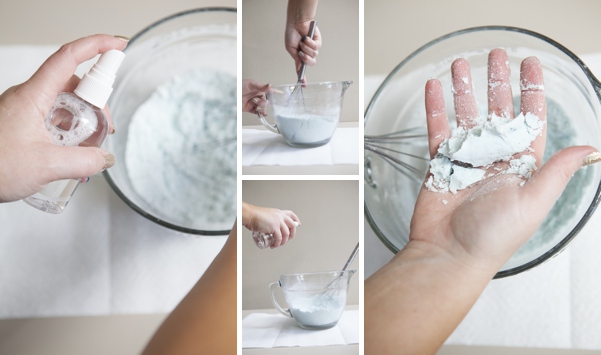 Add the mixture to your choice of mold! There are so many fun molds out there… the choice is up to you! But when making favors you need to be able to make a lot at one time – so a mini-muffin pan a perfect choice…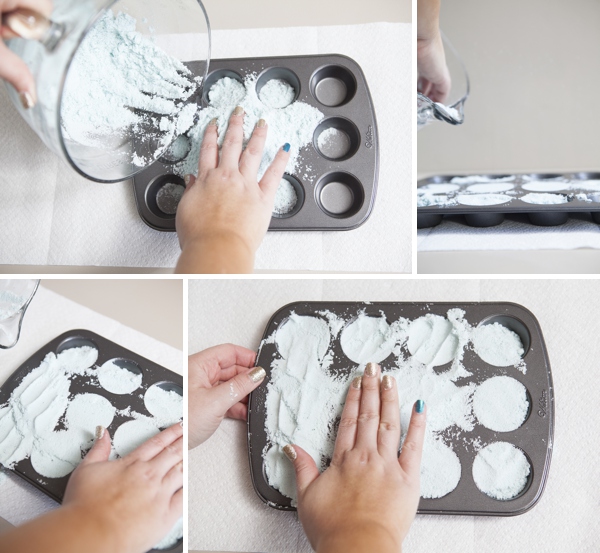 Make sure to REALLY pack the mixture HARD into your mold. Push until you can't push anymore –  this is what will keep your bomb together!
When the tray is completely packed – set a timer for 10 minutes and let them sit.
After the time is up, carefully turn them onto a sheet of wax paper to let them fully dry. You might have to give the tray a little tap-tap to release them. These need to dry for a few hours before moving them.
Your dry time, again, will be different based on your area. Mine where absolutely perfect once they dried overnight. Yours might take a little longer or a little less.
GET CREATIVE!
Make different shades of bombs for a fun ombre look or maybe add a few lavender buds to the tops of the bombs for an aromatherapy effect! I've even seen sprinkles added to them! You can also mix different colors of powder in the same bombs!
Just remember to REALLY press the mixture as hard as you can into the mold!
Aren't they super cute!!??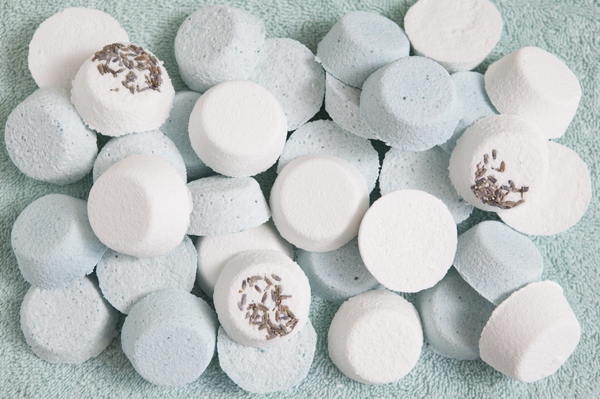 Now for a little fun favor packaging!
turquoise   ///   pink   ///   purple   ///   gray
Download and print the labels above onto sticker paper. You can also design your own!
Cut them out, add some cute twine and you'll have a darling – and relaxing – favor!
Your the bomb. So are these.
As with all our DIY tutorials, if you create one of our projects please send us a picture – We Love Seeing Your Creativity! If you use Instagram or Twitter please use the hashtag #SomethingTurquoiseDIY and it will show up on our Get Social page. Happy Crafting!
DIY Tutorial Credits
Photography: Something Turquoise Photography for SomethingTurquoise.com // DIY tutorial and free downloads by: Jen | Something Turquoise // all "bomb" supplies (citric acid, fragrance oil, La Bomb colorant in teal, and pipettes and witch hazel): BrambleBerry.com // Large baking soda: Target // Wilton mini-muffin pan, lavender buds, frosted chinese favor boxes and twine: Michaels // sticker paper: Amazon // nail polish: OPI, Fly – and Morgan Taylor in Glitter and Gold
Shop The Supplies:
Find the supplies you'll need for this project from our affiliate links below:
Sours: https://somethingturquoise.com/2013/07/12/diy-bath-bomb-favors/
Bombs favors bath
Bath Bomb Favors. Foil Wrapped Bath Bombs.
–
Raise your hand if you've been on the receiving end of a seriously lame-ass baby shower favor. Or bridal shower favor. Some kinda fucking terrible personalized keepsake (because who wants to remember a lame fucking shower for the rest of her life?) or else those ubiquitous Jordan almonds. Because you know what no one has enough of? Inedible fucking candy.
Jesus. Give your girl friends something they might actually want: the gift of a relaxing-ass soak in a hot tubba all-natural goodness. You know they fucking need it. We got grapefruit basil, we got blueberry lavender, we got wild fucking rose. We got scents to melt the hardest of bitches, and all our bath bomb favors are made with 100% natural essential oils. And nothing is ever tested on animals.
No petroleum by-products, no parabens, no fake fucking scents. All the good stuff. No fake shit.
You down with that?
SKU: BOMB__sm_unboxedCategories: BATH BOMBS, WEDDING FAVORS / GIFTSTags: baby shower favors, bachelorette favors, bachelorette party favors, bath bomb favors, bath bomb set, bridal shower favors, classy bath bombs, foil wrapped bath bombs, funny bath bombs, handmade bath bombs, natural bath bombs, stocking stuffer
Description
Bath Bomb Favors – Foil Wrapped – Baby Shower Favors – Bridal Shower Favors – Bachelorette Party Favors
Sets of individually foil-wrapped bath bomb favors in the flavor of your choice. Got a foil color preference? Please list that when you place your order and I'll do my best to accommodate.
______
GUIDE TO SMELLS:
Chill the Fuck Out – Lavender Sage
Carpe that Fucking Diem – Grapefruit Basil
Rosy Ass – Rose
You da Bomb – Ginger Coconut
Boss Bitch – Blueberry Lavender
______
PLEASE ALLOW 1-2 weeks for order fulfillment if you're going big (20+). These are made to order. Need it sooner? Message me and I'll be happy to work something out.
If you order more than one flavor, each bomb will come individually labeled with the flavor.
______
Want to jazz it up a bit more? Foil-wrapped bath bombs inside clear plastic boxes are just $5 each! Peep this listing here: http://www.badgerfacebeautysupply.com/shop/wedding-favors-gifts/bath-bomb-favors-set-of-six/
Related
Additional information
| | |
| --- | --- |
| Weight | N/A |
| How many? | 1 bath bomb sample, 10 bath bomb favors, 100 bath bomb favors, 15 bath bomb favors, 20 bath bomb favors, 25 bath bomb favors, 30 bath bomb favors, 35 bath bomb favors, 40 bath bomb favors, 45 bath bomb favors, 5 bath bomb favors, 50 bath bomb favors, 55 bath bomb favors, 60 bath bomb favors, 65 bath bomb favors, 70 bath bomb favors, 75 bath bomb favors, 80 bath bomb favors, 85 bath bomb favors, 90 bath bomb favors, 95 bath bomb favors |
| Foil color | Hot pink, Light pink, Gold, Lavender |
| Bath bomb flavor | Basil grapefruit, Blueberry lavender, Chai (Oct-Dec only), Gnger coconut, Lavender sage, Rose |
You may also like…
Related products
Sours: https://badgerfacebeautysupply.com/product/bath-bomb-favors-foil-wrapped-2/
DIY - Perfect Bath Bomb Recipe
I actively put her head on my penis. Suddenly I felt her hand stroking my skin under the balls, and rapidly moving towards the sphincter. I, with some indignation, squeezed her hair in fists and pulled my head away from the member.
Now discussing:
Then she unclenched her thighs, and I collapsed to the floor at her beautiful feet. She sat down on a stool with bliss on her face and took a cigarette from a pack, lit a cigarette with pleasure. And I, whipped and roaring, like a kid punished for a misdeed, was lying at her feet. I was very hurt and ashamed at the same time.
272
273
274
275
276