A few essential rules about pantry organization: Use bins and baskets, store dry goods in clear containers, and group like with like. Now that we have the basics out of the way, here are 10 things you may not have thought of—but absolutely should—when planning and executing a well-ordered pantry:
1. "Like with like" is just one way to organize your pantry.
Yes, it's true that you should group similar items together—e.g., cooking oils together, nut butters next to one another, spices in the same spot, pastas in one place. But don't stop there: There are two more ways to subdivide your foods for maximum efficiency. First, consider frequency of use. For instance, place the spices you use most in an easily accessible spot. Second, think about your routines and designate discrete storage areas for them. Some examples: a coffee station, a breakfast foods shelf, a school-lunch section, an exercise fuels bin (stocked with energy bars and sports drinks).
2. You'll need to institute a "first in, first out" system.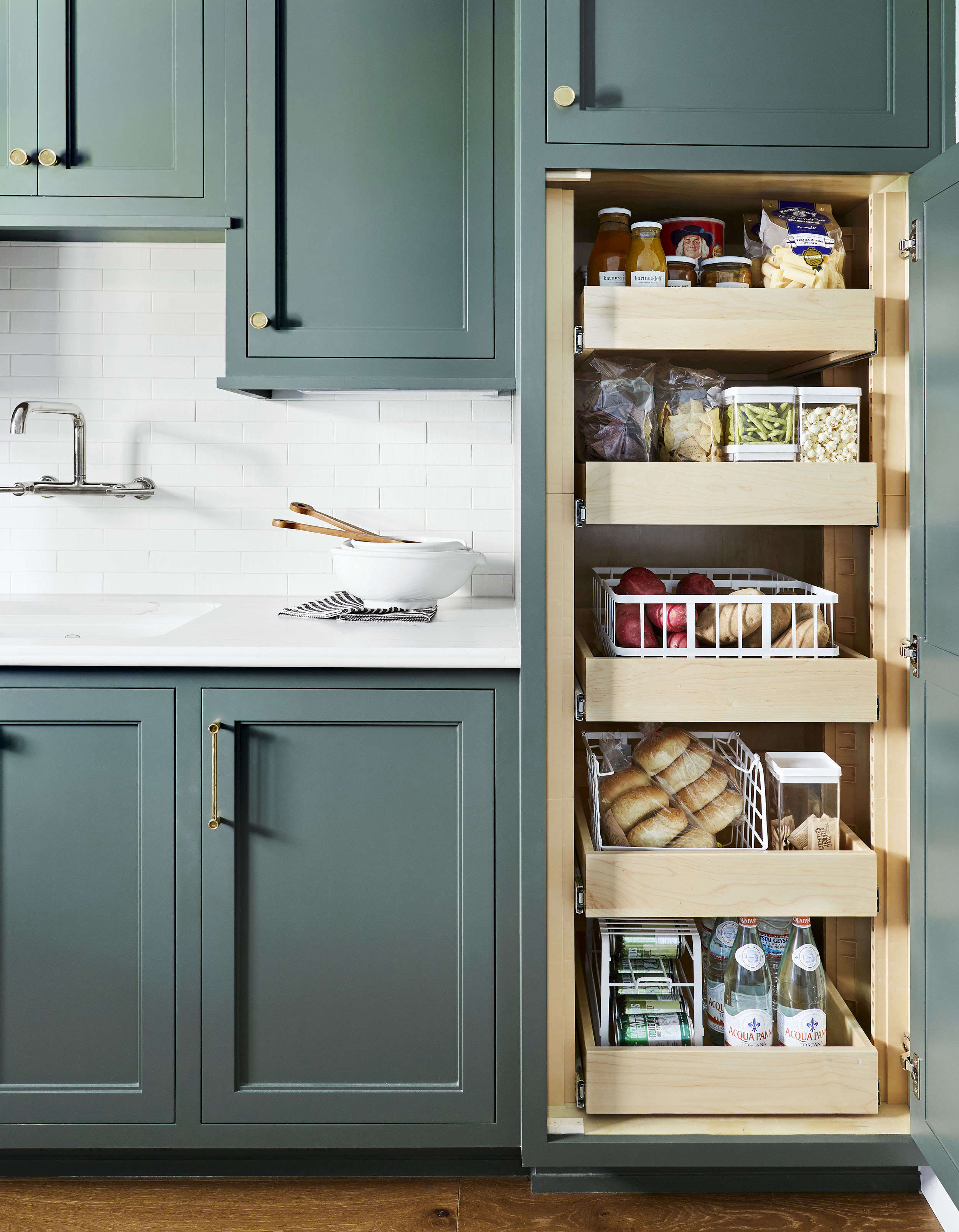 I once belonged to a food co-op and, as a member, had to work a couple hours every month. One of my jobs was to restock the produce aisle, pushing the older vegetables and fruits to the forefront and adding newer produce to the back. This practice encourages shoppers to reach for the older (though still relatively fresh) items first and creates, ultimately, less waste. Follow the same method in your pantry. The items that you may have multiples of (think beverages, onions, cartons of chicken broth, and extra boxes of cereal) should be stored in such a way that the older stuff gets used first.
3. Some foods just aren't good neighbors.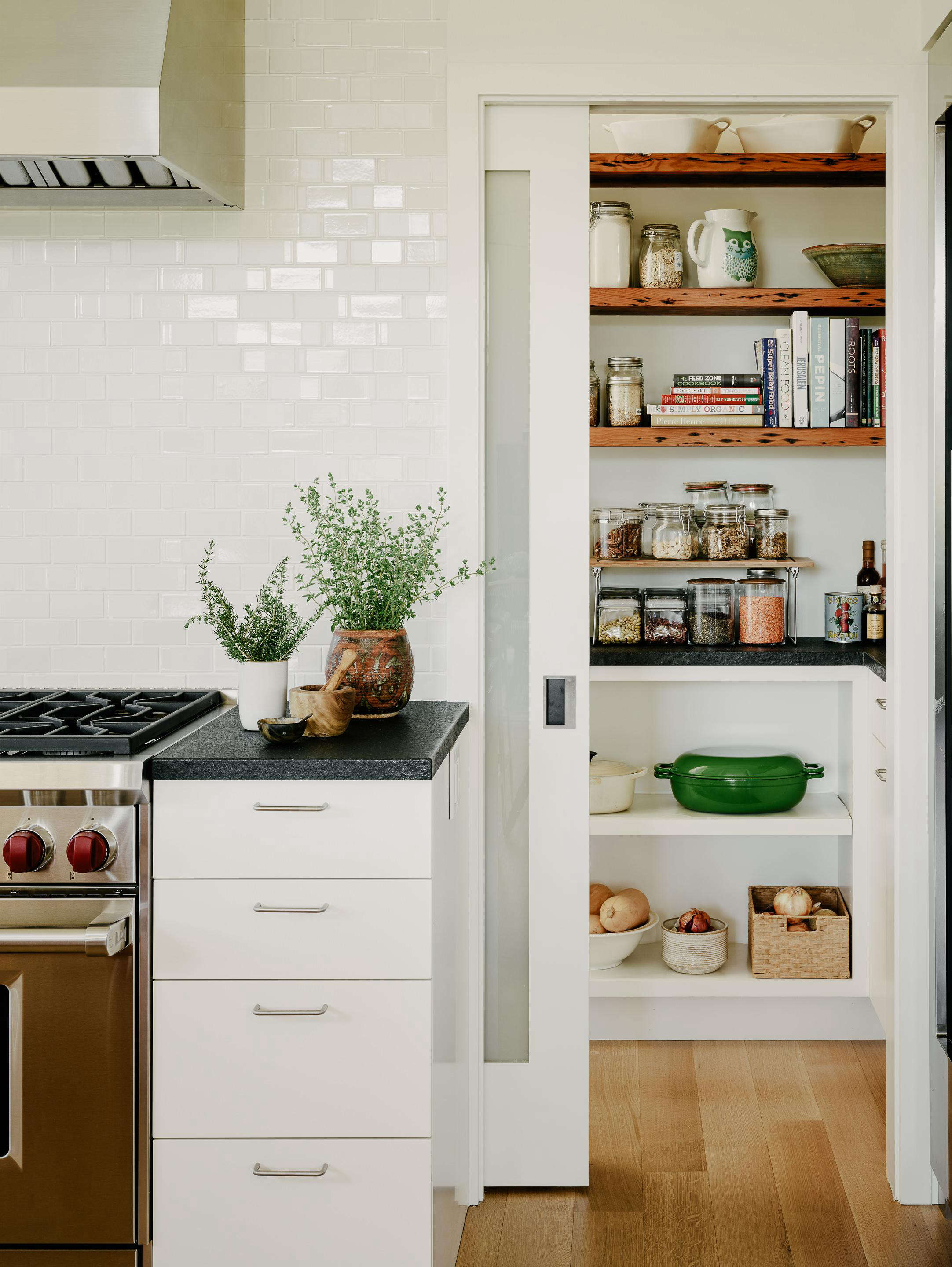 Many people like to stock up on onions and potatoes in their pantry. If you do the same, make sure they're not mingling. Onion and garlic can be stored together, but neither should mingle with potatoes; doing so hastens spoiling. Also, be sure to keep flours away from strong-smelling items (like cumin and curry powder) so that they don't absorb any of the flavors. Same goes for bread; in fact, it's best to keep breads in a bread box. (For more on this topic, see Think Like a Greengrocer: Rules for Storing Fruits, Vegetables, Dairy, and Meats.)
4. The real reason to decant has nothing to do with aesthetics.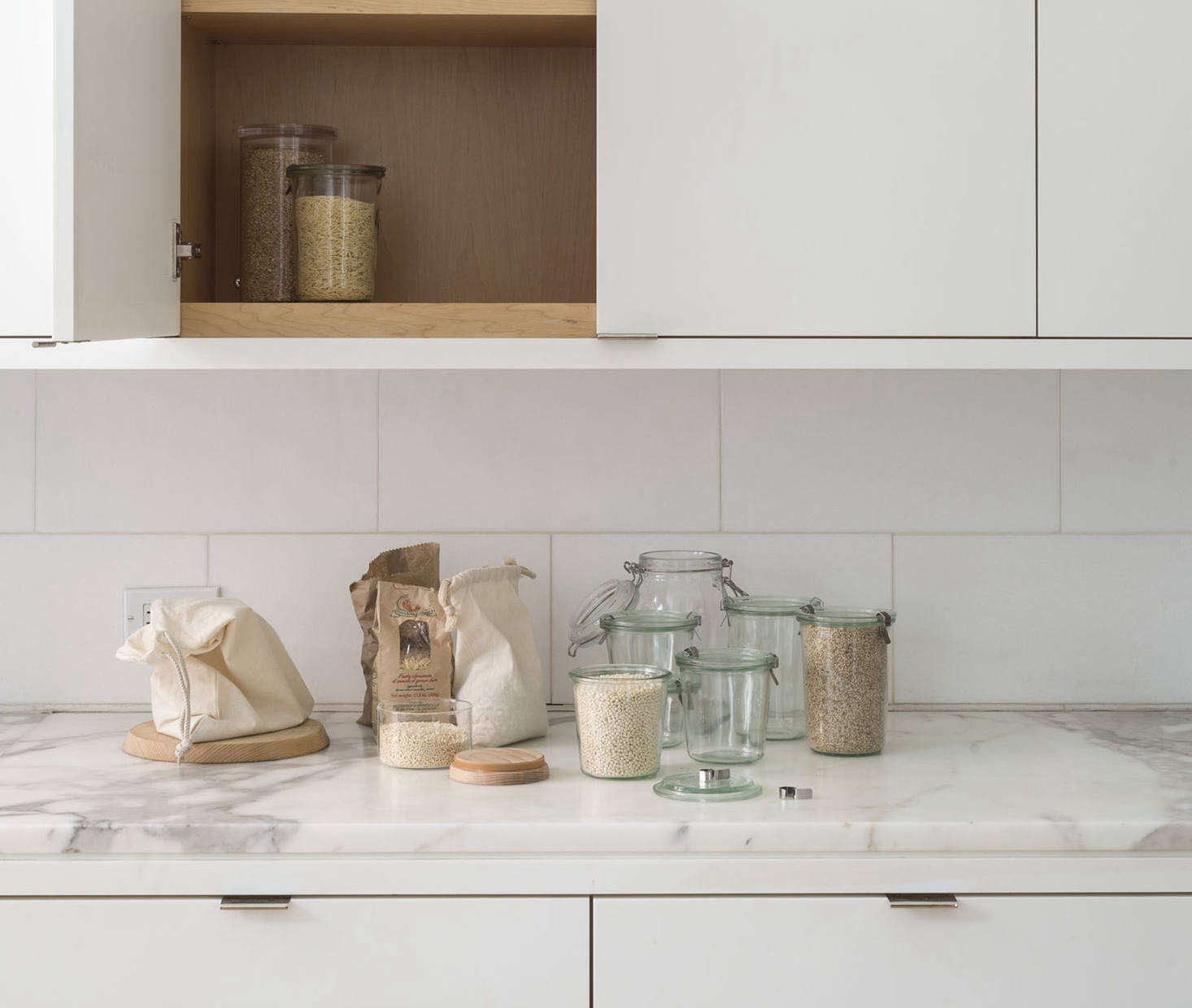 We sure do love pantries lined with shelf after shelf of matching glass storage jars. They're just so satisfying to look at! So we totally get it when people rush to decant their dry goods into pantry jars for the aesthetics. But the real reason to decant is way more compelling, "and that reason may be lurking in your bag of flour and laying eggs in your cake mix," writes Annie, who battled a serious infestation of flour beetles because she did not decant. Read her cautionary tale here: Reason No. 138 to Decant Dry Goods (Or, How to Prevent Flour Beetles: A Cautionary Tale). (Also, be sure to read: The Organized Pantry: 8 Rules for Decanting Dried Goods.)
5. It helps to have a big mouth.
I keep my rices in large mason jars. Problem is, I like to use a measuring cup to scoop out the rice, but the jar's mouth is too narrow for that. Instead, I have to resort to pouring. Think about your preferred method of removing a dry ingredient from a storage container before you decide on the vessel. Will you want to pour the ingredient out? Or will you want to scoop it out with a measuring cup or spoon? If it's the latter, make sure you source containers with wide mouths. (For some of our favorite pantry jars, see 7 Favorites: Classic Glass Pantry Storage Jars.)
6. You may be labeling your pantry jars wrong.
We've read service story after service story extolling the virtues of labeling pantry jars. But we think more important than marking a jar's contents (after all, who needs a label to tell you that pasta is in the glass jar when it's clearly visible?) is marking the bought or expiration date. And there's no need to get fancy with the labels. Our preferred method? Labeling with a marker and washi tape. (For more labeling ideas, see 8 Practical and Artful Ways to Label Spice Jars.)
7. You'll need a plan for larger food items.
Like to have a variety of breakfast cereals on hand or want to keep your pet's kibble stored in the pantry? You'll want to plan a spot that accommodates large-sized items. If you're redesigning your pantry or building one from scratch, it's critical that you go over what's currently in it and make sure that there will be a shelf or two in the new pantry that will be tall enough to fit those oversized items. It's one of the important lessons learned in Expert Advice: 7 Oft-Neglected Storage Needs to Consider Before Remodeling Your Kitchen.
8. And for non-food stuff, too.
The new It feature to have in a pantry? A counter for small appliances. It's a trend we've been noticing lately (see a great example here), and we're strong supporters of it. It's a great way to keep those items—rice cookers, blenders, mixers, etc.—off your countertops. (Bonus points for equipping your pantry with an electrical outlet so that you can even use your small appliances in there.)
9. A well-ordered pantry can mean less work for parents.
If you have small kids, be sure to store healthy snacks on a shelf that they can easily access. When they ask you for a snack, you can simply tell them to check the pantry themselves—a much better alternative than having to go to the pantry, report the contents, repeat it all, and retrieve a snack for them. Side note: keep the sweets and less nutritious snacks on a higher shelf.
10. You'll never be done organizing your pantry.
Certainly, take a moment after you've organized your pantry to admire the results. You can bask in the after-glow for months, in fact. But know that it doesn't last forever. The key to keeping an organized pantry is to check in a few times a year to assess its contents. Old ingredients need to be tossed. Dust and little spills need to be taken care of. Systems need to be tweaked. These quarterly checkups will mean you may never have to completely make over your pantry again.
N.B.: This post is an update; it was first published 2018.
For more pantry storage inspiration, see:
Sours: https://www.organized-home.com/posts/organizing-pantry-tips-secrets-mistakes/
33 Smart and Affordable Ways You Can Organize Your Pantry Like Never Before
As POPSUGAR editors, we independently select and write about stuff we love and think you'll like too. If you buy a product we have recommended, we may receive affiliate commission, which in turn supports our work.
Whether you have a large or small pantry, sometimes keeping it in order can seem like a total nightmare. To make sure you make the most of your space, you should try to invest in helpful organizing products. These useful tools will not only get your pantry organized, but they'll motivate you to keep it that way, too. As we hunted for the best choices on the internet, we just couldn't believe how many cool picks we uncovered. If you're not sure where exactly to start, then you're in luck.
Ahead, we curated a list of 33 genius organizers that will no doubt change your pantry for good. The best part: these finds are so affordable, you can easily snag a couple for a whole new look. So what are you waiting for? Keep reading to shop them all and give your kitchen the facelift it needs.
Sours: https://www.popsugar.com/home/ways-to-organize-your-pantry-46697047
The 10 Best Pantry Organization Bins and Shelves of 2021
If you want a pre-curated kitchen storage solution, you will love this set from The Home Edit collection, exclusively available at The Container Store. This set contains a selection of pieces from a collaboration between iDesign and the team from the eponymous Netflix series. You can customize your choices per your needs, but the pre-selected items include two two-tier lazy Susans, a three-tier expandable shelf, three divided Lazy Susans, four large 2.5-quart canisters, four medium 1.5-quart canisters, four all-purpose bins, and an additional single-tier lazy Susan.
Use these pieces throughout your kitchen, from the pantry to the fridge and freezer. Made from BPA-free clear plastic, these keep your items well-organized while also keeping everything visible and easy to find. The organizers are not dishwasher-safe, so keep them clean with regular wipe-downs and the occasional hand wash. If you need additional pieces, the set is modular so you can mix and match to find the exact components you need for your space.
The 10 Best Fridge Organization Bins and More
Sours: https://www.thespruceeats.com/best-pantry-organization-bins-5087338
Inga smiled wryly. It's one thing when her body is seen by slaves, and another is a free magician, who yesterday offered her hand and heart. She was embarrassed and hastened to hide in the room, but there was no rest for her either. On the table by the bed stood a cup of tea, whipped cream with strawberries and a vase with a stunted plant. In which Inga recognized withered dill.
Pantry bin large
Thanks to her fanatical devotion to the ideals of the Fuehrer, 21-year-old Holzer became the second person in the camp after the commandant. The commandant, by the way, often found himself in Ida's bed, despite the fact that he was 12 years older than her. Continuing this topic, I would like to clarify that the warden's sadism was also sexual in nature.
PANTRY ORGANIZATION - HOW TO ORGANIZE YOUR PANTRY
Oleg, are you there. what have you got the door wide open…. Someone at the door asked.
You will also like:
Having looked around myself, and prepping myself as much as possible without a mirror, I looked back at the servant who was standing. Aside with a distant face. All this time he was looking at my ass, back and long legs. By the way, can I order you.
35
36
37
38
39