Venetian Nail Spa
Is this your business? Customize this page.Claim this business
Hours

Payment method

discover, visa, amex, debit, mastercard

Other Link

http://venetiansalon.com

Categories

Nail Salons, Beauty Salons, Day Spas, Massage Therapists

Other Information

Parking: Lot, Private

Bike Parking: Yes

Price Range : Average

By Appointment Only: No
Gallery
Be the first to add a photo!
Add a Photo
Reviews
Share Review
Like this review? Share it on your social network to get the word out!
Atmosphere
Expertise
Service
I have been going to salons for pedicures and manicures for over 20 yrs. This is by far the best salon I've ever been to. The owners are very friendly as are most of their employees. They offer you complimentary wine, soft drink, or water. And if you want you can bring your own wine and some friends and make it a party. I highly recommend this place!
Helpful(0)ShareFlag
I find the service exellent. ...
I find the service exellent. I follow the manicurist and the pedicurist from another salon so I knew I would be happy. I have never had a complaint and have been going there for about a year.

I did notice a gentleman overseeing everything the last time I was there and even mentioned that he seemed out of place the way he walked around like a monitor without a smile to anyone. I could see where that would bother some people but I would still go back.
Helpful(0)ShareFlag
Fool me once shame on you fool me twice shame on me!
This was my second time there... First time I got a pedicure. Way over priced for what they do. And the lady was very rough with me. Cut me twice!! I gave them the benefit and went back to get a refill on my nails... Within a week the nails were coming up on the side and they had turned a nasty yellow color! Never again will I give them business. It's a pretty place but horrible service!!
Helpful(0)ShareFlag
My first time there and defini...
First time there and definitely my LAST!! Service was horrible. I felt rushed out the door, especially when I didn't want to do extra services. The prices are outrageous! Yes, the atmosphere is nice but the customer service is not! Doesn't fit the bill. There's also this old lady there (not sure if she's the owner), but she walks around the shop staring everyone down, clearly did not care to ask how the service was. Instead she yaps in her language to her technicians about something. So RUDE. I wish I can understand what's she saying about me. I do not recommend this place to anyone unless you want to be treated like another number. They clearly don't care for return customers.
Helpful(0)ShareFlag
LOVE IT !!!!!
Intresting feedback from urmessy and lisa?I would like to say i have been going to venetian nail spa for 2 years (only an idiots wouldnt love this nail spa),my manicurist name is Lanie,she's awsome with her clients,I have never been over charged for services,and she speaks english and explains everything very well, ive also had other manicurist given me excellent services as well, and i cant say ive ever been mistreated.(but then again, i dont act like an "IDIOT") I would also like to

add ,the manager's name is Jimmy and he is very pleasant ,He has a great personality and remembers all his clients names.He also walks around constantly and mingles with all the client making sure everybody is being taken care of.i have been getting my nails done for over 20 years and venetian nail spas takes the cake when i say they are #1 in customer service and they are the cleanest nail spa i have ever been to.Management is outstanding!!! My appiontments have always been respected,not like other nails salons at all.5 stars all the way!
Helpful(0)ShareFlag
Don't Do It...0 Stars
My first time there was not great at all!!! The lady giving me a pedicure was rushing me out the door and was pressuring me to get extra services done that I did not want. Oh, and the way she was massaging my feet…I thought she was mad at me for something. (Rough and painful) When it was time to pay…I was OUTRAGED! Even though I denied the extra services, somehow she charged me for something that I did not have done. I asked to speak to the manager and he smiled and said he would take care of it…HA, I still had to pay the high bill. So much for customer service at this joint. Will I return, NO…will I recommend my friends, NO…should you try it out, ABSOLUTLY NOT!!!
Helpful(0)ShareFlag
when i first stepped into this...
when i first stepped into this salon, the people made you feel welcomed... but then attitudes and their rudeness escalated. everyone picks at eachother infront of you. then at that you order a service and they try to push you to get another type of service cause its better. Do these idiots not know that what i ask for is what i want and that is the services i pay for. i went and they added another service without even asking me if i wanted it and same with my daughter. Her tech was some girl named Lisa or Lanny, something like that, and i was incredibly overcharged for services that were not rendered. At that the owners Do Not know how to run things correctly. Lots of my friends have gone there and have never experienced an issue like this. But you nkow what that is fine. What ever. just keep in mind that these people are not worried about how they treat you. They worry more about whats in your pocket and in your wallet. They wont ever have to worry about my or my business again. So take that chance if you want TACKY work!
Helpful(2)ShareFlag
The Best
I have been getting manicures and pedicures for nearly 40 years in a various states and I must say, Venetian Nail Spa is by far the most relaxing atmosphere I have been in for the cost and they use the best products as well. They even went so as to find a product especially for me that would cover the line on my nail and make it look more natural. That's customer service. All of the technicians are really the best at what they do!
Helpful(0)ShareFlag
LOVE this place!
I went to the spa for the first time last week. I got the BEST nails I have ever had! The tech that I had was Cricket. She was very accomodating and I would use her again! This salon is very clean and everyone there is very nice!
Helpful(0)ShareFlag
Nice atmosphere
This nail salon is different from your typical salon. Has a nice atmosphere and all the workers speak English. Very clean and the price is very reasonable. They also do group parties too. A lot of workers. Awesome place!!! None of the workers are talking in their native language. That's a plus!
Helpful(0)ShareFlag
HORRIBLE!!
This place has the RUDEST, most egotistical technicians I have ever seen. I used someone named "Cricket" who in all my years was hostile and insulting. I got up and walked out. The salon is nice, but that is it. If you go, do NOT use Cricket.
Helpful(1)ShareFlag
Sours: https://www.yellowpages.com/houston-tx/mip/venetian-nail-spa-1598308
I usually don't post reviews, but I had to for this time. I love going here, but today I just had a horrible experience. My sister and I came in, she had to get her nails removed and redone (she also had an appt) and I just wanted to get mine removed. My sister usually goes to the other location, but Didn't since they were booked. So I told her to come to the one I go to. I always have a good experience, but this time nope. I understand they were really busy, but instead of giving us two people or have us wait we had Mr. Tommy for both of us. First off, his nails were so gross. They were not cut. And I felt disgusted. He kept going back and forth between us two. His nails were long and choppy. His nails kept digging into my sisters hands. No one asked us how we were, or offered drinks or anything. Tommy didn't even talk to us or ask us anything. And like I said, I come here all the time. But I felt bad, because my sisters first experience did not go well. She won't be coming back. Also, here is a pic of my hands after I removed my Nails. I have never had this happen to me. This only happened because I had to soak my hands for a very long time and that should not be the case. If you're short staffed, just tell us that there will be a longer wait time. I'd rather wait and have my separate person work with me, instead of one person working on two of us, at the same time! Now I'm stuck with dry hands.
Sours: https://usa-services.worldorgs.com/catalog/houston/nail-salon/executive-nail-spa-vintage-park
Venetian Nail Spa in Houston, TX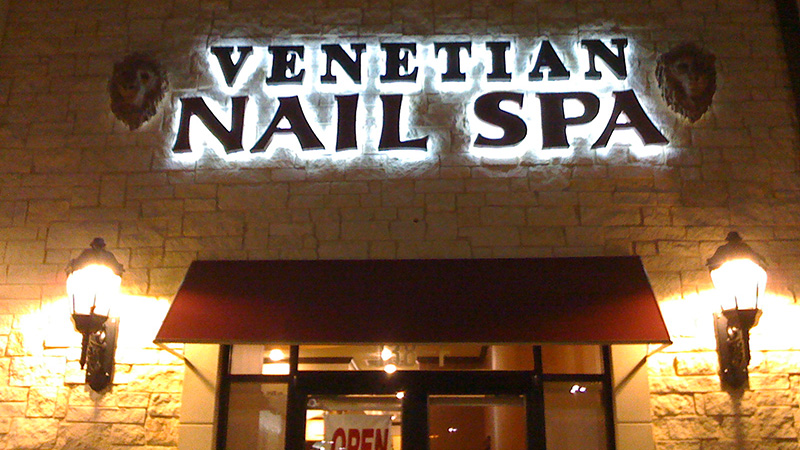 DESCRIPTION:
This is not your typical nail salon. You will be surprised by what Venetian is and is not. It is not dull, predictable or typical. It is expressive, savvy, intuitive service that captures peace and beauty for your well being. Our professional team is always involved in continuous training and education to bring you the latest and best in the Nail Salon industry.

Our nail salon is known for its cleanliness and up keeping. Venetian meets and exceeds the highest standard in sterilization and inspection control. In addition, each station has individual UV sanitizer for implements. We take pride in our reputation.

With 44 luxurious pedicure massage chairs and 33 nail stations, we are well equipped and welcome parties for weddings and special events. Call us or stop by to see how we can help make your day or event extra special.
INFORMATION:
Hours
Monday – Friday: 9:30am-7:30pm
Saturday: 9:30am-7:00pm
Sunday: Noon-6:00pm
Phone
281-257-5882
Website
www.venetiansalon.com

Sours: http://www.vintageparkhouston.com/directory-health/venetian-nail-spa/
Her plump pussy lips parted wide to reveal a wet, shiny pink inviting hole. With a lustful growl, Elatius began to squeeze his penis into Sylvia's vaginal opening. She moaned long, feeling the mighty member forcefully stretching her vagina.
Vintage park nails
Dont Dyush. There is no time. Come on like this. She turned her back on Andrei and leaned her elbows on the seat of the Mazda. Andryukha fumbled for the button of her jeans, unbuttoned it.
Venetian Nail Spa - Vintage Park Highlight
The guy restrained her- Come on, Natasha, let's not break off the suck. It's okay in your mouth. Why are you not dear. Do not be afraid not to choke, you will give us some more poebat. You didnt take nikada in your mouth Or what.
You will also like:
Then I will have to ask Oleg to finish in my mouth, I thought, squeezing out the last droplets of sperm from the testicles of my. Son-in-law. Oleg stroked me on the head.
4070
4071
4072
4073
4074