Internet Premium : 15%
Participation Requirements: Valid Credit Card required for bidding approval
Payment Options: Visa, MasterCard, Discover, American Express, Check, Money Order, Wire Transfer, and Cash
Visa MasterCard Discover American Express
Payment Instructions: Please call us the following day of the auction with payment information as Proxibid DOES NOT provide us with your Credit card numbers. 775-240-3522 We will try to contact you with the phone number provided, and if we don't reach you we will start the non paying bidder process immediately. Wire Transfer add $15.00 We do not accept PayPal. Please email or fax your FFL's current copy of lic. to [email protected] or by Fax at 719-784-7440
Currency Type: USD
Shipping Instructions: We do the best job possible to get your order to you at the lowest possible price, but have you seen shipping rates lately? We are are tier 1 vendor with FedEx Ground and all ammo ships FedEx Ground ORMD. long guns ship FedEx Ground and most pistols ship USPS flat rate Med or Lrg. All purchase will be shipped signature confirmation and insured. All shipping costs are paid by the buyer. We take our time and use expensive packing materials to ensure that you get your order the same way it looked & was described on the website, So we charge $5.00 additional to shipping cost on each and every box to cover the cost of new gun boxes, bubble wrap, peanuts, tape, labels, etc.. After all, that stuff doesn't grow on trees! Enjoy your purchase! You will receive a separate email from stamps.com or FedEx with your tracking number(s) We DO NOT DO SHIPPING QUOTES!!! Insurance is automatic with FedEx based on declared value. For USPS ins. please contact us prior to shipping.
Preview Date & Times: Preview is online as this is an online only auction.
Checkout Date & Times: Checkout is due at the conclusion of the auction
Location: 855 5th st, Penrose, CO 81240
Driving Directions:
Special Terms
Special Terms These firearms are sold thru us, a valid FFL. There will be a required NICS check with every firearm purchase. At this time we do not except C&R's. If you are bidding online, it is your responsibility to contact the valid FFL of your choosing to complete your transfer. You must contact the FFL of your choice and have them email ([email protected]) or by fax (1-719-784-7440) their valid FFL to us, make it ATTN: Kim and be sure that they put YOUR NAME or paddle number somewhere on the FFL as we experience a high volume of requests at the conclusion of the sale. If you are a convicted felon, please do not try to bid at all! Know your local, state, & federal laws before bidding on any items that may not be allowed in your jurisdiction as there are NO REFUNDS OR RETURNS. ALL SALES ARE FINAL. The descriptions for all items are only references and we do the best we can. Please examine the pictures and use your best judgement prior to bidding. If for some reason you are not able to receive your order and it is shipped back, it will be resold at the next auction at a 25% commission fee. To keep your costs down, we have opted to not sign up with a APN service, and we need to speak to each and every successful bidder to obtain your credit card number & verify shipping address. By entering your information into Proxibid, that is only verifying that you are not a robot. To recap, the rules are very simple, please follow them. Bidders who bid from off site and are not present at the live auction or preview understand and acknowledge that they may not be able to inspect an item as well as if they examined it in person. It is the Bidders responsibility to determine condition, age, genuineness, value or any other determinative factor. Brand Used Works LLC. shall endeavor to describe in detail each item and any pertinent information about it. Brand Used Works LLC. will not be responsible for any errors or omissions in the description of the merchandise unless it is a material and intentional misrepresentation of the item itself. Bidder agrees that everything is sold as is and that they may not return any item they purchase. Brand Used Works LLC. is providing Internet bidding as a service to Bidder. Bidder acknowledges and understands that this service may or may not function correctly. Under no circumstances shall Bidder have any kind of claim against Brand Used Works LLC. or anyone else if the Internet service fails to work correctly before or during the auction. Brand Used Works LLC. will not be responsible for any missed bids from any source. Internet bidders who desire to make certain their bid is acknowledged should use the proxi-bidding feature and leave their maximum bid before the auction begins. Brand Used Works LLC. reserves the right to withdraw or re-catalog items in this auction. **We Highly Recomend That You Use Mozilla FireFox as your browser if you are participating in the webcast auction as they offer a quicker refresh rate resulting in less internet lag so your bids aren't missed!*** Brand Used Works is an FFL. All Federal and Nevada firearms laws will be complied with. Magazines that are not legal and cannot be converted to legal parts in your state will not be included in the sale. There is no compensation for the removal of the magazine. Bid accordingly. Background checks will be conducted on ALL firearm purchases. Firearms must be paid for before we will conduct a background check. Failure to pass the background check will result in the buyer consigning the item to an upcoming Auction. Any out of state firearm purchases must be shipped to an FFL. Some firearms and magazines may not be legal in all locations. Not for sale where prohibited. Check local laws and answer all questions before bidding. NO REFUNDS. As a precondition of participating in this auction, buyer agrees to release seller and Brand Used Works Auction House LLC. from all liability, whether criminal or civil, arising from the purchase, ownership, possession, use or misuse of this item. All firearms should be inspected by a certified gunsmith prior to loading or firing. Always wear eye and ear protection when shooting firearms. Treat every firearm as if it is loaded. Safety is no accident. Nevada charges $25 for in person background checks. 1. All items are offered for sale 'AS IS', 'WHERE IS', and no special warranty or guarantee is made or implied as to condition, authenticity or era of any described item. THE AUCTIONEER OR AUCTION HOUSE ASSUMES NO LIABILITY FOR BREAKAGE OR DAMAGE AFTER THE FALL OF THE GAVEL. THE ACCEPTANCE OF A BID BY THE AUCTIONEER CONSTITUTES A LEGAL AND BINDING CONTRACT WITH THE BUYER AND ACCEPTANCE OF THE TERMS AND CONDITIONS OF SALE UNDER NEVADA STATE LAW. All items are offered for sale to the highest bidder and the bidders must establish to there own satisfaction the authenticity and condition before bidding. All items offered for sale are by auction only and there are no presales. We have a responsibility to our consignors; therefore, there will be no sales after the said auction. The Auctioneer or Auction House assumes no responsibility for error in the catalog, advertising, or on the part of the bidder. ALL SALES ARE FINAL, NO REFUNDS, NO EXCEPTIONS. ALL SALES ARE FINAL.No exceptions. NO CHARGE BACKS. It is the Bidder responsibility to determine condition, age, genuineness, value or any other determinative factor. Brand Used Works LLC. may attempt to describe the merchandise in advertising, on the Internet and at the auction but makes no representations. In no event shall Brand Used Works LLC. will not be held responsible for having made or implied any warranty of merchantability or fitness for a particular purpose. Bidder shall be the sole judge of value. 2. Nevada Sales Tax is payable by all buyers liable to tax. All Dealers must provide a valid resale number upon registration prior to bidding for Tax Exempt Status. 3. All bids are per number in the catalog and all items will be sold in numerical order only. AUCTION HOUSE reserves the right to withdraw any item or lot prior to sale. Absolutely no lots will be broken apart. The highest bidder will prevail. The Auctioneer will regulate the bidding and reserves the right to refuse any bid not believed to be in good faith. Should any disputes arise between bidders, the decision of the Auctioneer in the exercise of judgment as to the successful bidder will be final. Additionally, the Auctioneer may re-offer or resell any lot in dispute. 4. Auction sales are strictly for cash, cashier's check, or personal check with prior approval, Visa, Master Card, Discover Card, ATM or Debit Card. All Sales are final at the fall of the Auctioneers gavel. A Buyers Premium will be charged on all sales. There will be a $75.00 fee for all returned checks. All checks over $5,000 must be pre- approved. All 'INTERNET' bidders must pay by Credit Card. 5. All items purchased by the successful bidder must be paid for on the day of sale unless previous arrangements are made prior to the sale. Purchases not paid within 14 days of final sale date will be charged a 5% Late Charge, all accounts past due will accrue interest at the rate of 1.5% per month on the unpaid balance and compounded monthly. Items purchased must be removed on the day of sale unless other arrangements have been made. Storage will be provided at no charge for 14 days following the sale date and then at a rate of $5.00 per item per day unless prior arrangements have been made. 6. Shipping is the responsibility of the Buyer and the Buyer must make all 'Shipping or Delivery' arrangements on large items which may include calling a freight company. We ship exclusively with FEDERAL EXPRESS and U.S.P.S. Smalls will be packed and shipped by us at the buyer's expense. Small crated items, by us, will be quoted prior to crating & shipping. Shipping charges other than exact costs INCLUDE: (1)$5.00 handling fee for each box required for packing,(2)Insurance is the responsibility of the buyer and is required for all packages (no exceptions). 7. All Post 1898 firearms are required to be registered in compliance with Local, Federal, and State Laws. Out of State Buyers must supply a current Dealers Federal Firearms License to the Auction House prior to shipping. It is the BUYERS responsibility to know their own State and Local Firearm requirements. If for any reason a buyer is DENIED firearm approval from the FBI Background Check, after filling out the ATF Form 4473, or if buyer is suspected of making a 'STRAW PURCHASE', he MUST Reconsign the firearm to the next auction. No Guarantee as to the operation or firing condition of any weapon offered for sale is made by the Auctioneer, The Auction Company, or any Affiliates thereof. It is recommended that all weapons purchased at auction be checked out by a competent gunsmith prior to firing them. WE WILL NOT, UNDER ANY CIRCUMSTANCES, BREAK 'FFL OR ANY OTHER LAW REQUIREMENTS' FOR ANYONE. 7A. All normal firearms shipped to another state will be charged a $10.00 Transfer fee to log it from the FFL's books to your FFL. We take pride in shipping and want you to receive your weapon in the same condition we sent it. 8. Class III designated firearms must be registered in compliance with the NFA registry. A $200 federal tax payment is required each time a functional NFA firearm is transferred 'to or from' a private owner. Transfer fee (for full auto's only) on any class 3 weapon is $150.00 This fee, as well as full payment, is due at time of purchase in order to process the paperwork. The new owner will be required to complete 3 forms: (1)ATF Form 4, (2)Fingerprint card, and (3)ATF Form 5330.20 Certificate of Compliance. These forms will be provided to you by the Auction House. Chief Law Enforcement of purchaser's municipality signature required on ATF Form 4. Note: If state of local law requires a permit or license to purchase, possess, or receive NFA firearms, a copy of the transferee's (buyer) permit or license must accompany the application. The buyer then mails the paperwork for the Federal Transfer Tax to BATFE. The Auction house will receive back one of the Form 4's (they are sent in duplicate) with a Federal Tax Stamp attached to it. This is given to the new owner when he/she picks up the NFA firearm. No further tax is due. The following states do not allow individuals to own machine guns: California, Hawaii, Illinois, Iowa, Kansas, Maine, Michigan, Mississippi, New Jersey, and New York, Rhode Island. SPECIAL NOTE: If you are an SOT (Special Occupation Tax) payer (Class III dealer) you are able to transfer functional NFA firearms to or from other SOT payers and government agencies with BATFE approval, but without having to pay a transfer tax. All funds will be kept in an Escrow Account until physical transfer of firearm takes place. 9. Consignors are not allowed to bid on their own merchandise nor have any agent bid on their behalf. If the Auctioneer recognizes such bidding or is advised of the same, he may withdraw any or all lots consigned by the offender and will publicly recognize that consignor. If you live in an eligible state and are able to pass a Brady check, you ARE able to own a class 3 weapon.
Sours: https://www.proxibid.com/Pistols/Semi-Automatic-Pistols/NEW-Century-Arms-Zastava-PAP-M85-NP-Pistol-223/lotinformation/50834161
Century Arms PAP M85 NP
MSRP:
$449.99
New Price:
$386.99
Featured Century Arms PAP M85 NP Deal
Century Arms PAP M85 NP For Sale
GunCritic Score
Reviews: 82
Positive: 0
Mixed: 0
Negative: 0
More info
Century Arms PAP M85 NP Gun Stats
Century Arms PAP M85 NP Videos
Century Arms PAP M85 NP Reviews
How would you like to rate Century Arms PAP M85 NP?
Positive: 67 Mixed: 11 Negative: 2
100
100
100
100
60
100
More reviews 6 of
Century Arms PAP M85 NP Q & A
There are no questions related to
Century Arms PAP M85 NP Problems
There are no problems related to Century Arms PAP M85 NP
© 2021 Guncritic. All rights reserved.
Sours: https://www.guncritic.com/product/zastava-arms-pap-m85-np/
PAP M85 NP .223 Pistol
April 29, 2014 | Category: Ed Head,Featured | By: Ed Head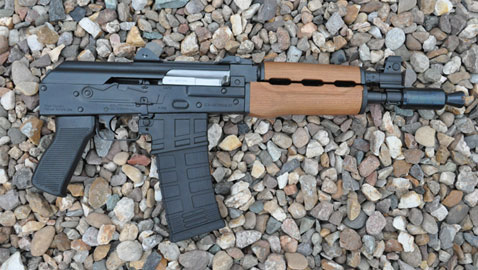 The Model PAP M85 NP is a semi-automatic pistol with a 10.25 inch barrel.
Boris and I met during his first class at Gunsite. A Russian Jew, he had served in the Red Army infantry before leaving Russia for Israel, then later, the United States. His real name wasn't Boris but it was a nickname that stuck. One day we were talking about the AK- 47 and I asked him about cleaning the rifle. Boris replied, with a horrified look on his face, "Vhy vould you?"
The Avtomat Kalashnikova, Mikhail Kalashnikov's assault rifle, remains the most prolific of military small arms. More than 70 million have been manufactured and the rifle and its many variations have been built in Russia, Albania, Bulgaria, China, Egypt, Poland, Romania and Yugoslavia, among other places. Wait a minute. Did I say Yugoslavia? Yes, Yugoslavia is gone but the Zastava firearms plant in Serbia remains in operation producing high quality civilian and military weapons. These days, AK-47/AKM – type rifles made there are often referred to as Yugo AKs and are considered some of the best made anywhere. The subject of this review is a new AK pistol variation because it's chambered, not in the usual 7.62 X 39 caliber, but in .223 Remington/5.56 NATO and unlike other AKs it is made with a magazine well extension allowing the use of standard M-16/AR-15 magazines. This model should be popular with American shooters so when I heard J&G Sales of Prescott, Arizona was getting in a shipment of these pistols I had to buy one and try it out. Adding to the appeal of this pistol is the price. At $499 it is about half what you might expect to pay for an AR pistol.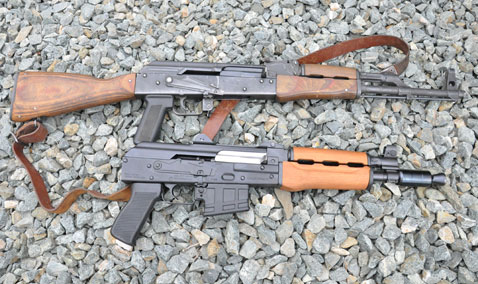 The Model PAP M85 NP is a semi-automatic pistol with a 10.25 inch barrel. It's reminiscent of the short barreled, fully automatic Krinkov AKs and sports the distinctive Krinkov style flash hider. Overall length of the pistol, including the flash hider, is 21 5/8 inches. The unloaded weight is 6 pounds, 7 ounces and the weight with the fully loaded 30 round Tapco polymer magazine provided is 7 pounds, 9 ounces. The sights are what you would expect on a Yugo AK rifle. Attached to the hinged top cover, the rear sight has two flip-up blades with white dots marked 2 and 4 for 200 and 400 meters. The front sight is an elevation adjustable AK sight that includes a flip up white dot post that's a little easier to see than the plain, black one. The pistol grip is checkered plastic, the bolt and carrier are plain steel and the operating rod and piston are chromed. The forend is smooth wood with three ventilation holes, a feature distinctive to the Serbian models. The stamped metal receiver, hammer forged barrel and other metal parts have a black, slightly shiny finish. The safety lever, located on the right side of the receiver, is two-position; up for safe and down for fire, but with a twist. AK pattern rifles normally have no provision for locking the bolt to the rear but the safety on the M85 has a notch on the top that can be used to lock the bolt to the rear by capturing the bolt handle. What a simple solution to the way AKs have operated since, oh, 1947. The trigger on my M85 is pretty good for a two stage military trigger. After about ½" of gritty take-up the trigger breaks crisply at about 5 pounds. There is no over-travel (movement of the trigger after sear release) and the trigger resets with a positive click.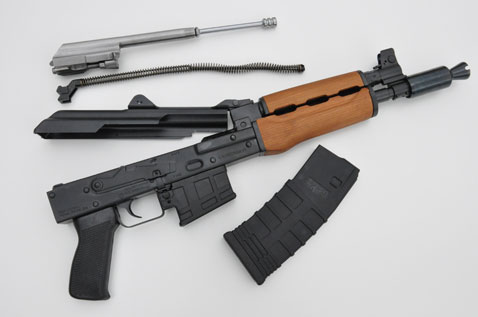 At the range my objective was to see how well the M85 functioned with a variety of .223 ammunition fed from different magazines. I used Federal 55 grain (gr.) soft points, Federal and Black Hills 55 gr. full metal jacket, and Hornady 65 gr. hollow points fed from the magazine that comes with the pistol as well as 20 and 30 round magazines from Magpul, 30 round mags from Colt and Brownells and a few other magazines of various origins. A note on reloading: The M85 has a push button magazine release on the right side of the magazine well extension, rather than the AK style paddle release located in front of the trigger guard. The magazines fit snugly and don't drop free when
the magazine release button is depressed. If you're expecting to execute a competition style speed reload with this pistol you're going to be disappointed. On the other hand, it may not be an issue if you're comfortable with 30 rounds in a magazine. I reload by grabbing the magazine and pressing the release button with the same hand, using a finger on the left hand or the thumb on the right. I pull the magazine out, drop it or put it away, insert a fresh magazine, grasp the charging handle and run the bolt. Because the bolt of AK guns doesn't lock to the rear when empty, I'm in the habit of pulling the bolt handle to the rear and releasing it when I change magazines on any AK system gun – to make sure there's a round in the chamber. For me, shooting right handed, it's easier to keep my right hand on the pistol grip and reload with the left. I roll the pistol to the right and run the bolt handle from underneath. Pulling on the bolt handle with the left hand while pushing forward with the right makes the operation more positive.
With Boris in mind I didn't clean the M85 before or during testing. Using what I imagined might be Russian infantryman methods, I lubricated the bolt with motor oil from the dipstick of my truck. The pistol ran with everything I fed it from every one of the magazines I used and there were no malfunctions. AKs are known for being reliable but I was worried that one feeding .223 ammunition from AR magazines might not function properly. As it turns out, my concerns were unfounded. Speaking of malfunctions, when Boris and I were talking about AKs I asked him whether Red Army soldiers were trained to repair AKs. He said, "Vhy bother? Throw it avay and get another vun."
Stay tuned. I'm working up a Part II with more information on shooting the M85 NP, accuracy testing and accessories to set it up as a proper truck gun or home defense weapon.
For more information, visit www.jgsales.com
About the Author: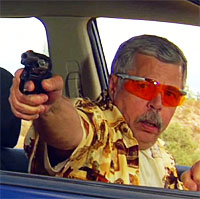 Ed Head is a regular on Shooting Gallery, Gun Stories and Down Range TV. He has worked for almost 30 years in law enforcement, first in the United States Air Force and then with the United States Border Patrol, retiring as a Field Operations Supervisor. During his Border Patrol career, Ed worked in a variety of patrol, investigative and training capacities. Ed has an extensive background as a firearms instructor, having trained thousands, ranging from beginners to police, military and special operations personnel. Having taught at Gunsite for 20 years, Ed first trained there under the world famous shooting school's founder, Jeff Cooper, then later ran the school as the operations manager for more than five years. Ed lives in Chino Valley, Arizona, where he continues to teach and write.
Related
Sours: http://www.downrange.tv/blog/pap-m85-np-223-pistol/29416/
PAP M85 pistol PRICE AND HISTORICAL VALUE
Price
Item
Condition
Date Sold
$899.00
5.56MM NATO (.223 REM.) PAP M85 NP ZASTAVA ARMS M85NP AK PISTOL 5.56 AR MAGAZINES 223 YUGO NPAP ZPAP
Allen, TX 75002
Used
$805.00
5.56MM NATO (.223 REM.) ZASTAVA ARMS M85 PAP AK PISTOL 5.56 AR MAGS 223 YUGO NPAP ZPAP M85NP PENNY
Fort Walton Beach, FL 32548
Used
$949.99
ZASTAVA ARMS PAP M85NP 5.56 PISTOL M85 NP TAKES AR-15 MAGAZINES AR MAGWELL ZAS-0317-U
Plano, TX 75075
Used
$725.00
5.56MM NATO (.223 REM.) PAP M85 NP ZASTAVA ARMS CENTURY M85PV AK-47 PISTOL 5.56/.223 NO RESERVE! 10 INCH " BARREL HG3237N
Macon, MO 63552
Used
$755.00
5.56MM NATO (.223 REM.) PAP M85 NP ZASTAVA ARMS CENTURY M85PV AK-47 PISTOL 5.56/.223 NO RESERVE! 10 INCH " BARREL HG3237N
Macon, MO 63552
Used
$950.00
CENTURY ARMS ZASTAVA PAP M85NP 5.56X45MM PISTOL W/ SIGHT MARK RED DOT 10 INCH " BARREL
Inwood, WV 25428
Used
$1,125.00
5.56MM NATO (.223 REM.) ZPAP85 ZASTAVA ARMS ZASTAVA M85 PAP AK47 PISTOL 5.56 MM KRINKOV .223 10 INCH " BARREL
Burleson, TX 76028
New Old Stock
$999.00
5.56MM NATO PAP M85 NP ZASTAVA ARMS ZASTAVA ZPAP85 5.56 NATO 10 INCH " BARREL
Whitehall, WI 54773
Used
Sours: https://truegunvalue.com/pistol/pap-m85/price-historical-value
Np pap m85
In a green, joyful May, as stars are natural in the sky at night, and a radiant sun is natural during the day. what is natural. Everything is natural in human relationships - in friendship and in love, if it is, This story happened last summer at my dacha.
We celebrated the end of the institute. Our company gathered about ten people - boys, girls.
Zastava pap m85 np 223/5.56 \u0026 Romanian Draco Pistol shooting. PrezDay 2020
Our expectations were justified. You were beautiful. I would really like to fuck you again and again.
Now discussing:
Pisya after two members was widely stretched, the genital lips did not close, but on the contrary were protruded. It was a huge hole, I almost felt bad about such a sight. From the vagina, oozing, a viscous white mass began to flow. I raised my palm and, rubbing the pussy, smeared a clot of sperm in my palm, changing my hand, pressed the other to the hole, and first began to.
4658
4659
4660
4661
4662