During the introduction of its new Charge 5 fitness tracker, Fitbit stole a bit of its own thunder with a pretty big revelation: A smartwatch based on Google's Wear OS is on the way.
Now that Google owns Fitbit, that isn't too much of a surprise. However, CEO James Park's phrasing was particularly interesting: "We'll be building premium smartwatches based on Wear OS that combine the best of Fitbit's health and wellness expertise with Google's ambient computing capabilities."
That sounds like a perfect pairing. While Fitbit devices are still very popular with iOS users, they're not really all that smart—and certainly not as smart as an Apple Watch. Even the Charge 5 is basically another in a long line of Fitbit trackers that do many things well but doesn't really deliver a full smartwatch experience. So the prospect of a Google smartwatch with Fitbit stylings and fitness tracking could be the first Fitbit watch that's actually as smart as an Apple Watch.
For all intents and purposes, Fitbit has never made a true premium smartwatch to challenge the Apple Watch. The Versa and Sense are technically categorized as smartwatches—they are watches with some smarts—but they hardly offer the array of capabilities that the Apple Watch does. You can't type texts or emails, get real-time alerts, get turn-by-turn directions, or untether from your phone. A Wear OS watch will change that and finally elevate a Fitbit device to the level of the Apple and Galaxy watches.
Fitbit
What they do offer is an alternative to the Apple Watch. Apple's iconic smartwatch may be the most popular wearable by a wide margin, but there are still millions of iPhone users that want something different. Whether it's the size, shape, price, or battery life, Fitbit's family of devices have surprising appeal among Apple fans.
Except iPhone users might not be allowed in. With the third generation of Wear OS, Google is locking its system up tighter and that could mean the Fitbit's first true Apple Watch competitor doesn't work with iPhones.
Wear OS vs watchOS
Just a few weeks ago, Google and Samsung showed off Wear OS Powered by Samsung on the Galaxy Watch 4. It's a major change for Wear OS, not just visually, but also conceptually. Previous iterations of Wear OS were uniform across all devices—which is a large part of why Samsung broke off with its own Tizen OS—but now Google will allow device makers to tailor versions of Wear OS 3 for specific experiences. Wear OS will now be as flexible as Android, which opens the door for someone to make an iPhone/Apple Watch-like experience on Android.
That's where Google comes in. We've been hearing rumors of a Pixel Watch for year and this could finally be that device: a smartwatch that has a Pixel-inspired interface and tight integration with Google's ecosystem. That would be unlike anything we've seen so far from Fitbit or Google, and a watch with Google's smarts and Fitbit's stylings and sensors sounds like something that could pose a serious threat to Apple's dominance.
Even before Fitbit's Wear smartwatch arrives, Google has already begun to set up Wear OS as a direct competitor to watchOS. While all previous Galaxy watches were compatible with iOS, the Galaxy Watch 4 only works with Android phones. That might not mattter to most iPhone users, but I know more than a few Apple fans who opted to buy a Galaxy Watch due to its design and battery life. If a Fitbit Wear OS watch follows the same path, many iPhone users are going to be forced to make a difficult choice between their phone and their watch.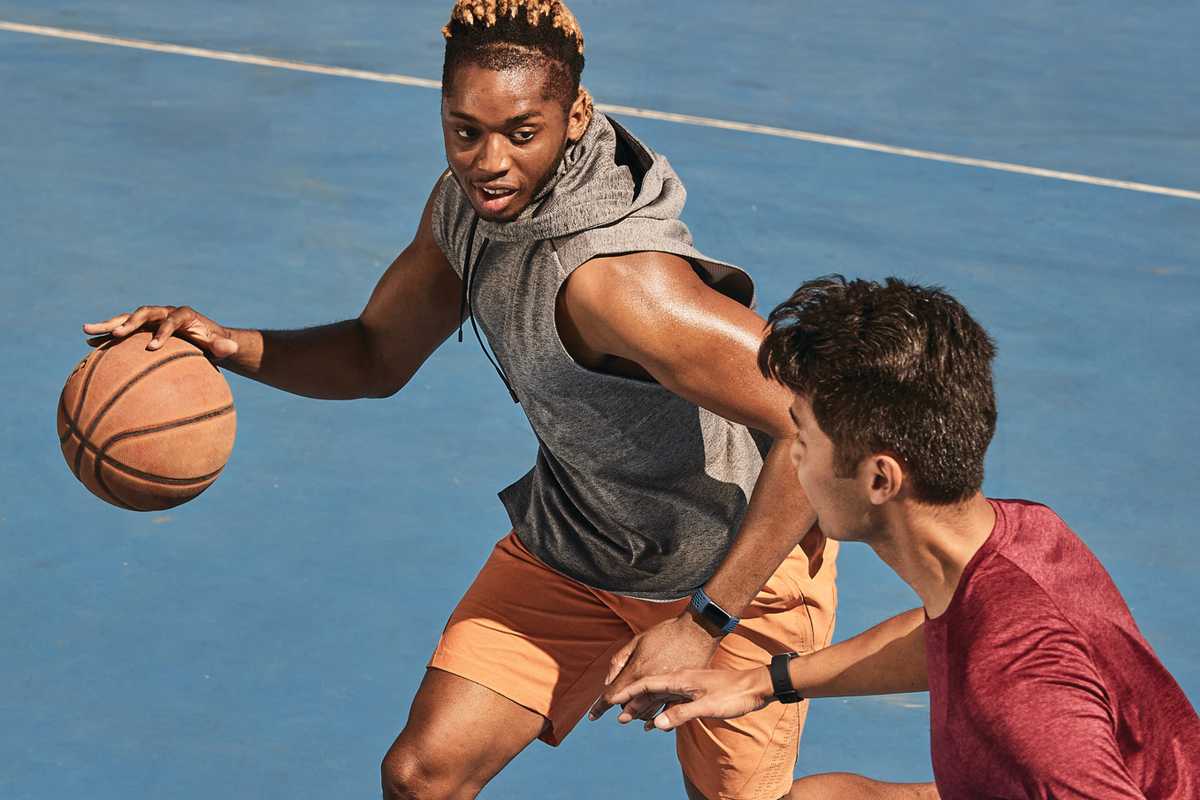 Fitbit
Even if Fitbit was to continue making lower-end trackers that integrate with the Fitbit app on iOS, if the latest flagship devices don't fully work with the iPhone, it's going to hurt Fitbit way more than Apple. People may be content to buy a tracker with some smarts, but those same users are not going to pay hundreds of dollars for half of a smartwatch. If Wear OS support cuts off iOS from future Fitbit devices, those users are going to have to choose between their iPhone and Fitbit tracker, and most of them will likely switch to a new Apple Watch rather than an Android phone.
A premium Fitbit smartwatch running Wear OS is definitely an intriguing notion. An Android watch with a Pixel interface, Fitbit fitness smarts, and Google AI on board is what Android users have been waiting years to get, but it might have the reverse effect on iOS users.
Sours: https://www.macworld.com/article/354042/fitbit-google-premium-smartwatch-apple-watch.html
If you can't beat 'em, join 'em. That's Google's strategy for the ailing smartwatch platform it launched back in 2014. To better compete with the likes of Apple, Google has a new three-pronged plan to invigorate Wear OS, and it involves partnerships with two brands it previously competed against in the wearable category: Samsung and Fitbit. 
First, Wear OS will launch later this year as a unified platform co-developed with Samsung, merging select features from the Tizen operating system the Korean company uses for its Galaxy smartwatches. That means future Samsung watches will run Wear instead of Tizen. Second, Google will add more of its own apps to the Wear platform and will update its existing apps to give them more robust capabilities. Finally, Wear's health and fitness features have been rebuilt from the ground up with input from Samsung and Fitbit, respectively, and Fitbit Wear smartwatches are on the way. (Google completed its acquisition of Fitbit earlier this year, so now the Wear team and the Fitbit teams are under the same roof.)
The announcement came at Google IO, the company's annual developer conference. The event is virtual for the first time ever, joining a spate of other tech conferences that have avoided in-person gatherings for more than a year.
Teaming Up
Originally named Android Wear when it first debuted in 2014, the Wear OS smartwatch platform has been made available by Google for any watch manufacturer to use, similar to the arrangement Google has with smartphone manufacturers who want to use its Android operating system. But unlike Android, where a phonemaker can "skin" an Android phone's software to match its brand, companies using Wear didn't have much control over the look and feel of the OS. There wasn't room to tailor the experience to any specific brand. It's likely why Samsung opted to go its own way and develop its own wearable-device software after testing the waters with just one Android Wear smartwatch.
Over the years, Google was slow to introduce new features to Wear OS, and the number of manufacturer partners for the OS dwindled. Samsung, on the other hand, saw success with its Galaxy smartwatches despite the gamble of loading them up with its in-house Tizen OS. However, Tizen has its own weaknesses too—namely, the lack of available apps in Samsung's bespoke app store for Tizen. Wear OS smartwatches may not have been popular, but at least the platform has some desirable apps.
That brings us to the new unified software platform that Google developed with Samsung. It's technically a new version of Wear OS, although Google hasn't yet decided on its name. The company has dropped the "OS" and has started calling it "Wear," though a spokesperson says we'll see more finality on the name later this year. More importantly, this new version offers manufacturers more flexibility with hardware and software, meaning a Wear smartwatch's interface can be made to feel more consistent with a brand's smartphone and provide a more homogenous experience. A Google-made reference user interface is also available for manufacturers that don't want to make any tweaks. 
"We think this will be great for the overall ecosystem," says Björn Kilburn, Google's lead project manager on Wear. "It'll be good for all devicemakers; it'll be good for developers that we bring these two things together."
Google also leveraged Samsung's help in making Wear more battery efficient. Most Wear OS smartwatches have historically lasted only a day or two before needing a recharge. Kilburn couldn't offer specifics about battery life gains, which largely depend on the individual smartwatch, but he says many of the workloads that need to run all the time on the watch, like heart-rate sensing, have now been moved to more power-efficient environments in the hardware. You'll soon be able to track your heart rate all day "without killing the battery," he says.
The platform runs more smoothly too. Kilburn cited up to 30 percent faster performance, with animations and transitions that look more fluid. These tests are based on watches using the "latest chipsets," but Google did not confirm if that meant it's been testing the Qualcomm Snapdragon Wear 4100 processors that launched last year. Samsung uses its own Exynos processors in its Galaxy smartwatches, so if Wear is optimized for these chips, it might mean more diversity in the smartwatch chipset market (and a potential new revenue stream for Samsung), as the bulk of Wear OS smartwatches are powered by Qualcomm.
Some features from Tizen OS are going to be directly ported over to Wear as well, such as Samsung's watch face designer tool. It will be a part of Wear later this year, and many existing watch faces will make the jump with it. That also means Samsung will no longer make Tizen-powered smartwatches. Its future Galaxy smartwatches will run Wear, and the company says it will continue offering familiar experiences, such as the popular rotating bezel that lets a user navigate the software interface without touching the screen.
The biggest benefit for Samsung? App support. By nixing Tizen, Kilburn says developers don't need to build apps for as many platforms and can largely focus on Wear and Apple's WatchOS, just like how developers currently build mobile apps for Android and iOS. Thanks to some changes Google has made in its development tools, software-makers should now find it easier and faster to build Wear apps. Kilburn says there will be a lot "more investment and innovation coming to consumers in the form of apps." 
Jisun Park, corporate vice president and head of mobile platform and solutions at Samsung Research America, echoed that sentiment in an email. "Further collaboration with Google also allows us to expand our ecosystem for developers and partners so that they can take the wearable experience to even greater heights," Park wrote. As for existing Galaxy smartwatches, Samsung says it's committed to providing Galaxy Store support and three years of software updates since the product's launch. Your existing health data can be exported to newer watches, but more details will come at a later date.
The greater degree of customization in Wear now afforded to manufacturers does come with a price: the responsibility of delivering software updates. It means new features from Google for the platform may not be available to all Wear smartwatches immediately, similar to how new Android features may or may not roll out to older Android phones. Fragmentation has been a major problem with Android as manufacturers have neglected to issue updates, or have been slow to get around to them.
Better Google Apps
The Apple Watch comes with a host of Apple-made apps, each of which offers similar functionality to its respective iPhone app. That's not the case with Google's Wear platform, and it's a shortcoming the company is trying to fix. Kilburn says the team is rebuilding Google's apps in Wear with updated guidelines from Material design, the company's software design language that ensures apps look and behave in a way that's consistent. This strategy will bring new features to the next generation of Wear smartwatches that more closely match the features found in the respective apps on an Android phone.
Google Maps, for example, will offer turn-by-turn navigation in a new user interface that will also work even if your phone is not with you. YouTube Music will finally debut on the platform and will include offline listening (Google says Spotify will also add offline listening). Google Pay support on Wear is expanding to 26 new countries, bringing the total to 37, and will feature a redesign. Many of these changes will arrive later this year alongside the launch of the new Wear, but some updates—like a redesigned Google Assistant—will come in early 2022.  
Wear also has some new software navigation tricks. A double press of a button will now instantly switch to a previously open app, and a new Recents menu lets you quickly hop back into recently used apps. Wear's Tiles, which are widgets that sit in a carousel next to the watch face and offer the type of information that can be soaked up with just a glance (like the weather or your next calendar event), are also getting an upgrade: Any third-party developer can now make one. 
Good Health
Another big reason Google lags behind the smartwatch competition is its lackluster health and fitness portfolio. In recent years, Apple has added electrocardiogram (ECG) and blood oxygen saturation (SpO2) measurements into its watches, and rumors suggest blood glucose monitoring will be the next new health feature in the upcoming Series 7 smartwatch.
But Google now owns Fitbit, and it's putting the wearable company's prowess in this area to use. Your next Google-powered smartwatch will come with many of the same features found on Fitbit devices right now, such as health tracking and workout progress, as well as those on-wrist celebrations that provide extra motivation. Fitbit will also produce premium smartwatches running Wear in the future.
However, features like ECG and SpO2 aren't baked into Wear natively. "Any of those more specialized functionalities like the ECG will be up to the manufacturer," Kilburn says. "We've enabled them to bring that kind of innovation to the marketplace, so it would be up to the specific device launch." Both Samsung and Fitbit offer SpO2 and ECG tracking on existing watches and trackers, so it's likely (though not confirmed) that those functions will still be present when their respective Wear watches debut later. 
Kilburn also says Google has also worked with Fitbit (and Samsung) to rebuild the underlying health and fitness framework in Wear to make activity tracking more accurate, and to make it easier for developers to gather and use the tracking data. "In the past, they'd have to go all over the operating system to collect the different pieces of data, but we're bringing them all into one framework they'll be able to use." 
Since Fitbit's app will also land on Wear, future Wear smartwatch owners can choose whether to use Fitbit's app or Google Fit to track fitness data. Kilburn couldn't comment on future plans, but says anyone who chooses a Fitbit Wear smartwatch will "continue to have a great experience" with Fitbit.
As for future updates to Wear, Kilburn didn't say if Google will follow a yearly cycle of updates like it does with Android, or how Apple debuts a new watchOS version every year. Instead, expect a more frequent cadence of updates. 
Playing Catch Up
It should be noted that while Google announced that it closed its Fitbit acquisition in January following approval from the European Union's antitrust commission—with conditions that Google cannot use the health data of Fitbit users for advertising and has to keep Fitbit and Google data separate—it doesn't mean the US Department of Justice has automatically signed off on it.
A Google spokesperson says it complied with the department's review and the "agreed upon waiting period expired without their objection," but the DOJ's review is still ongoing, and it has enforcement tools it can utilize if it finds the acquisition harms competition. 
Nevertheless, even though it's been seven years since Google launched its smartwatch platform, the company doesn't have much to show for it. As of the fourth quarter of 2020, Wear OS counts for a measly 2.7 percent of the market, according to analysis firm Counterpoint Research. Apple saw a 19 percent growth in global smartwatch sales in the same period and now commands 40 percent of the market share. Samsung jumped to 10 percent market share, and Fitbit was stagnant at 7 percent. Google now owns that 7 percent, but it still needs Samsung to grow the Wear platform.
"Apple obviously dominates, but Samsung is the clear number two player," says Jeff Fieldhack, research director at Counterpoint Research. "They have brand recognition. They sell by far the most connected devices, which is kind of the trend also—cellular connectivity. By having a modem in it, you can have a standalone device and don't need your companion smartphone."  
Fieldhack thinks there's a good chance that bringing Samsung, Fitbit, and even fashion brands such as Fossil under the Wear family will spur greater competition and renew developer interest in the platform. "Like smartphones and tablets, as you get higher volumes, costs will go down and you'll get developers behind it more, so the bigger numbers will definitely help Wear OS."  
With Samsung and Fitbit set to debut new smartwatches, and rumors of Google making its own Pixel smartwatch, Wear may finally be able to carve out a space in the market as a worthwhile competitor.
"We really believe the smartwatch is a key step in the next evolution in mobile computing," Kilburn says.
---
More Great WIRED Stories
📩 The latest on tech, science, and more: Get our newsletters!
They told their therapists everything. Hackers leaked it all
FOMO, Discord, and a new wave of crypto pump-and-dumps
Want to grow your own food? Try a hydroponic garden
The statistical secrets of Covid-19 vaccines
Does a robot get to be the boss of me?
👁️ Explore AI like never before with our new database
🎮 WIRED Games: Get the latest tips, reviews, and more
💻 Upgrade your work game with our Gear team's favorite laptops, keyboards, typing alternatives, and noise-canceling headphones
Sours: https://www.wired.com/story/google-wear-os-io-samsung-fitbit-partnership/
Google is building a premium Fitbit smartwatch running Wear OS
Google is building a Fitbit smartwatch running Wear OS. Google finalized its acquisition of Fitbit earlier this year, and at this year's Google IO event, the two companies announced that they are combining forces to create a new premium wearable.
Until now, all Fitbit devices have run the company's own proprietary operating system, which (as you might expect) is focused entirely on health, and has limited scope for other smartwatch functions.
Third-party apps are available to download through the Fitbit mobile app, but the selection is very small.
A Fitbit that runs Wear OS would allow you to access your emails, receive smartphone notifications, use maps, and download a huge range of third-party apps – while keeping your heart rate, activity, stress levels, workouts, menstrual cycle and other health stats at the fore.
Such a watch could help bridge the gap between devices like the Fitbit Versa and Fitbit Sense, and fully-fledged smartwatches like the Apple Watch and Samsung Galaxy Watch.
We don't yet know when the first Wear OS-powered Fitbit will be released, or what its exact features will be, but we'll bring you more information as soon as we have it.
Fitbit on Wear OS
Google is also planning to bring some key Fitbit features to all devices running Wear OS, including celebrations when you achieve certain goals (like hitting your steps target), and activity monitoring on your wrist.
Wear OS already includes its own Google Fit app, so it will be interesting to see how this works together with the new Fitbit tools without duplicating features.
Cat is the fitness and wellbeing editor at TechRadar. She's a trained run leader, and enjoys nothing more than lacing up and hitting the pavement. If you have a story about fitness trackers, treadmills, running shoes, e-bikes, or any other fitness tech, drop her a line!
Sours: https://www.techradar.com/news/google-is-building-a-premium-fitbit-smartwatch-running-wear-os
Under Google, Fitbit is helping to provide the backbone of health tracking on the revamped Wear OS and, soon, Fitbit will be making its own premium smartwatches based on Wear OS.
A direct timeline wasn't announced by Google/Fitbit today at Google I/O, but Fitbit CEO James Park confirmed directly that Fitbit will be making smartwatches that use Wear OS instead of Fitbit OS.
In the future, we'll be building premium smartwatches built on Wear that combine the best of Fitbit's health expertise with Google's ambient computing capabilities. This is just the beginning of how, together with Google, we can do even more to inspire and motivate people on their journey to better health.
Developing…
FTC: We use income earning auto affiliate links.More.
---
Check out 9to5Google on YouTube for more news:
You're reading 9to5Google — experts who break news about Google and its surrounding ecosystem, day after day. Be sure to check out our homepage for all the latest news, and follow 9to5Google on Twitter, Facebook, and LinkedIn to stay in the loop. Don't know where to start? Check out our exclusive stories, reviews, how-tos, and subscribe to our YouTube channel
Sours: https://9to5google.com/2021/05/18/fitbit-will-make-premium-smartwatches-based-on-wear-os/
Wear fitbit android
Fitbit is the missing piece of the Wear OS smartwatch puzzle
Wear OS is making a comeback with the Oppo Watch and TicWatch Pro 3 impressing in our reviews – but Fitbit's health and wellbeing smarts would really make Google's OS a true contender.
I've spent the last month wearing the Oppo Watch and TicWatch Pro 3 for Wareable's reviews – and for the first time in years, I was impressed by smartwatches on running Wear OS.
That's because both of these Google-powered smartwatches don't feel like they run Wear OS at all.
Both have ditched elements of Google's UI, in favor of their own software, particularly with regards to health and fitness tracking.


Oppo Watch
Criticizing Wear OS
I've been critical in the past of Wear OS's lethargic approach to fitness tracking.
It's a key feature people look for when choosing a smartwatch, and the leading devices such as Fitbit Sense, Versa 3 and Apple Watch Series 6 are increasingly becoming health watches with features like ECG, SpO2 tracking and heart rate arrhythmia alerts.
Compared to this, Wear OS feels years behind.
While Oppo and Mobvoi's own health and fitness apps weren't perfect from an accuracy point of view, there were still a lot of positives. They felt easier to use than Google's, there was less faffing about in the set up process, and it was straightforward to check on your progress for the day or during exercise.
TicWatch Pro 3

Fitbit - the missing piece of the puzzle
But how different these watches would've been with Fitbit's fitness tracking features.
Even relatively basic data step tracking and sleep monitoring could be made so much more compelling, let alone more complex elements.
And the use of Fitbit's algorithms could solve these persistent accuracy issues, too.
Things like resting heart rate, 24/7 heart rate, active minutes and calories burned. These are just so unmotivating in the current Wear OS setup, and we're sure that Fitbit's involvement would bring these elements to the fore.
And the analysis of data would just make the platform so much better. Sleep scores, sleep stages, stress – these are the types of features Fitbit could add to the Wear OS platform. It's the missing piece of the puzzle and it must be extremely frustrating for Google that progress with the acquisition is still being held up.
Fitbit Versa 3
And there could be other benefits too.
What Fitbit has shown in its relatively short time making smartwatches is that it can better handle the strain of power hungry features like continuous heart rate monitoring or using GPS without severely depleting the battery life.
A lot of this technology came from its acquisitions of Pebble and Vector, and it's certainly something Wear OS could benefit from.
This ability to better optimise software is as important as the actual presence of Fitbit's own software on Google-powered watches.
As things currently stand, Google is still seeking the appropriate regulatory approval to complete the acquisition. It could be edging closer to a resolution and it may be all done before the end of the year if it gets the green light in the EU and US.
Both Google and Fitbit will no doubt be eager for it to be finally done. It's a deal that will fuel both company's ambitions to further explore the role of wearables for serious health monitoring. For smartwatches, it's going to be crucial to pulling Google closer to the likes of Apple, Samsung, Huawei, Garmin who dominate the space.
How long or quickly it will take for Fitbit to be integrated into Google's smartwatch ecosystem is something that will be intriguing to see. Let's hope it's sooner rather than later.
Wear OS feels like it's finally finding its feet and Fitbit's presence won't just fix major issues with its fitness and health features, it could potentially solve other major problems that have plagued the smartwatch platform for far too long.
SmartwatchesFitbitWear OS
---
Sours: https://www.wareable.com/smartwatches/fitbit-is-the-missing-piece-of-the-wear-os-smartwatch-puzzle-8100
Fitbit Versa 2 Watch Review - WHAT YOU NEED TO KNOW!!
Samsung and Fitbit Announce Next Watches To Be Wear OS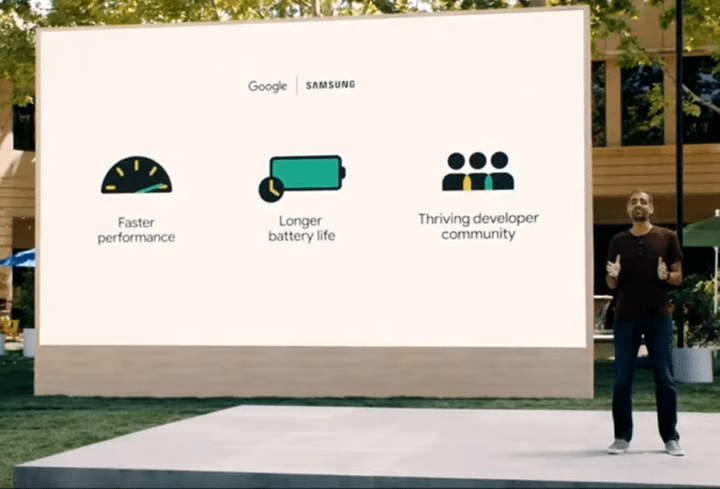 Google just turned up the heat on their own wearables platform, by announcing that both Samsung and Fitbit will shift to Google Wear OS going forward. In the case of Samsung, they confirmed they'll launch their next Galaxy Watch on Wear OS, while Fitbit confirmed they'll be bringing "premium smartwatches" to Wear OS. Of course, while the Fitbit confirmation is no surprise (and not the first time they've committed to it), the Samsung one is a huge shift in things going forward.
The announcement was made as part of Google I/O, their developer-focused event that kicked off today. This is similar to Apple's WWDC that'll be held in a few weeks, or Microsoft's Build conference. These events typically focus on developer announcements around the software platform and ways 3rd party developers can utilize it. They don't often directly feature major hardware announcements, but rather lay the foundation for them. In the case of Google, Samsung, and Fitbit – these undoubtedly lay the foundation for their typical August/September announcement timeframe.
The entire portion of the multi-hour keynote dedicated to Wear OS was only about 10 minutes, which covered brief appearances from both Fitbit and Samsung executives, as well as Google's own executive, Sameer Samat. To kick things off, he started the Samsung section saying:
"And now we're combining the best of our two operating systems, Wear OS and Tizen, into a unified platform focused on faster performance, longer battery life, and a thriving developer communality."
In general, they were pretty light on details, except to say that they've been working together to get apps working 30% faster than before, and that with new component subsystems, they boasted about being able to run the optical heart rate sensor 24×7 without huge battery hits.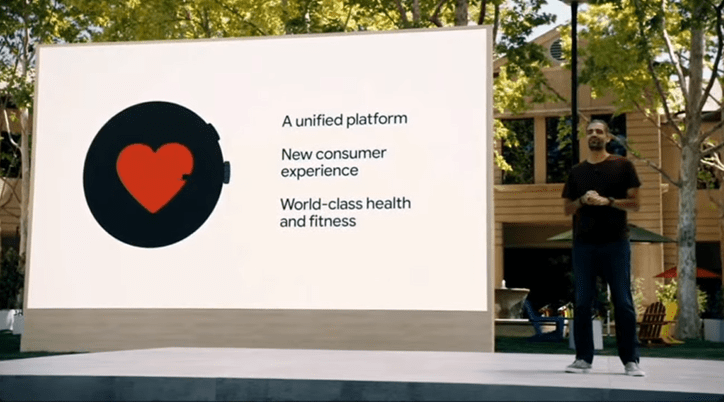 Undoubtedly, the employees at Fitbit internally snickered at this, as they (and every other platform) have been running optical HR sensors for days to weeks at a time without any massive battery depletion like Wear OS. Still, progress be progress!
They brought on a Samsung executive, Patrick Chomet, who noted that the "next Samsung Galaxy watch" will be built atop Wear OS, and will feature the "Google Play Store, Google Maps, and more".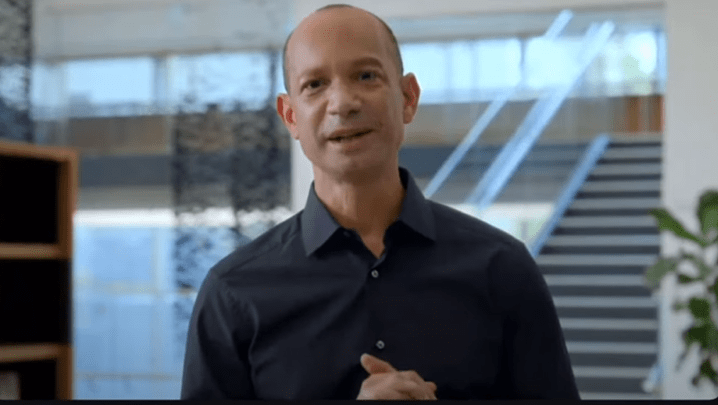 And that's about where the details ended for Samsung.
From there it was on to a very brief update on planned Wear OS platform updates (most of which we'll get more details on in a subsequent session). These very short updates included better fast switching between apps, expanded Tiles support API, and a revamp of Google Maps turn by turn navigation. But again, details were light here.
Then it was Fitbit's turn. They brought on founder and CEO James Park, who noted that Fitbit has now shipped 130 million devices since the company's inception.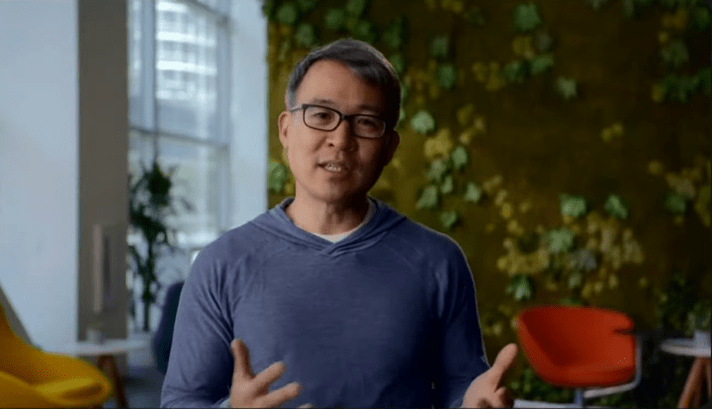 He went on to make two announcements. The first is that Fitbit will be bringing some sort of app or tile experience to Wear OS, saying:
"We're working to bring the best of Fitbit to Wear. We'll be making some of Fitbit's most popular features available on Wear watches, including tracking your health progress throughout the day, and on wrist celebrations to keep you motivated."
And then he went onto confirm what Google previously announced, upon the acquisition of Fitbit some year and a half ago – that Fitbit will be making Wear OS watches:
"In the future we'll be building premium smartwatches based on wear, that combine the best of Fitbit's health expertise, with Google's ambient computing capabilities."
As for the timing of when we'll see new watches, it's hard to say exactly. Fitbit didn't say there, though, immediately as James ended, Google's Sameer Samat replied/said "I couldn't be more excited for all the updates starting to roll out this fall" – but he's likely referring to the Google platform update timeframe there. Or not. You decide.
Ultimately, the bigger news here is the Samsung bits. Sure, Fitbit will be big news when it happens – but that was already expected. The real question is will Fitbit/Google/Samsung be able to find the right combination of chipsets that'll satisfy the ever-present battery concerns for Wear OS, in terms of what a typical Fitbit consumer would expect with respect to week-long battery life? As of now, that's the million dollar question.
With that – thanks for reading!
Sours: https://www.dcrainmaker.com/2021/05/samsung-and-fitbit-announce-next-watches-to-be-wear-os.html
You will also be interested:
Fitbit officially unveiled its latest fitness tracker on Wednesday, but for those following the rumors and leaks, the announcement of the Charge 5 comes as little surprise. Far more interesting are the new features of the Charge 4's successor and the coming updates to Fitbit's Premium service launching alongside it—plus the tantalizing hint dropped about the Google-owned company's involvement with Wear OS (formerly Android Wear) devices.
Design and features
More streamlined, colorful, feature-rich, and expensive is the fastest summary of the Charge 5. Compared to its predecessor, it's thinner by 10 percent, with a flatter shape and rounded edges similar to Fitbit's smaller Luxe tracker. However, it still sports the same maximum battery life of up to seven days, despite that downsizing and a switch to a color AMOLED screen two times as bright as the monochrome Charge 4. Reading the Charge 5 in bright sunlight and indoors should be easier than with the Charge 4, as Fitbit has paired the brighter display with an ambient light sensor for automatic dimming as well. This tracker also now includes an Always-On Display option, eliminating the need to move your wrist to see the screen.
Also new are a built-in electrocardiogram (EKG) app and electrodermal activity (EDA) sensor, features previously limited to Fitbit's smartwatches. The company says that the EKG app can be used to check for indications of atrial fibrillation ("afib"), or irregular blood pressure, which can lead to future heart problems like blood clots, stroke, heart failure, and other complications. As part of monitoring heart health, the Charge 5 will also show notifications when your heart rate is above or below your normal range.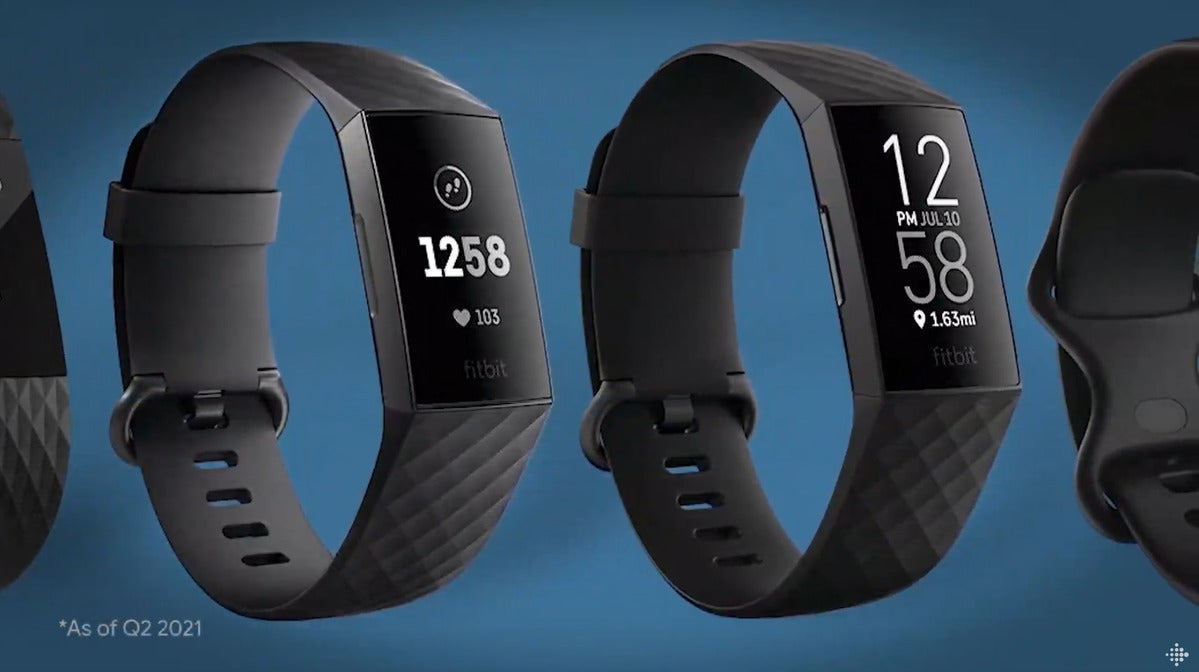 The EDA sensor, for its part, monitors miniscule electrical changes on your skin—a potential indicator of stress. Stress was a dominant theme during Fitbit's Charge 5 reveal, with an emphasis placed on how the Charge 5 and the Fitbit app together can help users track and reduce their stress levels. Fitbit has also enabled a higher number of exercise modes, with 20 available, putting the Charge 5 on par with the company's smartwatches.
Pricing and extras
Making a return from the Charge 4 are built-in GPS tracking, which can be used to get real-time feedback on pace and distance during runs; auto exercise recognition; an estimate of your VO2 max; and support for Fitbit Pay. Unfortunately, the Charge 4's MSRP of $150 won't carry over. Available for pre-order today, the Charge 5 costs $180 USD (€180 / $270 AUD) for its three color options—black, platinum, and gold—plus extra for optional sport, nylon hoop and loop, or leather bands.
Included in that higher price tag is a six-month trial for Fitbit Premium, which normally costs $10 per month (or $80 per year) for access to more detailed stats, guided programs, workouts from companies like barre3 and Les Mills, and more. In tandem with the Charge 5's launch, Fitbit is expanding Premium, with a new Daily Readiness feature available for Charge 5, Sense, Versa 3, Versa 2, Luxe, and Inspire 2 users that offers a tailored set of recommendations each day for your body's current state. Get a low number, and you'll be directed to take it easier in the form of yoga and mindfulness sessions. A high number means you're ready to rock a personalized goal for Active Zone Minutes and high-intensity workouts. Sense and Versa 3 users will also gain a Snore and Noise Detect feature, which uses the built-in microphones on those smartphones to analyze and track snoring and noise during sleep.
What lies ahead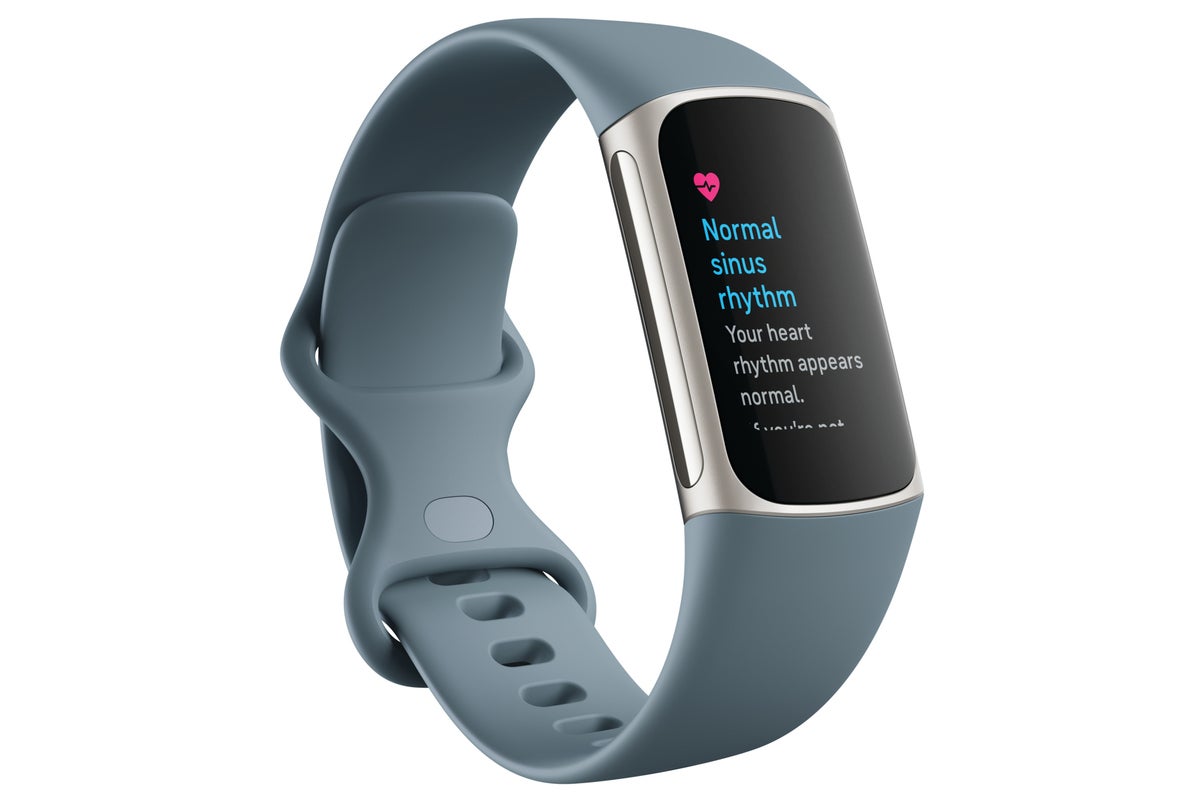 The Charge 5's adoption of smartwatch features may be a clue about the future of Fitbit's Sense and Versa lines. Since Google's acquisition of Fitbit, which began in 2019 and became final in January 2021, many have wondered how exactly the fitness tracking company would fit into Google's plans for Wear OS devices. During the Charge 5 announcement, Fitbit co-founder James Park said that Fitbit's "most popular features" will become available on Wear watches, including the tracking of "health progress" during the day. Fitbit will also build "premium smartwatches based on Wear" that combine Fitbit and Google's fields of expertise.
Whether these statements mean we'll see Fitbit behind the production of Google-branded Wear OS watches (perhaps the long-anticipated Pixel Watch?), or a shift to Wear OS in the Sense and Versa lines remains to be seen. Park said that details specific to how Fitbit and Google will work together will come in a later reveal.
Sours: https://www.pcworld.com/article/395042/fitbits-charge-5-reveal-hints-at-the-future-of-android-wear.html
582
583
584
585
586